---
Shannon is well known in the clinic for her natural approach to cosmetic injectables and holistic mindset.
Her Instagram page @thepreventativecollective showcases her deep understanding of the ageing process, the importance of inner health to maintain skin quality as well as the importance of mindset on general wellbeing.
Shannon has mastered the art of the 8 point lift which is a technique of injecting dermal filler to provide instantaneous and natural results, whilst appreciating natural features and working in harmony with the rest of the face. No overfilled cheeks or puffy eyes in this space.
Enjoy reading about Shannon's approach to this innovative approach to injectables.
Dr Kate x
The Holistic Approach
To me, preventative ageing and cosmetic injectables are all about future planning, and this is a lifelong journey. Facial ageing starts to accelerate in our late twenties to early thirties, or after having those beautiful babies. This is the perfect time to start considering preventative cosmetic injectable treatments (even if you're already past this age, it's never too late to start).
When we take a preventative approach to the ageing process, this ensures we age in the most gentle way possible. Through effective holistic treatments, practices and routines, we are able to achieve the most natural results and maintain a fresh appearance while enhancing our natural beauty.
I believe cosmetic injectable treatments should always aim to make us look better, not different – giving us a more youthful and vibrant appearance, and enhancing our features (without us noticeably having had anything done!).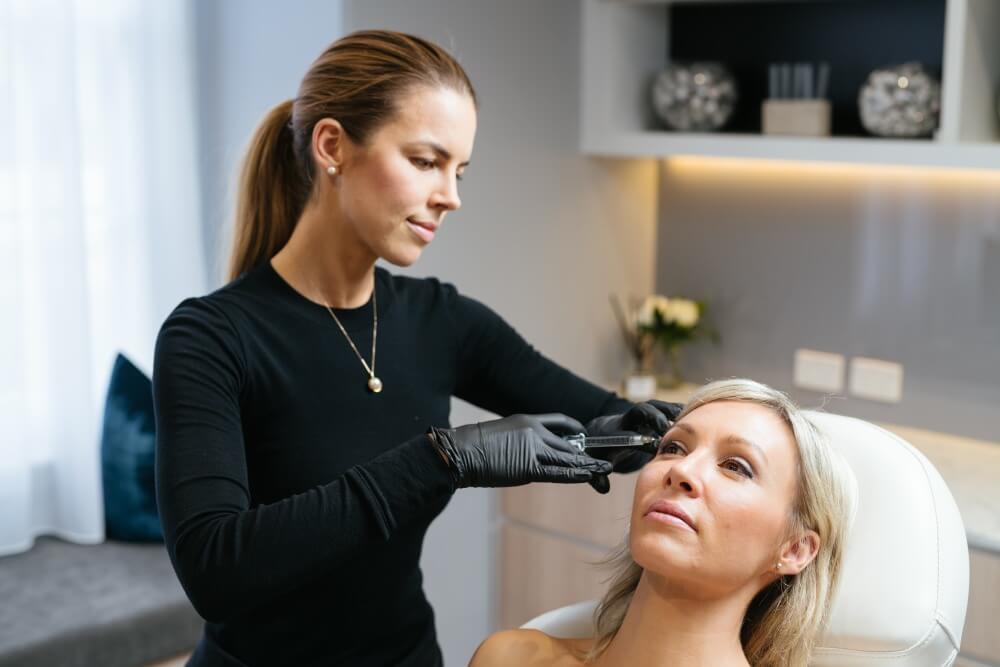 The MD Codes
I base my injectable treatments on the Md Codes. This technique was created by world-famous Brazilian Plastic Surgeon Mauricio de Maio – a renowned expert on facial filling and minimally invasive techniques.
The 8 Point Approach is part of the Md Codes, a series of injection points which can be used to rejuvenate and restore balance to the contours of the face, as well as naturally enhance features.
Facial contours play a huge role in the light reflection of the face, which we aim to have fall in all the right places for that beautiful glow! As each of us is very different we all require personalised assessment and treatment planning, and I individually tailor this treatment to each client's unique needs.
The 8 Point Lift
Through using the 8 point lift technique I focus on treating the cause, rather than directly treating the problem area (symptom) of the issue each client presents with. Instead of adding weight and volume to the area, it is vital to look at the source of the problem.
An example of a 'symptom' may be shadowing through the tear troughs or smile lines, jowls starting to appear in the lower face, or simply the feeling that you have a 'tired' or 'sad' appearance. The treatment of these areas are often points through our lateral face, cheeks or jawline.
Another important factor in facial filler placement is treating in the correct plane of the face – deep, mid-depth or superficial placement of product can make a huge difference to whether or not you get those pillowy cheeks or puffy under eyes! It is important to treat with the correct product and always look at every treatment as part of a journey.
By approaching the face holistically, you will receive the most optimal results and natural look for many years to come – no overfilled cheeks or overly projected lips here!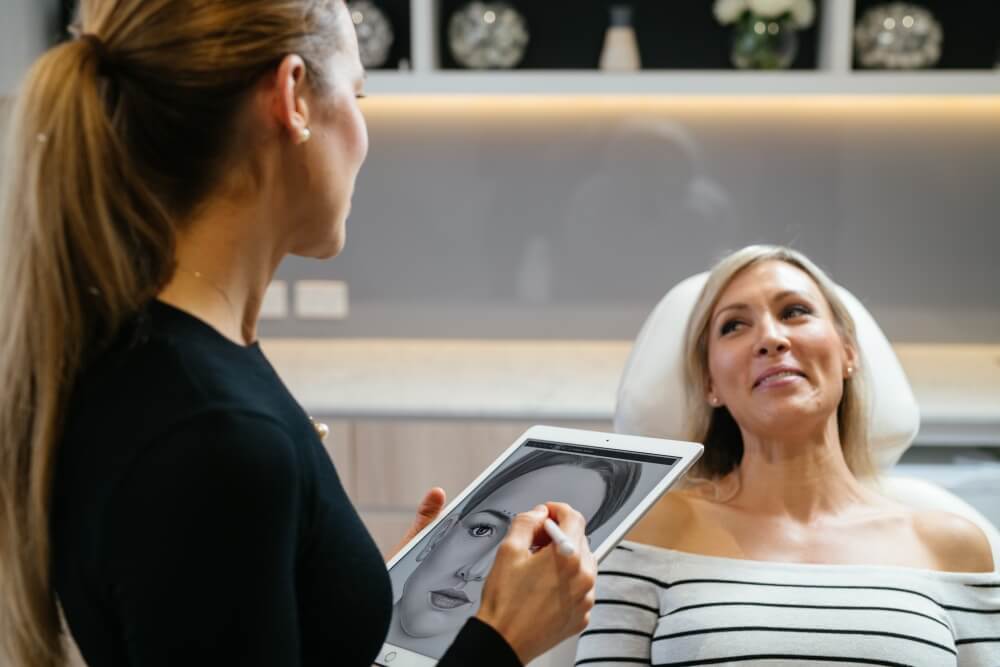 The Technique and Treatment
The 8 point lift utilises 8 specific injection points aimed to lift and restructure the skin and tissues. These areas of the face are also locations of important facial ligaments, by placing dermal filler in the correct area we can actually use the filler to lift and support the ligaments, working as a scaffold for the skin and supporting the tissues.
The 8 points used are:
Cheeks – lateral

Piriform fossa/alar base

Marionette/oral comm

Pre jowl sulcus

Sub malar cheek

Mandibular angle
Micro doses of filler of around 0.1-0.2ml per injection point are used and the treatment is tailored to each and every patient. The total volume of filler used can vary from person to person depending on age, previous treatments and desired results. As we age the loss of volume is accelerated so more filler may be required.
Generally, 2ml as a starting point is recommended for those in their 20's and 30's with the amount required increasing for more accelerated changes. We can also build on the results over multiple sessions, increasing the volume slowly to allow for less downtime and to fit in with a client's budget. The 8 point lift is not for those with significant facial volume loss or skin laxity, with more restorative treatments needed in these cases.
The treatment itself is comfortable and relatively pain-free, with strategic injections into the specified 8 points. Due to the low volume of filler used, swelling is minimised and results are instantaneous and very natural.
Maintenance
It is important to remember that maintenance and ongoing skincare is needed for long term results. I find than annual treatments with the 8 point lift can continue to deliver natural and beautiful results. As time continues, client needs will change and the ageing process will continue to alter the skin, facial fat pads, ligaments and bones but with small tweaks, we can delay these changes.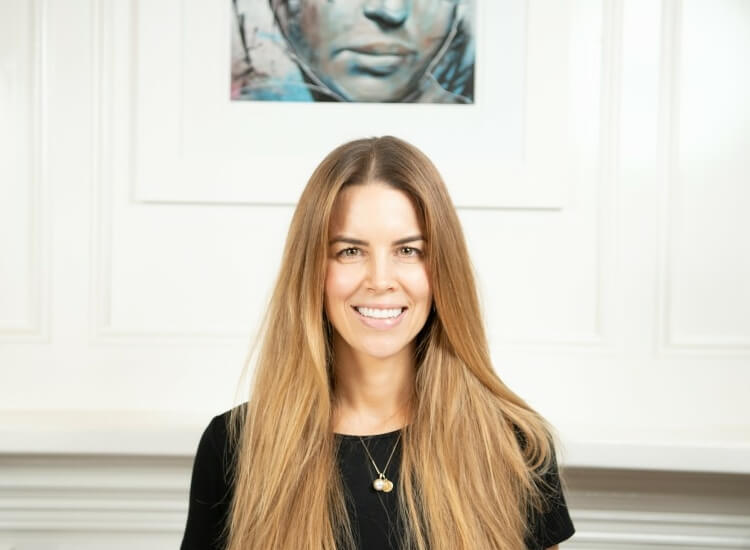 The Total Face Approach
One last and very important piece to the preventative ageing puzzle is skin health. Without optimal skin health, our skin will crease more easily and over time lose it's clear, dewy glow, diluting the results of our cosmetic injectables.
I always recommend that my clients combine their injectable treatments with prioritising their skincare and health. This includes external treatments and topical products, as well as internal health factors (our skin is an organ after all!). Hormonal balance, gut and liver health, nutrition, hydration and stress all play a role in the clarity and glow of our skin.
As you have probably now guessed I am a huge advocate for treating the face as a whole, as I not only care how you look today or immediately post-treatment, but ultimately how you will look through each stage of your life. A gentle, individually tailored and balanced approach is key.
My passion lies in a uniquely holistic preventative approach to ageing and beauty, aiming to restore and maintain your youthful contours, refine your features, and ultimately leave you glowing from the inside-out for many years to come!
Love Shannon x