What inspired you to become a dermal therapist?
I had been thinking for years about becoming a dermal therapist, and would often go to skin appointments just to immerse myself in the new technologies and treatments on offer. I wasn't initially aware of the path one needs to take to become a dermal therapist, but as soon as I found AACDS, I knew it was time to take the leap and commence my studies.
I have always wanted a job in which I genuinely enjoy and can continually grow and learn in, thankfully I have found that as a dermal therapist.
What was the most challenging part of your training?
The most challenging part would have to be learning to study again! I had taken a few years off studying and feared I didn't have the discipline to go back, however with a lot of planning and time management I got it done.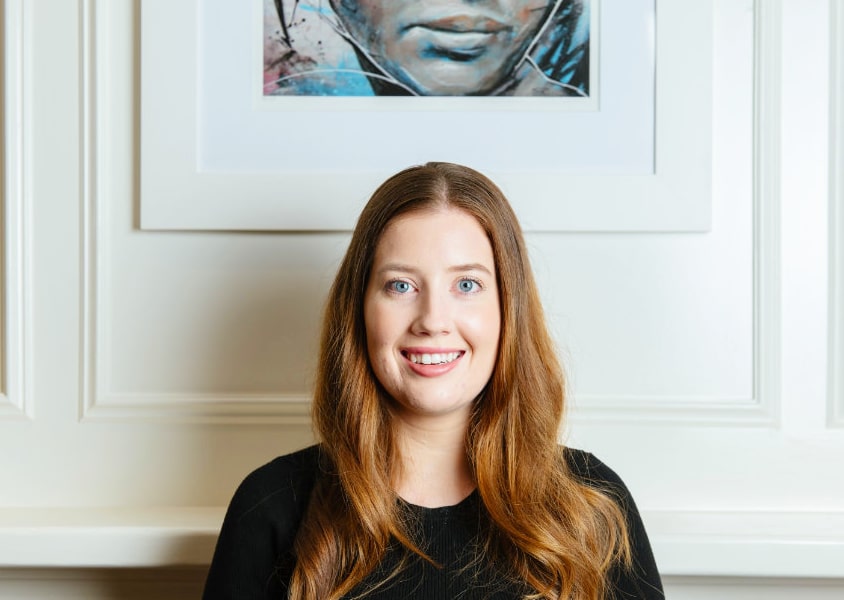 Did you have any skin problems growing up?
Growing up I didn't really have any skin problems, my skin problems have actually started during adulthood. Growing up, I enjoyed trying different skincare products more for the love of it, not for any particular concern.
More recently, I've been experiencing adult acne. I'm actually somewhat thankful that I've experienced this, because it has meant I am able to sympathise with how others feel who are goign through the same thing.
It also means I've tried out a lot more products and treatments to see what works for this particular concern.
What do you love most about being a dermal therapist?
I absolutely love the diversity of it. It's quite a broad profession and the opportunities really are endless. It's a profession which is rapidly changing, which means we have the opportunity to continuously learn.
I love that as a dermal therapist, I have the ability to really improve an individual's self-confidence and educate them to better their skin.
What is your favourite skin concern to treat and why?
I'm going to choose two for this one. Firstly, I love when clients come in and say that they feel their skin is dull and just lacking life. With this concern, I feel that people really notice the difference when their skin improves and their whole persona and the way they carry themselves changes.
There are so many small changes that can be made to really put life back into the skin and I just love how quickly changes can occur for some individuals.
The second skin concern that I love to treat is acne. I enjoy this one for the challenge of it, it's not easy and there's not one treatment that magically fixes it. What works for one person, may not work for another.
There is also so much that plays into acne, so it often is finding what specifically works for that individual. I love having the opportunity to educate individuals, and in the process of treating acne I also am able to educate myself further on different triggers and treatments.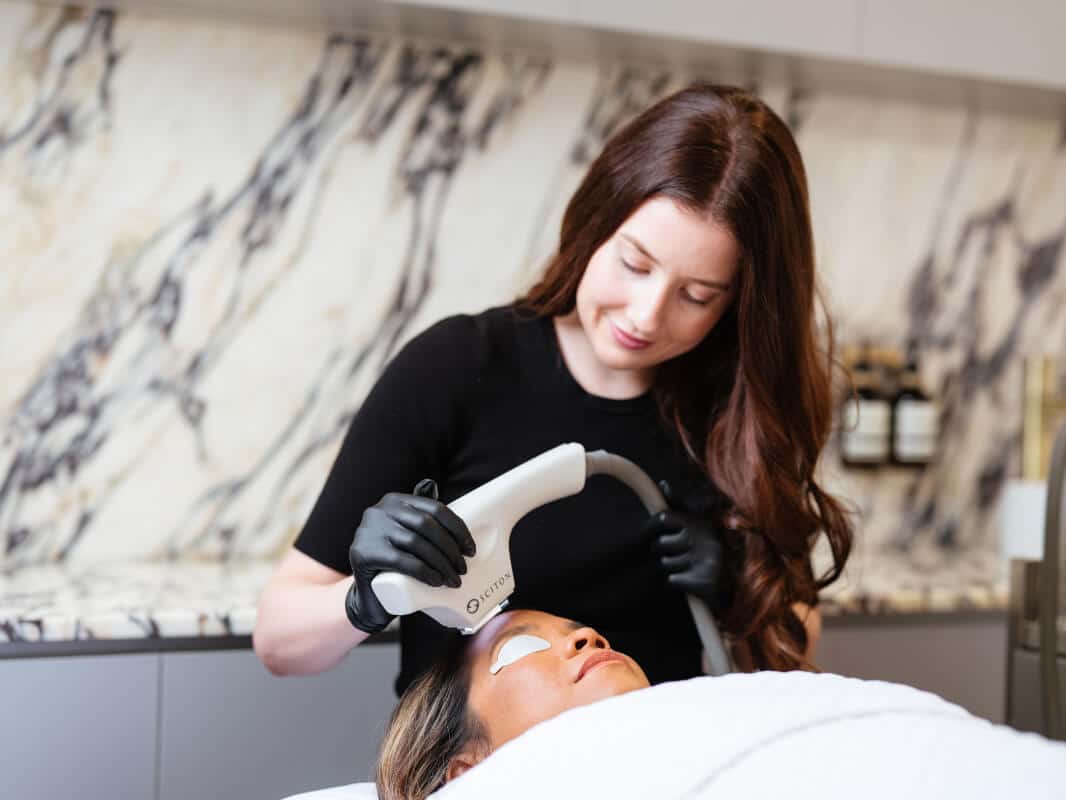 What is your favourite treatment to perform?
It's so hard to pick just one! I've always loved the diversity of skin needling. It's such an interesting treatment, in terms of the changes which are happening in the skin to repair itself.
It's quite a broad treatment that has the ability to treat such a range of skin concerns such as improving skin texture, fine lines and wrinkles, acne scarring, can lighten unwanted pigmentation, and decongest pores. So many options and that's all from one device!!
What products are you using at the moment?
I'm a self-confessed skincare junkie. I'm working my way through every product I possibly can, but I do have a few staples that I can't live without! Here's my current skincare routine;
Cleanser:
I'm currently using Cosmedix Benefit Clean. I love how this leaves my skin feeling and it's so gentle. In the past, I thought it was normal for the skin to feel tight and dry post-cleanse, so had just put up with it, but this one leaves my skin feeling clean and fresh. 
Actives:
So, I must admit I have in my possession Cosmedix Define which is a retinol. I use this very sporadically mainly because at first my skin just couldn't tolerate it. However, I am trying to make a conscious effort to use it more often as the benefits of this product are amazing – it resurfaces, can assist with remodelling the skin and can also help problem skin. 
A new product I purchased, which I absolutely love is the Ultra B2 Hydrating Serum. This has two different forms of vitamin B, which helps to plump the skin, reduce the appearance of fine lines and promotes a more youthful appearance. This product is also unique as it has hyaluronic acid as an ingredient, which helps to restore moisture to the skin. This is by far my favourite vitamin B serum that I've tried!
A few times a week I'll also use the Cosmedix Clarity serum. This is a blemish fighting serum that has salicylic acid, tea tree oil and niacinamide to help in fighting bacteria and post-inflammatory hyperpigmentation. I definitely credit this product to assisting in reducing the appearance of my breakouts, and it's become a staple. 
A product that has become a must-have of mine is the PCA Hyaluronic Boosting Serum. It immediately becomes a favourite for anyone that has used it, and it's hard to live without it. It has the most beautiful texture and is so incredibly hydrating for the skin. It targets multiple levels of the skin and also helps the skin to improve its own hyaluronic acid production. 
Moisturiser:
I don't particularly have a moisturiser that I stick to, I tend to try a bit of everything. Recently I've been using PCA Clearskin moisturiser, which I find is suitable for both day and night use. It's promoted as being an anti-blemish moisturiser and I love that it has both vitamin A and B as part of the formulation, whilst also being very calming on the skin.
Mask:
The Youth Lab Enzyme Elixir is my all-time favourite. This mask is an amazing gentle exfoliant that you rub into the skin and you can see the dead skin lifting. It immediately leaves the skin looking brighter and feeling more hydrated.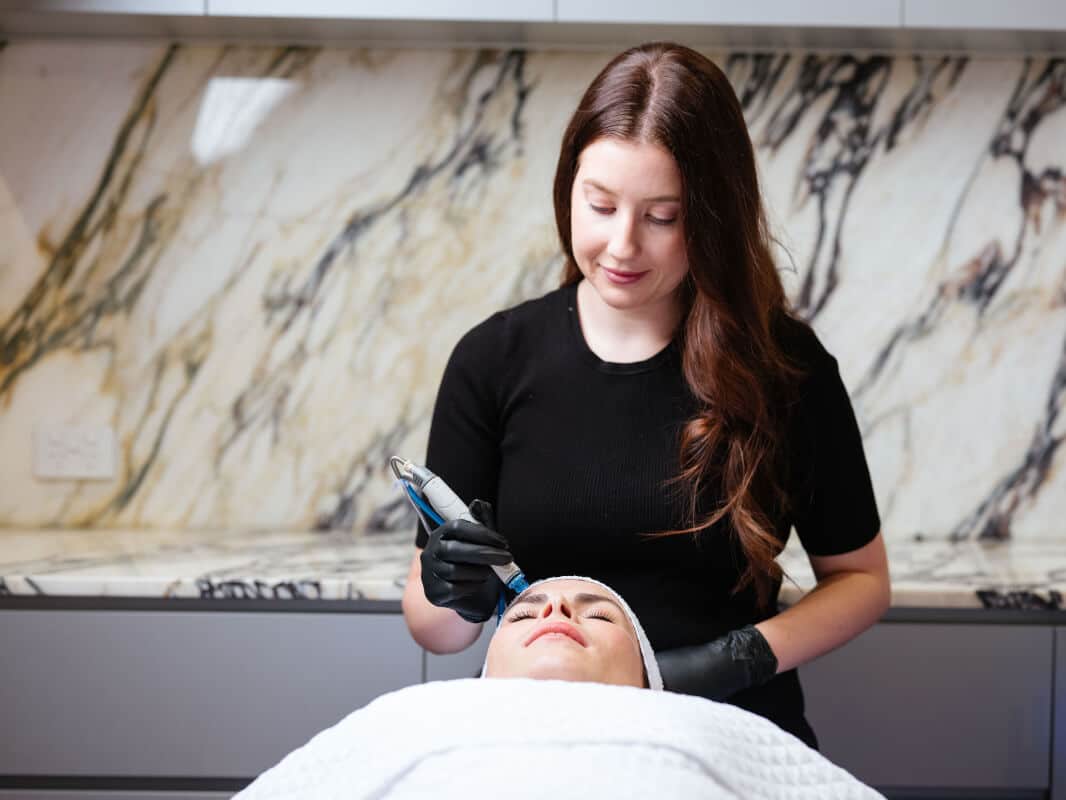 What treatments have you had done this year? How can we get skin just like yours?
My skin has unfortunately been a bit troublesome this past year – the most it has ever been! I've been so lucky to have access to a range of treatments. I have mainly been alternating between Clinical Peels and BBL.
I've had regular Mandelic Peels which assist in stimulating collagen, promote skin rejuvenation and gradual exfoliation. I mainly do this peel in troublesome skin areas to promote exfoliation and rebalance the skin.
I've also been having BBL Forever Clear just in the problem acne areas, which for me is along my jawline. This treatment is incredible, there is no downtime and whilst it's not an overly pleasant treatment to have – it's very quick. BBL Forever Clear is a light-based treatment that delivers energy into the skin to help treat acne and works by destroying acne-causing bacteria and also reduces the inflammation associated with acne.
What is your favourite thing to do outside of work?
My favourite thing to do outside of work is spending time with my husband and our miniature schnauzer, Nala. We are lucky enough to live next to the river, so I love walking along the river and watching Nala swim in there.
What is your favourite part of working at Youth Lab?
My favourite part of working at Youth Lab is the amazing team that I get to work with each day. It's an incredibly supportive working environment, and we are continuously helping each other to grow. I feel extremely lucky to be a part of such a great team!
What treatment do you see becoming popular in 2021?
I think that Broad Band Light will continue to be popular in 2021. It's such an incredible treatment with visible results for pigmentation and redness. There's very minimal downtime also which is what individuals are wanting.
What is the one piece of skin advice you wish all your clients would follow?
Please double cleanse! It's such a simple step that can really improve your skin. Cleansing once doesn't have the ability to break down makeup and excess oils from the day, that's why two cleanses especially in the evening is extremely important. Also, oil cleansers are the way to go to break down makeup! Makes it so incredibly quick and easy.
Laura x