Beach, beverage and a little sun exposure on the side makes for the perfect summer cocktail… but the pigment left behind after the summer months have faded causes the skin hangover we all dread – pigmentation. Why is this so?
Overexposure to the sun, along with various factors such as hormones, (especially during pregnancy), damage to the skin from trauma, stress, medications as well as being genetically predisposed can all contibute to increased pigmentation during the summer months.
What is Pigmentation?
Hyperpigmentation is a medical term used to describe the darker pigment patches we start to see pop up on our skin. These patches are a result of excess melanin production and develop as ultraviolet rays stimulate the production of free radicals, which stimulate these melanin sites to protect itself and its DNA from damage. The excess melanin then form clusters, resulting in uneven patches, forming freckles, liver or age spots, or general blotchiness on the surface of the skin.
Melasma and chloasma are other pesky forms of hyperpigmentation, activated even more by the heat of summer. Our hormonal influences play a significant role here, as presented through the journey of pregnancy, oral contraceptive use and other hormonal therapies. Melasma presents more of a challenge to treat and the focus is more on preventing its worsening, especially from the hormonal angle, as it can be hard to eliminate the instigating factors.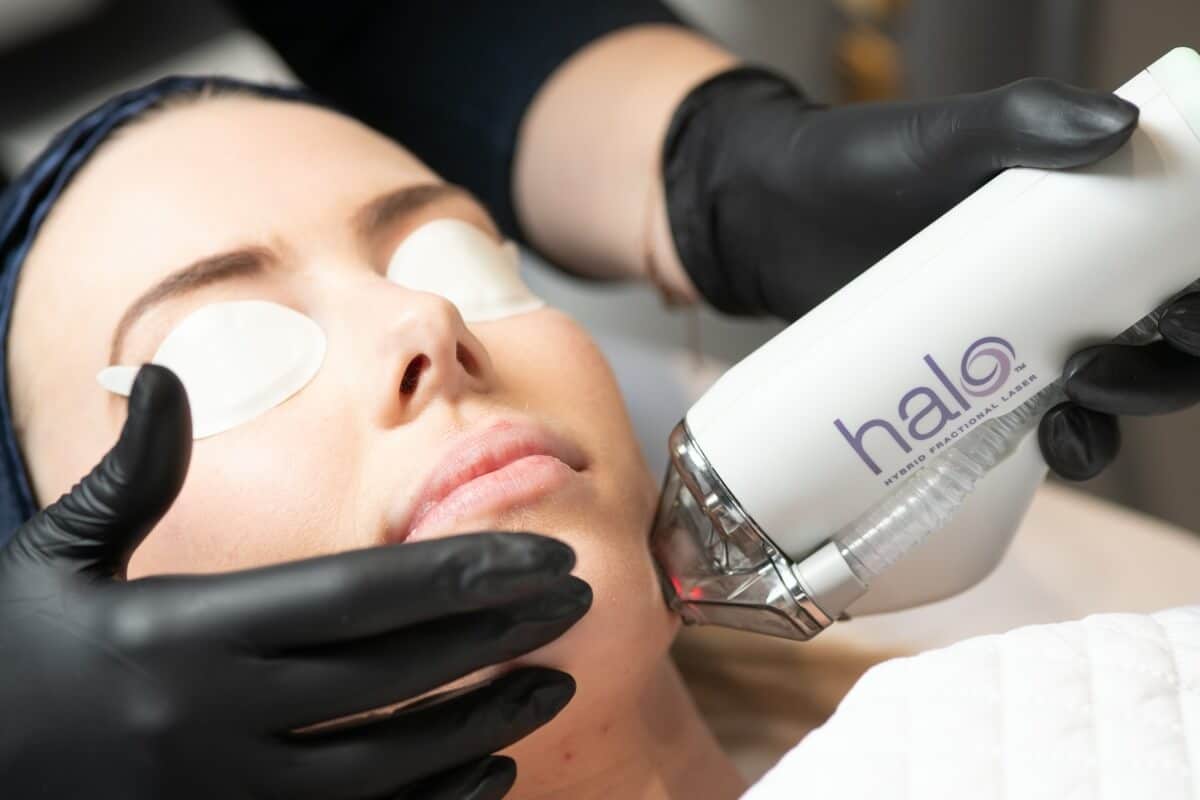 What treatments are available?
Treatment for pigmentation can range from in-clinic chemical peels to laser treatments. As a general rule, we prefer to treat pigmentation in the cooler months of the year due to increased sun exposure throughout the summer. Your skin can often create pigmentation faster than we can help you get rid of it! At the Lab, we provide a tailored treatment plan for the journey to optimise your skin's complexion and health, with pigmentation being one of our main concerns to treat.
Our Halo treatment is perfect to kick start significant removal of discolouration, improve sluggish collagen activity and overall texture of the skin using both ablative and non-ablative wavelengths of light. This will deliver a complete skin resurface and deep dermal rejuvenation with the added benefits of seeing improvements in overall complexion, tone and texture, and the reduction in fine lines and pore size.
Or why not try Dermamelan? A medical depigmentation treatment, dramatically effective for all types of pigmentation, formulated to specifically lighten discolouration and provide a smooth, even appearance of the skin in a new and safer way to other treatment modalities.
Dermamelan is a treatment course consisting of the initial in-clinic treatment where the Dermamelan peel will be applied to your face by a therapist, followed by a disciplined aftercare program. During this journey, you are offered Healite therapy and regular follow up appointments to guide you throughout the process.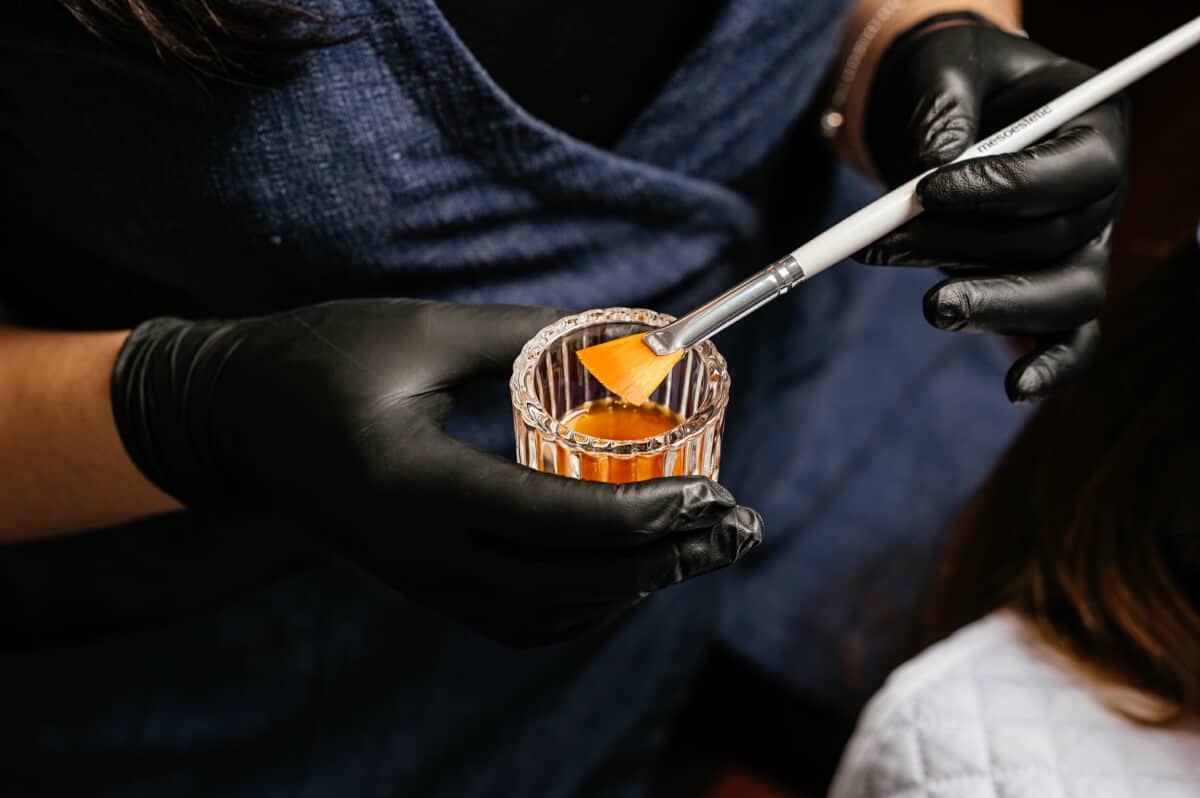 How to prevent pigmentation
To reduce the impact of pigmentation forming each summer, use a sunscreen with an SPF of 30+ or higher to protect the skin and stop hyperpigmentation from becoming darker. Sun protection is a non-negotiable. Be sun smart! Particularly during the strongest hours of the day, which is midday, from 10am in the morning until 3pm in the afternoon.
This is especially important for the sun bunnies out there and those with olive or darker skin complexions that may think they're an exception to the rule as they are less likely to burn. Why age any quicker than we need to.
Avoid picking at the skin to prevent hyperpigmentation from forming after an injury. It is also important to avoid picking at spots, scabs, and acne.
What products will assist?
A tailored corrective skin care regime to prevent, support, protect and repair is key, especially when prepping your skin for in clinic treatments. This doesn't have to be an expensive, overwhelming amount of products lined up on the bathroom vanity competing for space with the toothbrush holder – quality over quantity is key.
Consider quality products that contain ingredients such as pigment blockers (known as Tyrosinase inhibitors), vitamin C, azelaic acid, kojic acid, retinoids, tretinoin, corticosteroids or hydroquinone. All of these will assist with treating discolouration of the skin, with results varying depending on the nature and stubbornness of the hyperpigmentation.
Add a cleanser with a brightening or gentle exfoliating component to your daily routine. Invest in a serum to treat the skin, for example, Ultra MD Ultimate Brightening Serum is formulated to visibly reduce the appearance of mild to advanced hyperpigmentation and will help to minimise future skin discolouration. It contains a blend of skin brightening agents, including artocarpus extract, bearberry extract and niacinamide.
Cosmedix Elite X-Cell is another exceptional skin brightening serum with LG-Retinex complex (vitamin A) with powerful antioxidants to reveal lighter, brighter more evenly toned skin.
Simply Brilliant by Cosmedix offers an antioxidant boost whilst delivering a triple strength blow to dark spots and other visible discolouration for a more even-toned complexion.
Our internal health and pigmentation
Skin health is also supported by our inner health, so let's not forget taking into account our diets. Omega-3 has been shown to promote thick, supple skin, reduce inflammation and lower skin sensitivity to harmful UV rays. Sweet potatoes and carrots are foods containing high levels of beta-carotene or provitamin A.
Avocadoes, not only delicious, are full of healthy fatty acids and antioxidants, protecting the skin from premature aging and sun damage. Packed with Vitamin E and C, these beauties are shown to significantly improve the skin through collagen support and resistance to oxidative damage. (A favourite snack of mine is to cut one in half, remove the seed and place a little French dressing and lemon pepper in where the seed was and spoon it up from the sides. Delicious!)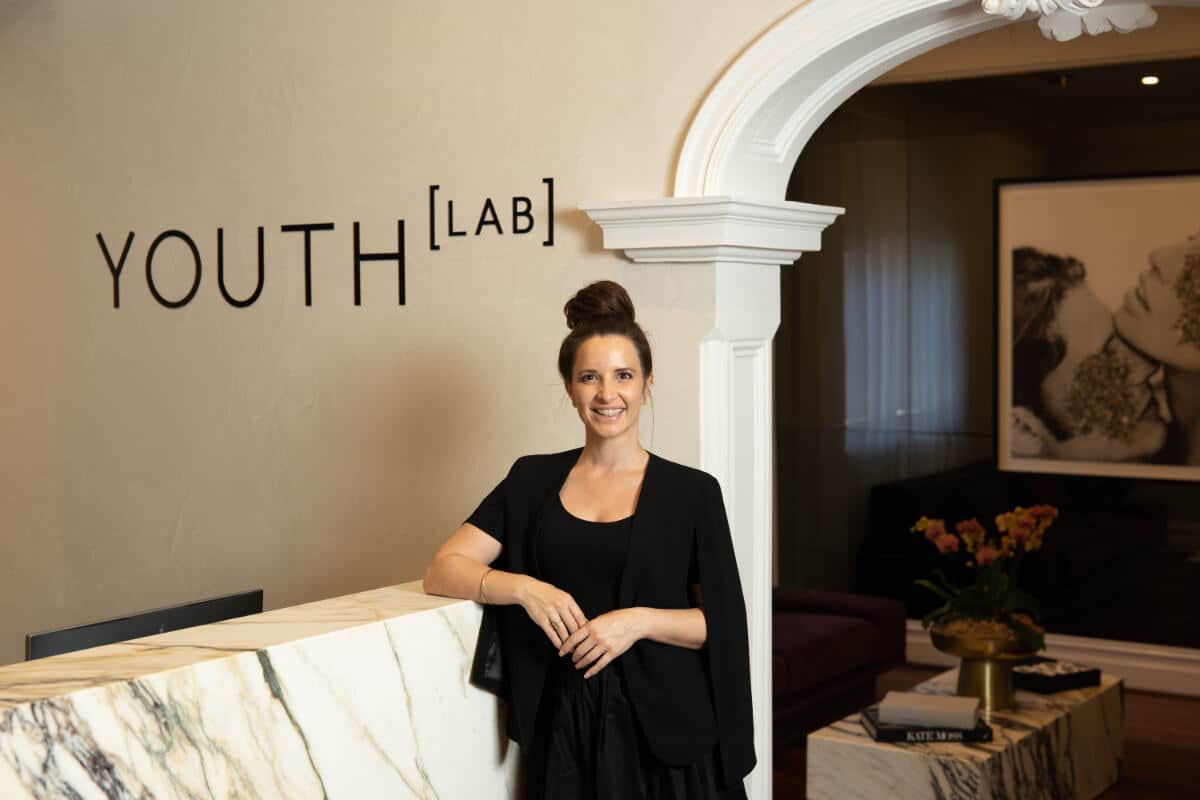 At Youth Lab, we understand that skin pigmentation is a vast concern for so many and this can have a profound impact on our self-esteem and confidence and how we front up to the mirror in the morning.
Although true beauty comes from within, healthy skin has a large effect on our psyche. Taking care of our skin certainly takes a great deal of work, dedication, and education surrounding what it needs to stay healthy. However, our skin is worth the care and effort. Hyperpigmentation has to be one of the most challenging issues to resolve on your own. Our team will warmly assist and guide you along this journey.