Sarah comes to Youth Lab with over 15 years of knowledge and experience in natural therapies, beauty and the dermal cosmetic field.
What inspired you to become a Dermal Therapist?
As a little one, I would always notice other people commenting on my mother's skin. She always took pride in her appearance and looked younger than her true age, still to this very day. I also have fond memories of watching my grandmother lather her skin in her tubs of Chanel creams, with the notion that more will do more, and not that less is more. One of the many lessons I took from the tribe of women in my family, was that we were to take pride in caring for our skin.
With both my grandmother and mother sharing a passion for cooking nutritional, home-cooked meals, the value of a wholesome lifestyle and well-rounded holistic approach to skin and body health was instilled in me from a young age. It was this passion that encouraged me to further my skills and knowledge in this area, to enable me to educate others on the benefits this holistic approach has on long term skin health.
My journey into dermal science evolved from my initial studies in naturopathy and wanting to further expand my experience and passion for integrating advanced treatments to achieve a holistic approach to skin health. Throughout my career, I have been given opportunities to work in reputable integrated medical and cosmetic clinics and was mentored by many cosmetic physicians across the industry, which continued to build on my knowledge, curiosity and passion within the field.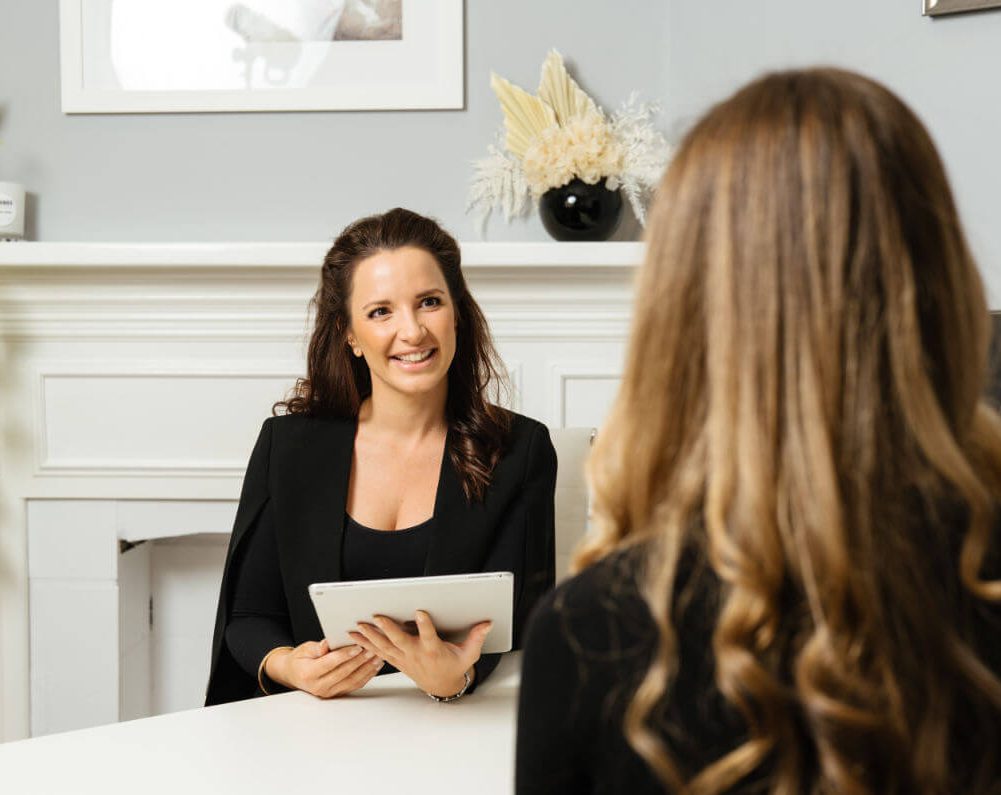 What was the most challenging part of your training?
Moving out of home at a young age, I found myself studying full time and working three jobs to pay for the unfolding journey that my passions took me on. With working long hours and burning the candle at both ends, as we tend to do during all chapters of life, the challenge to keep myself healthy was a journey of self-awareness and learning to find a balance with it all.
What began to ring true for me was that our external manifestations of beauty are dependent on our inner beauty.
Did you have any skin problems growing up?
I was very fortunate as a child to not have any problematic skin concerns and I was blessed with good genetics to a degree. From an early age, my mum introduced me to my very own tailored skin regime, I remember the packaging vividly, the brand was called 'Artistry' with a cleanser, toner and moisturiser in a gorgeous box and from then the ritual began.
During my late teens, hormonal pigment as a result from being on the contraceptive pill began to bother me and impact my self-esteem. I found myself wanting to cover it up with makeup, which became a long journey through to my adult years to control and correct. Since coming off the pill two years ago, I have reached a point of comfort and have no desire to apply makeup all the time. I now focus more on age prevention and maintaining my healthy skin complexion.
What do you love most about being a dermal therapist?
I love getting to meet each and every one of my clients and building a trusting relationship. As therapists, we get to be a part of, and sometimes even witness, those special occasions that a client is wanting to prepare their skin to feel and look their best for, which is an honour.
To help someone regain his or her natural beauty, seeing the change I am able to create in a person's skin and level of confidence in themselves warms my heart. Especially when they elicit a gasp of joy after looking in the mirror, that there is why I love what I do.
It's incredibly exciting to experience and learn about state-of-the-art skin technology. The industry is constantly evolving and creating growth and learning opportunities. I've gained invaluable product and cosmeceutical knowledge and work with a range of product lines from the ever-impressive Cosmedix, PCA, Mesoesthetics and Ultra MD to deliver optimal results. What's not here to love?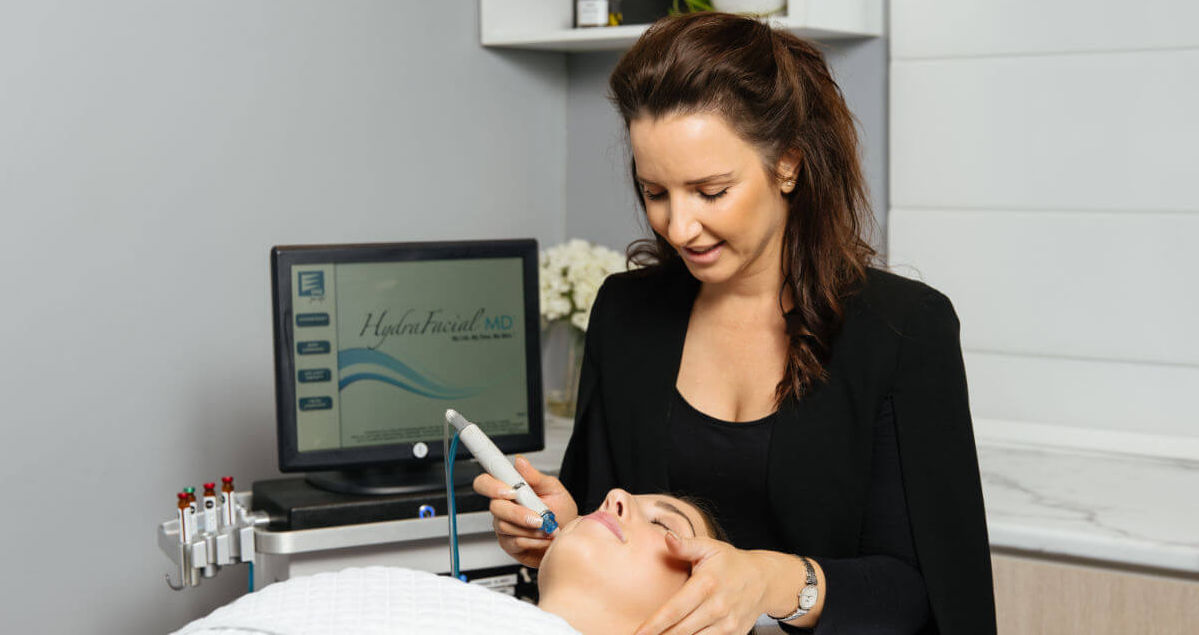 What is your favourite skin concern to treat and why?
Not one skin is the same. Whatever it is that I am treating, there are so many variables to consider, however pigmentation is my passion.
While pigmentation has many causes, the number one factor is the big ball of fire in the sky beaming down on us. With sun exposure, our skin then goes to work even harder producing melanin to protect itself and its DNA from damage. This is where I inform my clients on how important using an SPF daily is, come rain, hail or shine.
However, it's not just the sun that sends our skin into a melanin-producing frenzy, other causes of pigmentation include hormonal fluctuations, medications, inflammation and trauma or injury to the skin. Pigmentation also becomes worse as we get older, as our melanocytes, which are the cells that produce melanin, increase in size their ability to function diminishes and our cell turnover decreases.
Hyperpigmentation has to be one of the most challenging issues to resolve on your own, so to be able to assist and guide my clients through the means of Laser treatments, skin needling, peels, tailored home care products and navigating the underlying issues that may be causing the hyperpigmentation, we can prevent, control and reduce their pesky unwanted discolouration, and in turn raising their level of self-esteem and confidence which is a great feeling.
What is your favourite treatment to perform?
The burning question I get asked a lot during treatments and there is just no simple answer!
So I guess in short, the Hydrafacial gets the most animated response from my clients once they see what has been exfoliated, cleansed and detoxed out of their dirty little pores. It's incredibly rewarding and a reality check to our perception of how clean our skin is, to how clean it actually is. The immediate glow and luminosity it gives with the feeling of smoother, healthier skin leaves every client so grateful and confident with the direction they're going with their skin journey.
Skin needling is yet another fabulous all-round skin rejuvenating treatment, to improve the appearance of scarring, open pores, fine lines and pigmentation, all whilst stimulating the production of fibroblast activity which leads to collagen induction and skin laxity. And let's not forget supercharging this treatment with a cocktail of tailored solutions to help with the natural regeneration of the skin.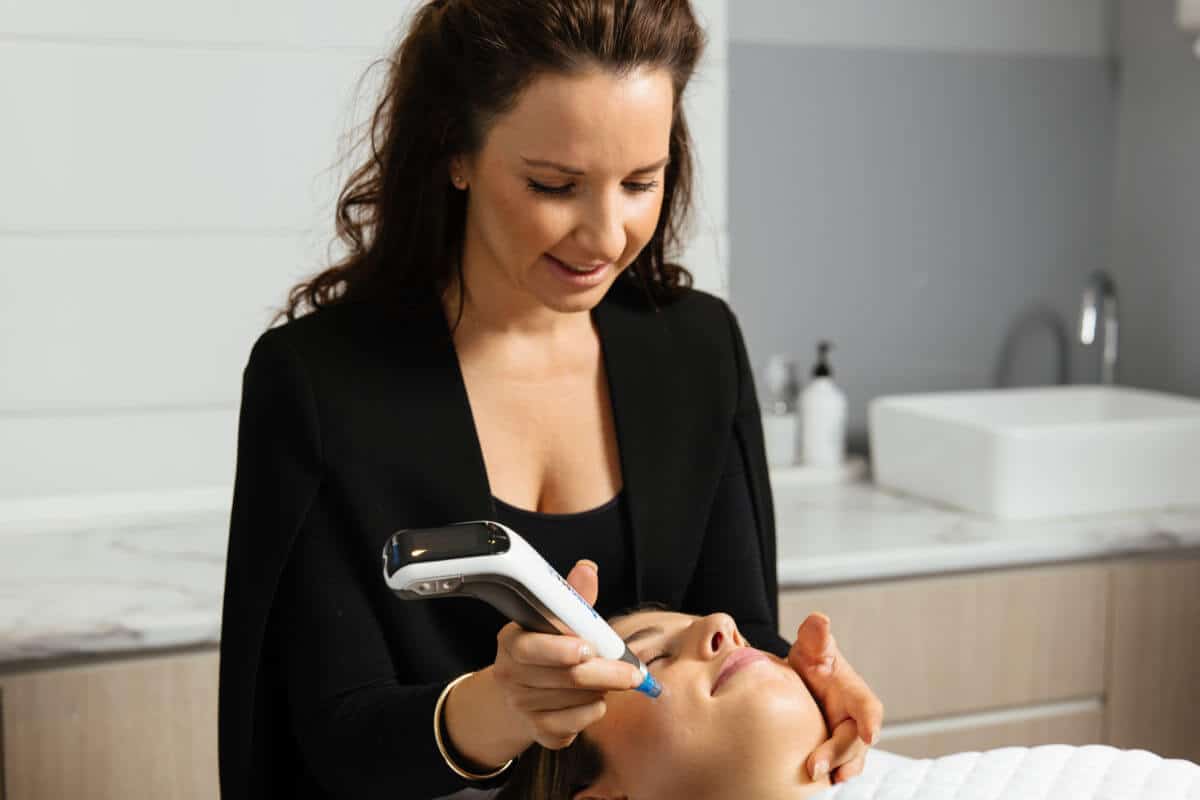 What products are you using at the moment?
They say it's not hoarding if it's skincare, right? So this little lady has a serum for just about anything, however, I definitely have my favourites.
Currently, my morning routine consists of Purity Clean, an exfoliating cleanser containing active AHAs (lactic acid) and peppermint oil. I love the fresh smell of this product in the morning and it is an ideal cleanser for my sun-damaged spots.
My next step is pepoxide serum; jam-packed with 16 powerful antioxidant gems and peptide amino acids to protect my skin throughout the day. Following this serum is what I call my little 'anti-wrinkle in a bottle' Exlinear, to hydrate, smooth and firm around the areas of my face I cannot stop expressing!
My go-to SPF at the moment is the Mesoestetic SPF 50 pigment control; the tinted dewy look saves me having to wear foundation at times, which I love as well as bringing the odd compliment to the complexion of my skin.
Now before the beauty sleep begins, a few key products to help the process after a good cleanse is my Cosmedix Serum 24, which is an encapsulated retinol with a gentle delivery system. Following this, I apply my PCA Hyaluronic Acid Boosting Serum to hydrate my thirsty cells while plumping and firming them along the way, before applying Cosmedix Emulsion to hydrate and nourish my skin.
Then last but not least, my piece de resistance is the Cosmedix Elite Eye Doctor. This high potency eye treatment is a gorgeous, liquid crystal eye serum packed with anti-ageing benefits and retinol I just cannot do without as I get older.
What treatments have you had done this year? How can we get skin just like yours?
With the challenges brought upon us all this year, addressing my beauty concerns needed to become a little more creative. My products became so empty I needed to squeeze them until I had no feeling left in my fingers, and I also had the thought to re-invent the sleep position to upside down, to prevent gravity working against me when my wrinkle relaxers wore off in undesirable areas ?
Thankfully, my skin weathered the storm with a great skincare routine (which is a testament to my mum for teaching me the basics of taking care of my skin from such young age), and my previous maintenance treatments of BBL or laser correction once a year during the winter months. I also undertook Hydrafacials monthly, along with the occasional skin needling treatment. These treatments assisted with optimal penetration of the products I use on my skin.
So what exciting new treatment is next to experience, but a Halo fractional laser indeed! This will really give my skin a boost and propel the collagen production it has missed this year, and to assist with pore refinement and any diminishing sneaky new pigment that has emerged. And maybe a little wrinkle wizard needs to be called upon while I'm at it…
What is your favourite thing to do outside of work?
On the days I don't need to set that alarm clock, I love to prep the messy bun, get amongst nature; anywhere there is water and recharge with my fur baby Baci. I love connecting with those closest to me over a coffee, walk and long breakfasts that fill you up for most of the day and laughing until I get an abdominal and pelvic floor workout!
I practice meditation and yoga for my mind and body and have started the journey to becoming a yoga teacher in my spare time. I love going on retreats in other parts of the world, learning, exploring and trying new adventures. Though I can't leave out the occasional opportunity to bust out the moves with a cocktail from time to time to a good tune, in good company.
What is your favourite part of working at Youth Lab?
I can honestly say that I love my work tribe and environment. A place to work, learn, grow and evolve alongside the many fabulous team members is an honour and a joy. We all have something to offer each other and our community of clients.
We all understand that everyone is unique and individual, and we embrace and welcome that. From the warm welcome and the attention to detail that catches the eye from the moment you step into a Youth Lab clinic, as well as the treatments offered, sets an opulence and experience that our clients deserve, as we guide them on a journey to feel their best self.
To be supported and respected is special within your work environment and truly a breath of fresh air, to say the least.
What treatment do you see becoming popular in 2021?
After a long time of hibernation and isolation this year from the challenges we have all faced, it has felt like a long winter and wintry skin is rarely interesting, the dull hue, fine lines and broken veins telling us a little more than a season of stress has taken its toll.
So I feel the Halo will be taking the limelight! A fractional laser perfect to kick start the lacklustre, sluggish collagen activity and overall texture of the skin, using both ablative and non-ablative wavelengths of light. This treatment delivers a complete skin resurface and deep dermal rejuvenation with epidermal renewal, seeing improvements in overall tone and texture in addition to significant removal of discolouration, reduction in fine lines, reduced pore size, skin reflectivity and glow.
At the Lab we offer such a wide range of treatments, from monthly skin maintenance to serious rejuvenation, that all have their place on the wish list with many a client during their skin journey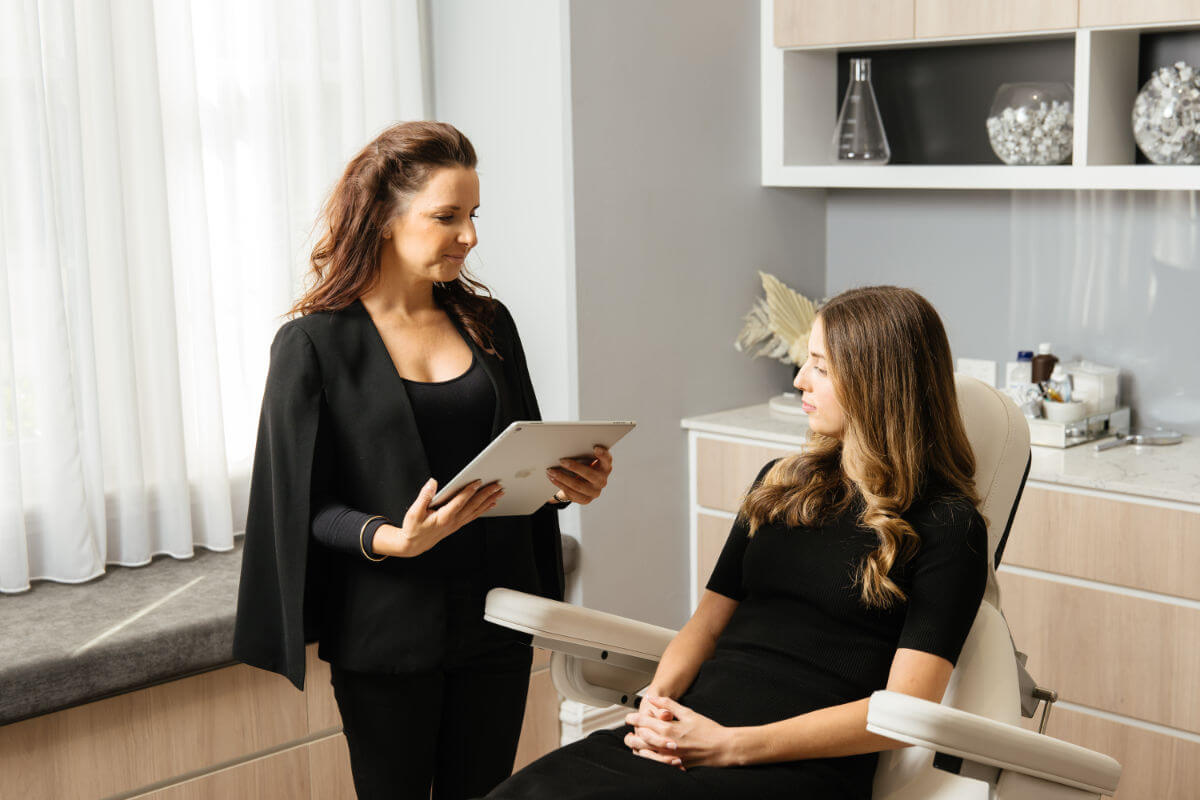 What is the one piece of skin advice you wish all your clients would follow?
There are many I could ramble on about here, however, a simple one that we've all be guilty at one time or another is this skin sin… wearing makeup to bed!
After a big night out, our bed is the only thing on our mind as we kick off those heels and that final step is to wash our makeup off, yet we're exhausted. However, leaving our makeup on can cause many problems for our skin and our health.
Clogged pores from primers and foundations left on our skin overnight can cause blackheads and breakouts. The very products we use to mask our imperfections can actually be the root cause of the problem if we're not removing them each night. How's that for a vicious cycle!
Mascara, eyeliner and eye shadow can irritate the sensitive skin around our eyes if we sleep in it. That gorgeous smoky eye that you finally mastered comes with a price if you don't wash it off before bed, clogging eyelash follicles and oil glands causing small bumps called "styes" leaving no mercy for swelling and puffiness. I think this is where the term panda eyes come from!
Sleeping in makeup means skin doesn't get a chance to recover from the day. Makeup holds on to free radicals and all of the environmental stressors that it comes in contact with daily. Our collagen also decreases and makes us more prone to fine lines and wrinkles, so it's vital to take that little extra step before crawling under the covers to slumber.
Our skin is worth the care, which leads me to advocate the need to nurture and support our inner heath, as this is key to healthier skin. We underestimate what diet, exercise, our mental health and lifestyle have on our skin health, so I always encourage my clients to listen to their skin. Look beyond what they see, past the surface and find the balance within. Our skin is our largest organ. It has a lot to tell us.