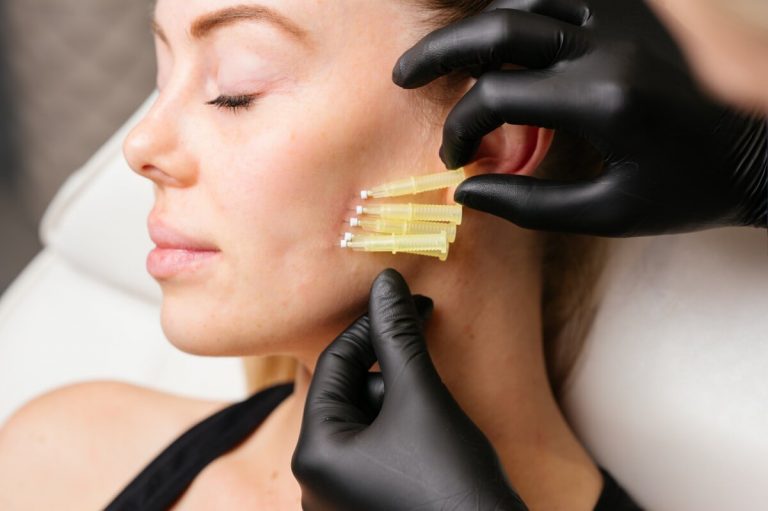 A thread lift is a non-surgical facelift using fine sutures to lift and volumise the face and neck without the downtime and invasiveness of a surgical procedure.
It is also a suitable alternative to those who do not wish to have cosmetic injectables. 
In a thread lift, small anchoring sutures are inserted in specifically determined areas of the face and are then used to elevate and lift the sagging areas, providing immediate results. Rejuvenating threads are also used to improve the condition of the skin and treat superficial imperfections such as textural irregularities and fine lines. 
As we age we lose facial volume through bone resorption, muscle atrophy, fat loss and redistribution resulting in noticeable changes in the overlying skin with sagging, loss of skin tone and contour irregularities. Combined with the gradual loss of collagen and elastin, the skin becomes looser and begins to sag which further contributes to a tired and ageing face. 
Thread lifts can target these changes by providing structural support and lift through the biodegradable sutures which are long lasting with a slow breakdown rate in the skin.
Unlike other thread lift systems which just act as a lift to the skin, the components of our range of PDO threads actively work to stimulate collagen production which, over time, works to increase the volume and restore the shape of the face in a natural way. 
Threads are made of a fine synthetic material called Polydioxanone (PDO) with a long history of safe and reliable use in medicine and surgery such as in sutures to close wounds. This material will dissolve over time and is completely eliminated from the body. 
Threads now offer a non-surgical alternative to injectables which have the potential to improve the condition of the skin and treat skin laxity. The treatment objective depends on the type of thread being used. 
Lifting threads 
These threads work to treat mild to moderate skin laxity by providing mechanical support and physically lifting sagging tissues. 
Rejuvenating threads
These threads (called Mono threads) work to rejuvenate the skin by tightening and reconditioning. They can work to improve the appearance of fine lines, wrinkles and skin texture by stimulating collagen.
PDO threads can be used to lift, sculpt and rejuvenate numerous areas. Treatment indications include:
Full facial contouring

Lifting of the lower jaw reducing the appearance of jowls and marionette lines

Decreasing the heavy nasolabial folds and restoring contour to the cheeks

Reducing the appearance of marionette lines (corners of the mouth) 

Giving a lift to a heavy brow

Lifting sagging neck skin and reducing the appearance of 'turkey neck'

Reduction of lip lines

Nose projection and elevation

Generalised skin tightening and reconditioning across the entire face