I often get asked if we see male clients in the Lab – and we do!
Which is why I decided it was time to dedicate a blog for the guys – because just like us, you have skin, aesthetic and anti-ageing concerns too.
Let's be honest, many men are a little nervous attending their first appointment at the Lab. I get it, we are talking about walking into a cosmetic clinic to talk to a complete stranger about your perceived flaws. It is ALWAYS going to feel a little overwhelming to begin with.
I often say the hardest part is making that first step – The one which requires you to book your initial consultation either by phone or via our super easy online booking system and turn up to your appointment. Once that first point of contact is out of the way, I promise you, the rest is simple.
Pretty much all of our clientele will agree that our little 'dream team' are in-fact a bunch of pretty normal, genuine, non-judgmental, down to earth people. We pride ourselves on our super friendly and relaxed, 'non-clinical' clinic vibe. You are in safe hands.
And if you are feeling a little anxious or hesitant just remember, our team is here for two main reasons:
1. To educate
2. To deliver results
We love meeting new faces, we love being continuously challenged and we thrive on helping our patients achieve aesthetic confidence.
So, with this in mind (you can thank me later) welcome to my TWO part Manscaping in the Lab blog. I have done the hard work for you in an attempt to (hopefully) give you some direction and clarity for when it comes to seeking out treatment options for your skin and anti-ageing concerns.
So here it is, my knowledge and experience – past and present. Broken down into one… nope, two curated lists of what I believe to be the newest and best treatment options out there, specifically suited to the guys.
Enjoy!
Danae x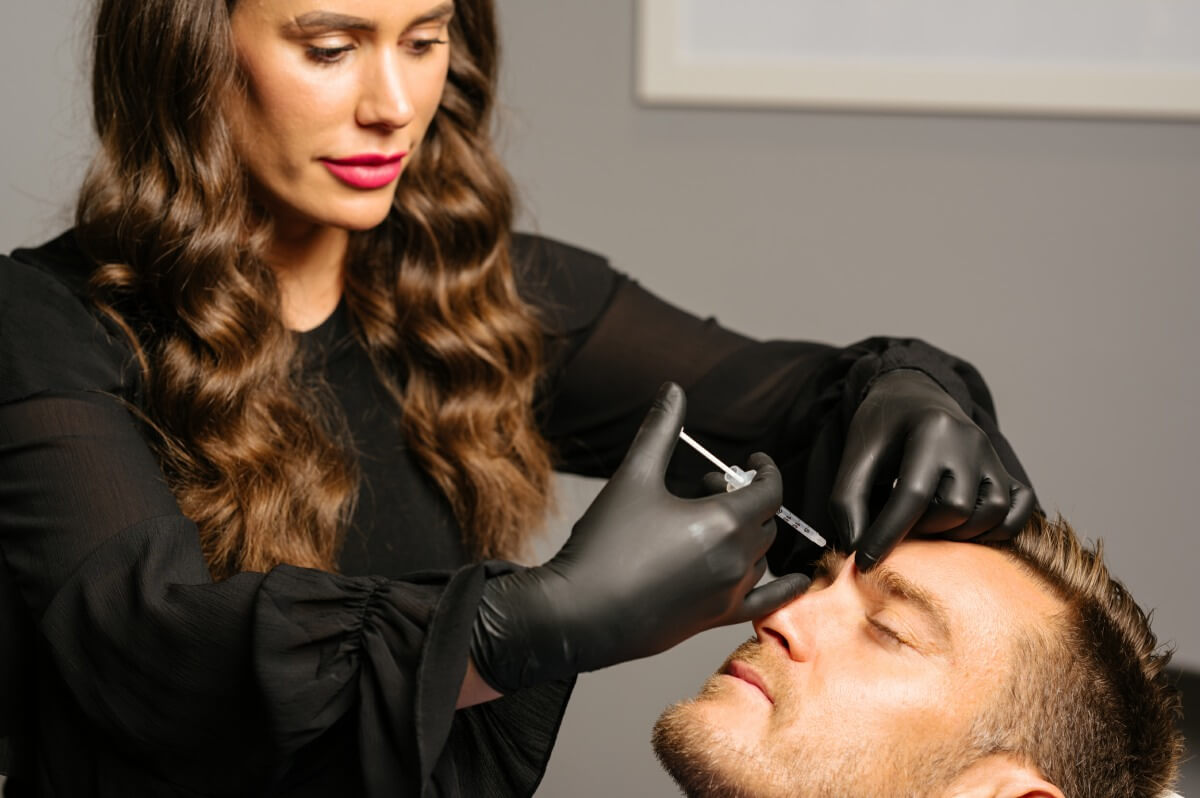 First things first, let's talk about skin.
The three most common skin issues I see directly relating to our male patients include:
So what-is-what and how exactly do we treat it?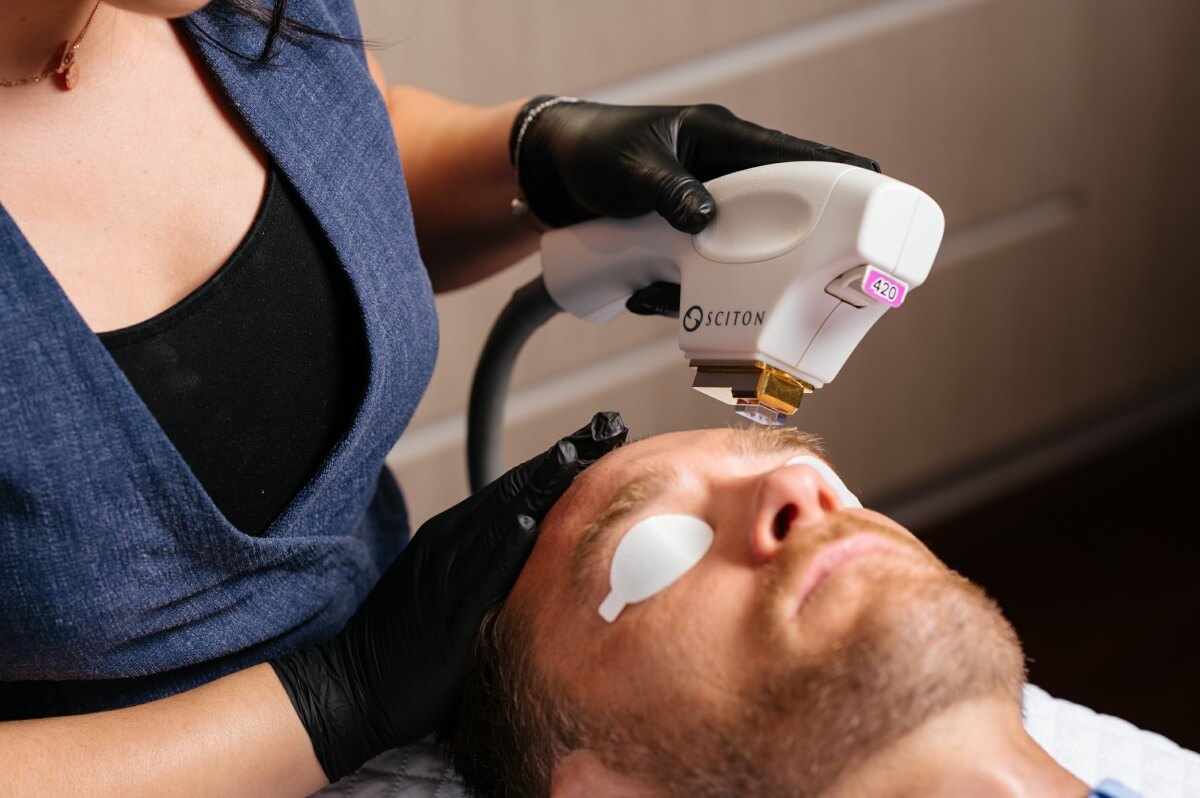 Sun Damage and Pigmentation
Sun damage, freckling and an uneven skin tone are super common in an Australian skin. Our weather is 11/10 amazing, so naturally, we are the outdoorsy type of people.
With time spent outside in our beautiful weather or with unintended small bouts of sun exposure day after day, we as a country are more prone to sun-damaged skin in comparison to the rest of the world. This damage shows up as freckles, sunspots and premature ageing. All of which will add both age and years to your physical appearance.
In my opinion, BBL is hands down one of the best technologies available to treat any form of skin discolouration whether it be redness, facial vessels, capillaries, freckles or even birthmarks. The results that we can achieve with this technology are nothing short of phenomenal and I for one am certain that those who have tried this treatment will 110% have my back.
This machine works by using specific wavelengths of light to target specific colours (which we call chromophores) within the skin. Chromophores can include red spots, brown spots, vessels, capillaries and pigment/colour within facial/body hair. Once the light finds this target chromophore it heats it up and breaks it down.
Most clients will feel a quick flick of heat, lasting only a second or two with each pulse of light. Yes, it is a little uncomfortable, but it is also completely manageable. Plus you know what they say – no pain, no gain. You want results right?
Post-treatment, the skin will feel a little warm and stingy, similar to a sunburn and this can last up to a couple of hours.
Freckles and sunspots will appear a little darker immediately post-treatment as the discolouration within the skin responds to the light. Over the next 5-7 days, the pigmentation and sun damage will slowly make its way up to the surface of the skin and slough off, similar to the way in which our dead skin cells fall off our skin naturally.
Once the darkening falls off, the skin will appear clearer, brighter, lighter and healthier.
Most people will need around three treatments for best results with treatments spaced around three weeks apart. However, the number of treatment sessions you will need will always be discussed and planned during your initial consultation.
As much as BBL is one of my absolute favourites (I must admit I am a little biased as I have been using this technology for around 5 years), I also have to mention our HALO laser.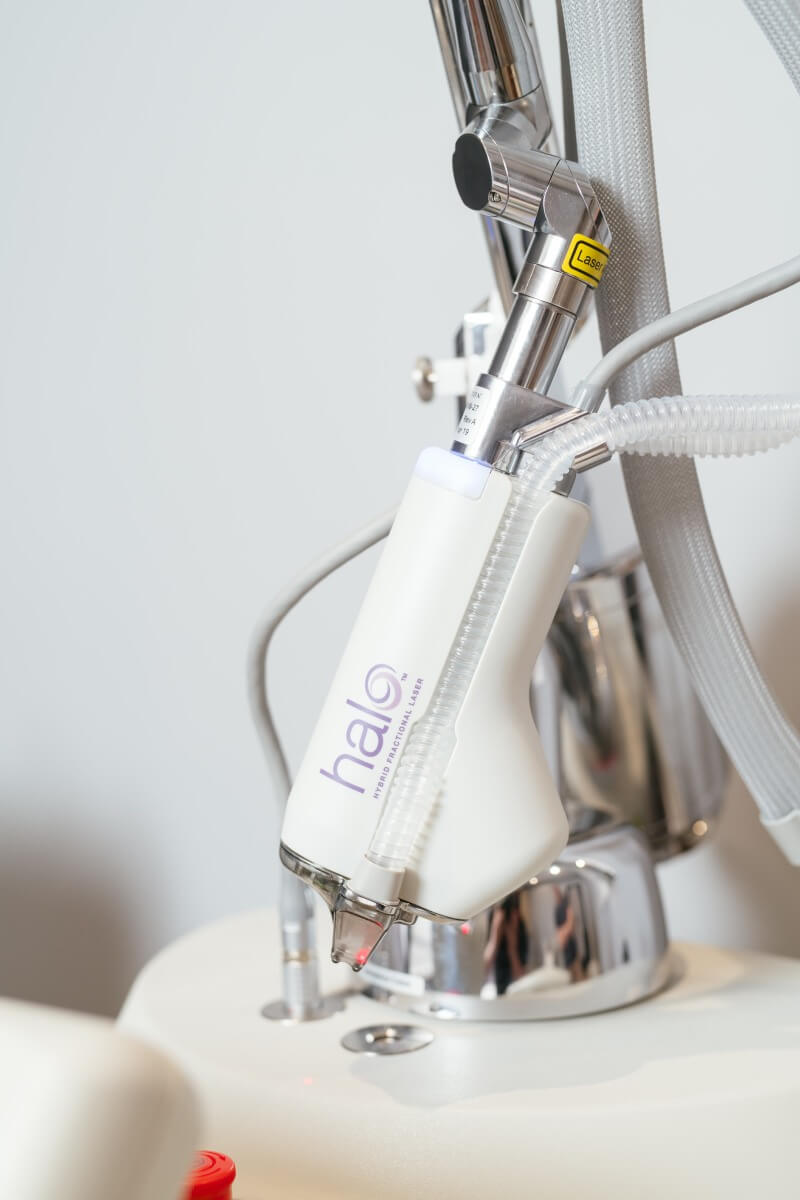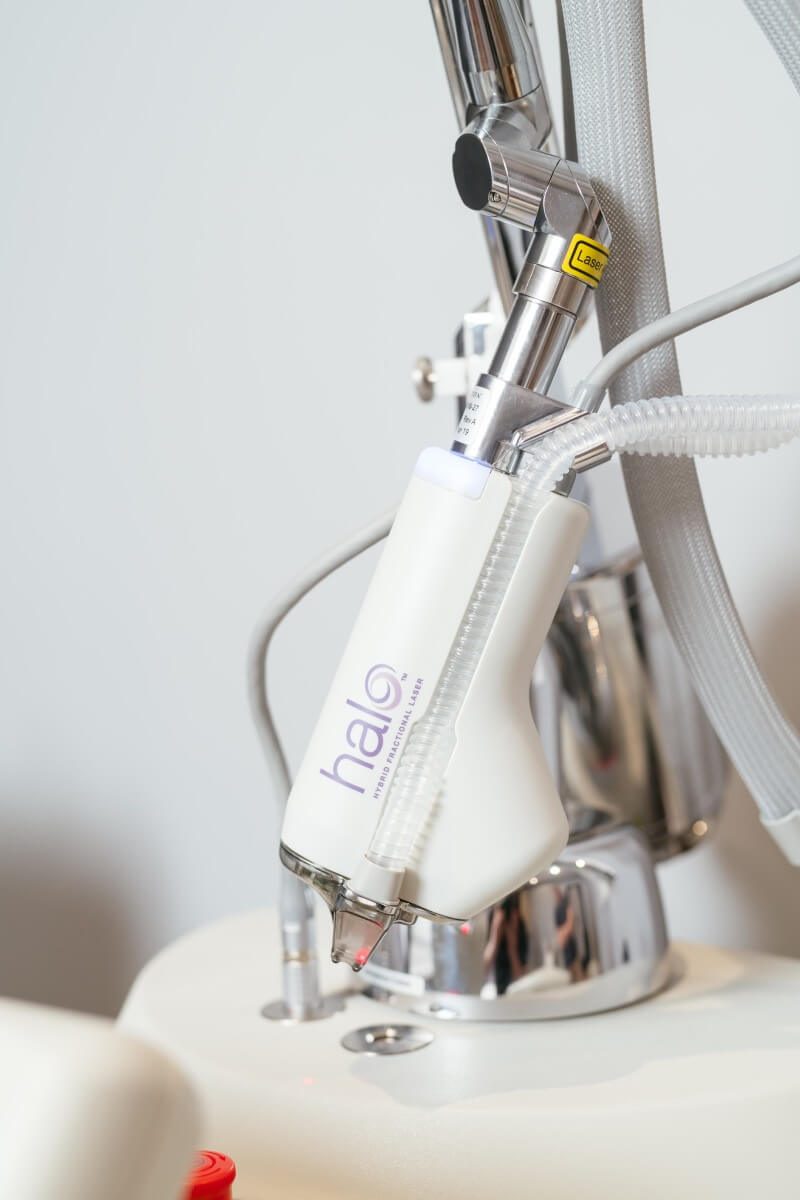 HALO is hands down my pick of the bunch – even over BBL, if you are looking for best results in fewer appointments.
My explanation of HALO is simple – it is our Rolls Royce of treatment options and our great all-rounder. It treats a wide range of skin concerns and is a great option for those of you who want your results in 1 to 2 treatments and don't mind a little bit of downtime, such as redness, swelling and dryness post-treatment.
HALO works on both the superficial and deeper layers of the skin and has the ability to reduce surface pigmentation, decrease the size of pores and improve the appearance of lines and wrinkles.
Basically, in-short HALO gives nothing less than seriously amazing results, which are achieved with not one, but two forms of laser, built into the one, single platform.
The first laser is an ablative laser, which vaporises small columns of tissue, i.e. it burns tiny little micro-holes into your skin. This removes old skin and old tissue, which over time (around 12 weeks) will be replaced with nice, new, healthy tissue full of collagen and elastin. All of those wonderful things that make a skin appear younger, less aged and of course healthier.
The second laser used within the HALO platform is what we call a non-ablative type laser. This laser does not ablate or vaporise tissue, but works more so on the deeper layers of the skin, removing skin discoloration and sun damage and also stimulating collagen and elastin.
During the treatment, discomfort is kept to a minimum with the application of a prescription strength numbing cream. Most will feel a prickling, rolling sensation to the skin followed by heat. The majority of my patients rate the discomfort somewhere between a 2-7 out of 10. Personally, I found my HALO to be a 2/10, but I for one love a bit of discomfort, especially if it is getting me results.
Post HALO the skin will feel hot! This usually lasts for a few hours.
The following day, expect to wake up and see the face of a chubby little cabbage patch kid staring back at you in the mirror ie. swollen. It's always a nice little surprise to wake up to and makes for a laugh. Dry skin, darker patches of pigmentation, redness and swelling is all very common and all very normal.
As HALO laser is a little more 'hardcore' in comparison to BBL, downtime is a definite. However, downtime associated with HALO is actually pretty minimal in comparison to other lasers within its field.
The great thing about this technology is that we have the ability to tailor the treatment to suit each individual, their skin type, their desired results and the amount of downtime in which they can commit to.
The length of your downtime depends on the strength of the treatment and the settings used. We have a few different options in the Lab ranging from our HALO Pro (strong treatment) where the above may last anywhere from 7-10 days. Or you can opt for our HALO Glow, which will usually only set you back for 4 to 5 days.
With a stronger treatment comes fewer appointments and better results, meaning 1-2 treatments should suffice. The positive to fewer treatments means downtime is easy enough to schedule into diaries.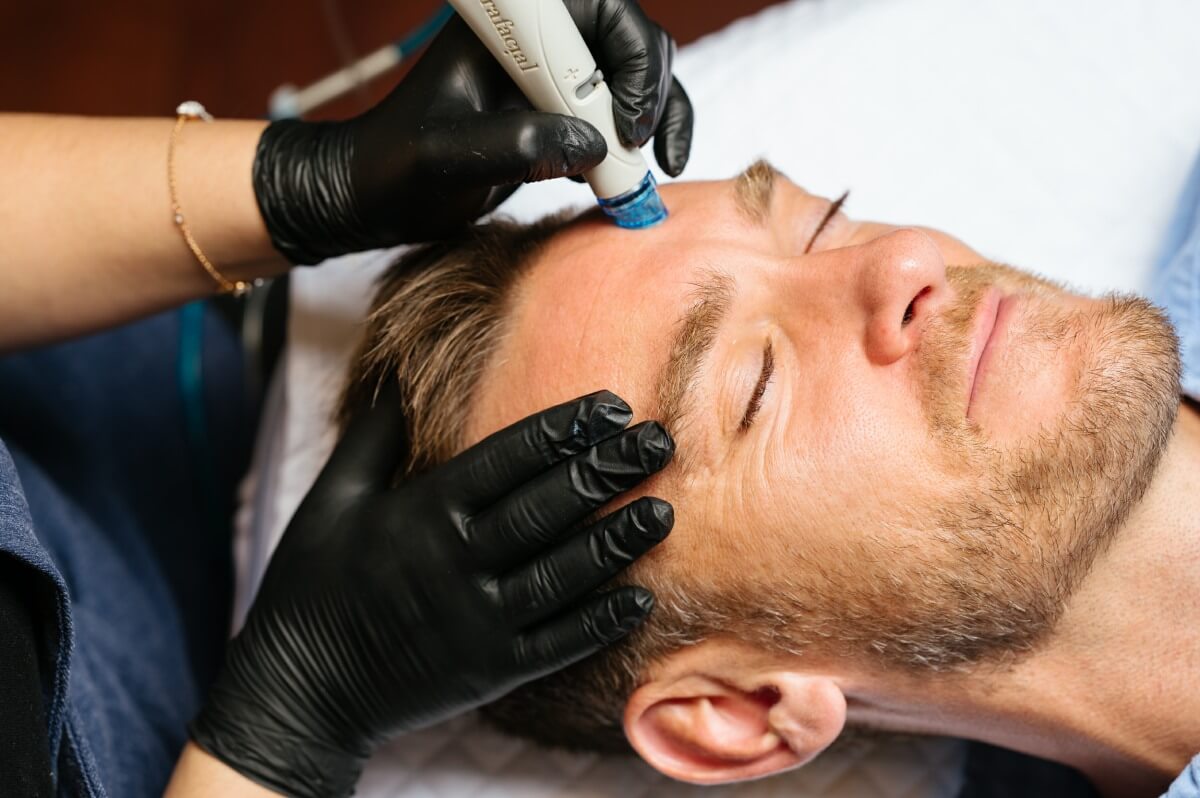 Acne, Congestion and Blackheads
Hydrafacials are one skin treatment every guy should be doing monthly, no questions asked. It is such a great treatment option for guys because you can sneak in, have a treatment and none of your mates will detect a thing (apart from your skin looking 100/10).
Hydrafacials are suitable for all skin types – congested, sensitive and dehydrated. However, I personally find those concerned with congestion, acne or blackheads are usually the ones who get the most noticeable results.
I always explain the Hydrafacial as a supercharged clean out with intense hydration and anti-ageing benefits.
The Hydrafacial utilises an exfoliating tip combined with suction to remove built up debris within the skin. At the same time, it rehydrates the skin with the infusion of active acids and serums – such as glycolic, lactic, salicylic and hyaluronic acid.
I will admit most of our clients find the extraction part of the treatment the most satisfying. This is the step in which we increase the amount of suction and suck out any congestion, dead skin, sebum, build up and blackheads from your pores.
FYI, if you want to see exactly what was removed during your Hydrafacial treatment, all you need to do is ask and we can show you the sickly satisfying ruminants of what used to be in your skin – all of which makes its way into a canister at the back of the machine.
Hydrafacials give immediate results and I can guarantee that you will leave the clinic with skin feeling and looking clean, plump, dewy and hydrated.
Did I mention this one has no downtime or discomfort? With that said, I dare you to try one… I guarantee you will be hooked.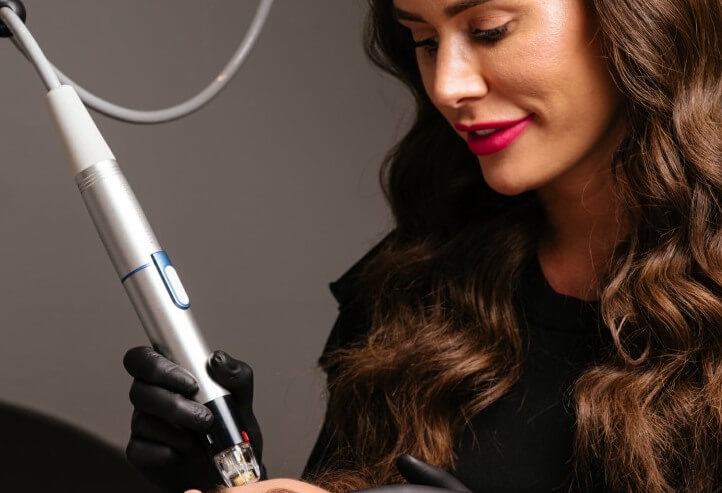 Scarring
Scarring is really common in men, and I find that most guys with beards generally have a beard to either hide their acne scars or hide their submental fullness (double chin).
We are fortunate enough to have a range of different treatment options available in the Lab specifically suited to scarring. However, different types of scars may require different types of treatment. This is why your initial consultation is so important prior to any treatment being booked or performed.
Generally, as a rule, I find the best results are achieved through a combination of Radio Frequency and Micro-Needling (RF Micro-needling).
RF Micro-needling does seem a little brutal when described. However, the results are incredible and in case I have you a little worried, we have the added benefit of being able to apply a prescription-strength numbing cream prior to any RF Micro-needling treatment being performed.
During the treatment, most patients will feel a repetitive, hot, stamping motion to the skin, which lasts around 30 minutes – the time it takes for us to perform a full-face treatment.
This technology utilises a number of insulated needles, which penetrate the skin in a stamping motion, letting off heat at the desired depth. This controlled trauma to the skin promotes a natural wound healing response, which over time increases the production of collagen and elastin.
The production and growth of new tissue will result in a noticeable reduction to the size, depth and severity of the scars.
My explanation of RF Micro-Needling is that it has similarities to standard needling but think of it as needling on steroids. Not only are you getting the benefits from the needling i.e. new collagen, elastin and tissue regeneration, but you are also getting benefits from the RF heat which is being delivered deep into the skin. This heat tightens the skin by coagulating target tissue, giving you those wonderful anti-ageing benefits.
The depth of the needles can be altered (up to 5mm) depending on the severity and placement of the scars. However, the most common depth used for facial scarring is between 0.5mm to 2.5mm.
The skin will usually feel warm, tight and a little stingy post-treatment and if you look closely you will notice a small amount of swelling, some pin-point bleeding and a few little noticeable microchannels (holes) leading into the skin.
Redness and swelling tend to last a few days, so if you prefer to go undetected, my advice is to book in for your treatment on either a Friday or a Saturday giving your skin the weekend to recover.
Most will need a course of treatments – anywhere from 3-6, however, this will depend on the depth, size and severity of the scarring. As always, this is discussed and outlined during your initial consultation.
With skin out of the way, I really hope I have been able to clarify some potential questions to concerns you may have had, whilst giving you some options to think about.
However, if you think your concerns are better suited to injectables, hold tight, as Part Two makes its way to your screens very, very soon.
Danaé x