The world of cosmetic medicine is notoriously unregulated when it comes to consistent practitioner training and industry practices. How do you choose the best clinic for your safety and results? At Youth Lab, our commitment to client safety and satisfaction is always at the forefront of what we do.
The cosmetic injectable treatments we perform at Youth Lab include anti-wrinkle, dermal fillers, and collagen stimulators. These treatments are used to reduce wrinkles, restore volume, and to improve the overall facial aesthetics or concerns of our clients. While these procedures are generally low-risk when performed by trained professionals, it is crucial to prioritise safety measures to minimise any potential risks or complications for clients.
Clients who come and visit us at Youth Lab can have peace of mind knowing that our treating practitioners undergo extensive training to be kept up-to-date with the latest technology and procedures. We are fortunate enough to be working under our Medical Director, Dr Kate Jameson. Our treating practitioners are fully qualified and experienced registered nurses and doctors to ensure our clients are kept safe every step of the way.
In this article, I will be discussing below a number of key topics in regards to the safety measures treating practitioners undergo for each client at Youth Lab.
Thorough consulting
Visiting Youth Lab for injectables means you will have an extensive consultation with one of the registered nurses or doctors prior to any procedure. This allows us to have an in-depth discussion with you about your current concerns and formulate a treatment plan. Your treatment plan should be as unique as you are!
Social media can portray the image that coming in for an injectable procedure is a quick and easy decision, but there are a lot of factors to consider. Your treating practitioner will assess your anatomy (no two faces are the same, so we can't just copy and paste a template), suitability, product choice, delivery technique and ensuring clients aren't contraindicated to the treatment. It is essential to find an injector who can perform your treatments both safely and effectively.
There are many factors to consider in achieving an aesthetically pleasing result. Ensuring client suitability as well as understanding the risks of every treatment and how these can be managed if they were to occur. There are many risks and side effects that can occur from incorrect or over treatment as well as minor risks such as bruising, bleeding and swelling. Whereas potential serious complications can include skin necrosis (due to a blocked artery) and blindness if left untreated.
While we don't want to scare our clients, we want to make sure they are fully informed and aware of the risks prior to their procedure with us.
This is why we undergo a thorough consultation process with every client, as well as regular training sessions to be sure we are always up to date with the evolving world of cosmetic medicine.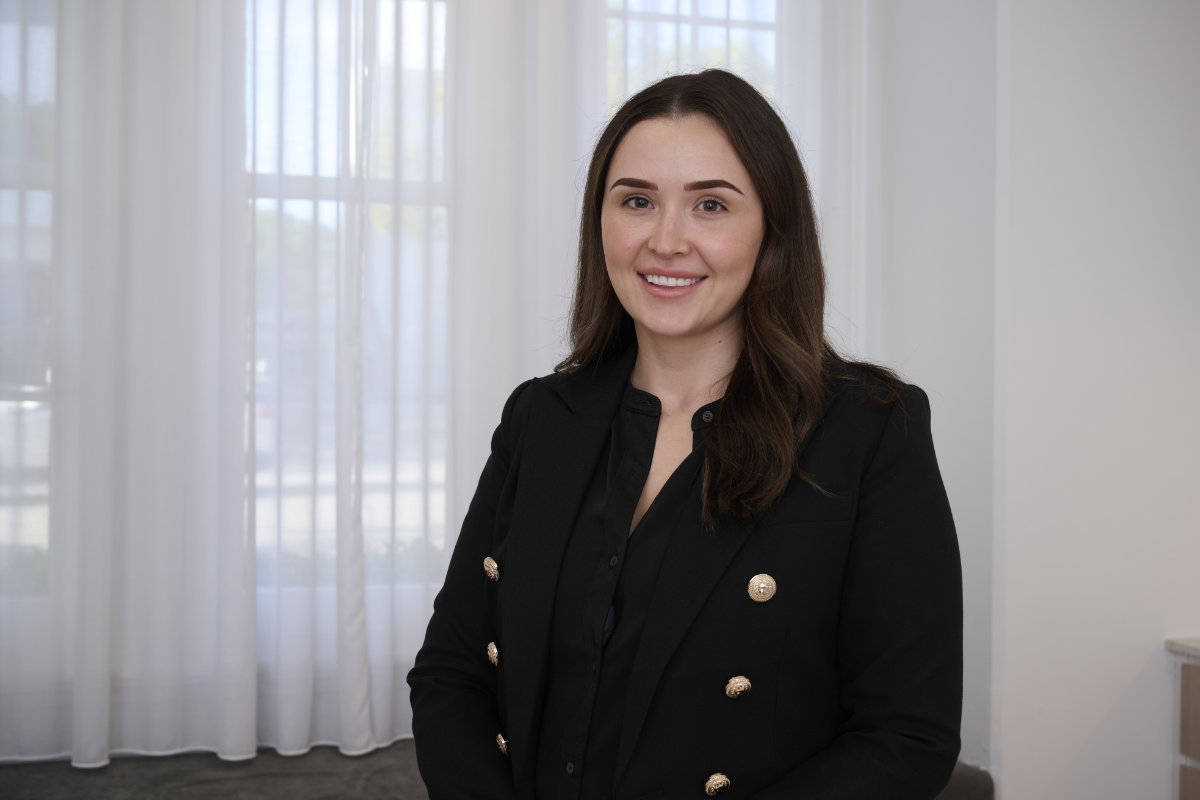 Facial ultrasounds
Dermal fillers are used in our clinic to enhance the features and target concerns. Our treating practitioners have access to hand-held ultrasound machines to best avoid complications when injecting high-risk areas.
The ultrasounds are used to help locate the important vascular structures or to effectively resolve (rare) complications.
Clients who come in and see us after having dermal filler treatments elsewhere often aren't sure of where or how the previous product was injected. Our ultrasounds can be used to gain clarity on treatment history in these cases. It is up to the treating Youth Lab practitioner if they use this technology when treating clients to help visualise what's going on under the skin.
Complications can be caused from a number of reasons: incorrect product choice, injection technique (too superficial or incorrect layer creating lumps which may be visible), or an inflammatory response. In more rare cases, vascular compression or intravascular injection (due to the treacherous vascular pathway in the face) can lead to skin necrosis if left untreated.
We are able to use our ultrasound doppler to locate dermal filler and surrounding tissues. This allows us to deposit a dissolving agent directly into the concerned area if required.
Ultrasound is a newly used tool at Youth Lab and one of the extra ways we can improve the safety of dermal filler procedures.
Training
At Youth Lab, our team of doctors and nurses undergo regular professional development and training specific to cosmetic medicine, as well as our own professional development for our registration yearly. This is integral to building and refining our knowledge and increasing our treatment safety when treating clients.
We undergo quarterly training sessions with the whole medical team, as well as 1:1 sessions with our Medical Director, Dr Kate. Additionally, we regularly attend hands-on training sessions with the product trainers to learn different and new ways we can utilise products to the best of our ability.
We are given the opportunity to keep up-to-date with all the latest treatments as well as scientific publications and case studies world wide.
Practitioners at Youth Lab learn from international doctors and cosmetic nurse injectors who are key opinion leaders in our industry. These experts provide worldwide studies and first-hand experiences dealing with complications.
A lot is learnt from published publications and case studies by these medical professionals as our industry is constantly evolving. At Youth Lab, we are given the opportunity to attend conferences with presentations and live-injecting sessions from industry leaders. At these events, in-depth discussions with fellow injectors are facilitated to share knowledge.
The entire Youth Lab team comes together every quarter for a collaborative training session. We perform full-face assessments and have a number of case studies on models to allow us to learn from each other.
While Youth Lab practitioners deliver the same natural, tailored outcomes for our clients, we all inject slightly differently. This is why group training sessions are important. We all get so much out of training together as it allows us to take a step back and learn something new.
Our quarterly team meetings are focused on a variety of topics within aesthetic medicine. We have the opportunity to request topics would like to know more about to learn how we can deliver the best treatments to our patients. We also discuss any reported side effects from clients and how these have been managed in the clinic.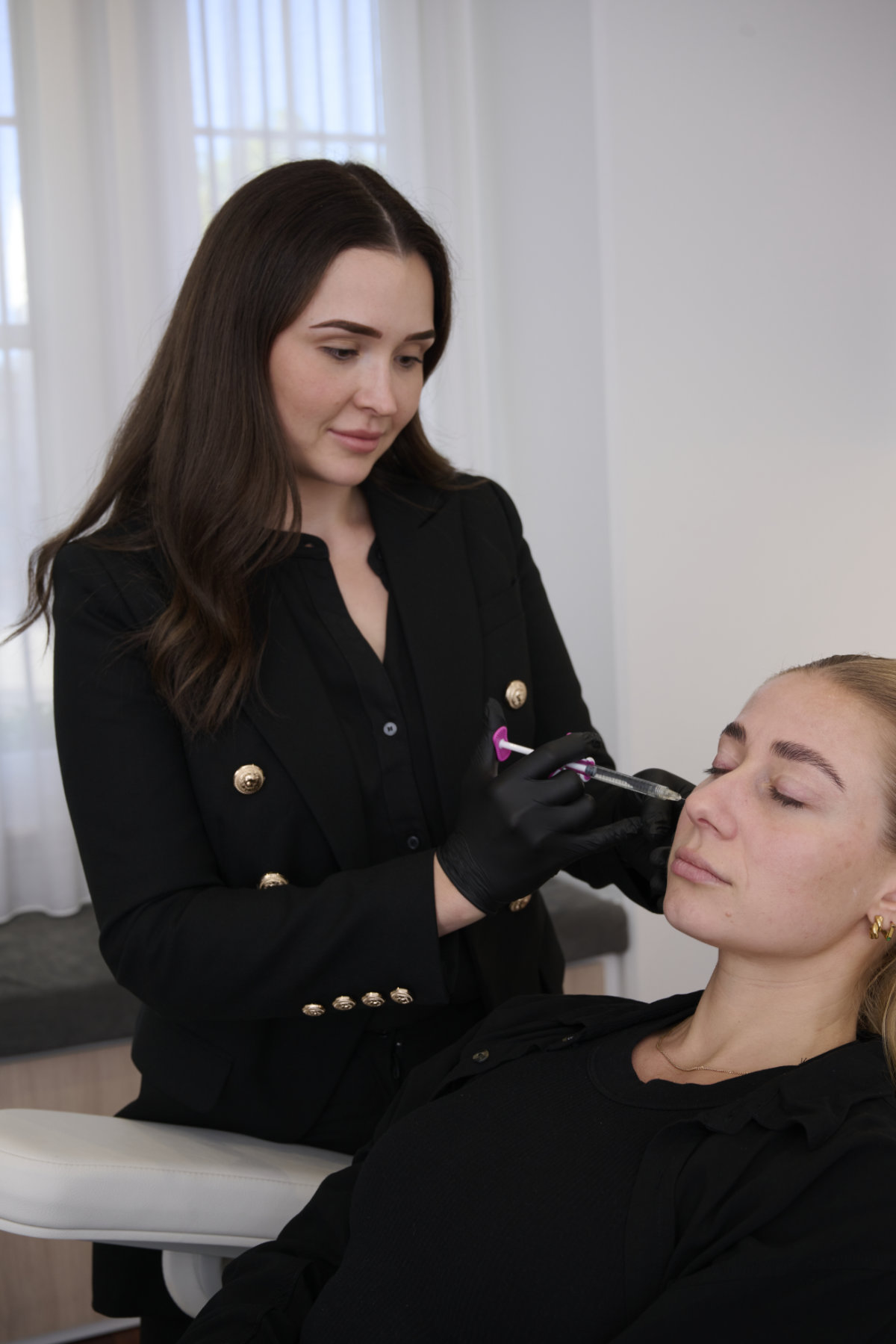 Aspiration
When administering cosmetic injectables, safety is of utmost importance. A big debate with cosmetic injectors is aspiration, this is an additional safety measure that can be taken by injectors. Aspiration is when we pull back on the plunger after the needle has been inserted into the area, this allows us to check for the presence of blood before proceeding with the injection. The purpose of this is to check if our needle may be in a blood vessel prior to depositing dermal filler and proceeding. If blood is present the injector can then reposition their needle to avoid any potential complications such as a vascular occlusion.
While aspirating isn't universally considered necessary, it adds an extra layer of safety allowing the injector to take an added precautionary measure to avoid potential adverse effects especially in areas with a higher risk of vascular complications.
A positive aspirate may not necessarily mean that you are in a blood vessel as they can give us what we call a 'false positive'. Still, it is an added extra safety framework I can deliver to patients to enhance safety, minimise complications, and ensure that I have done everything in my power to deliver a safe and effective treatment.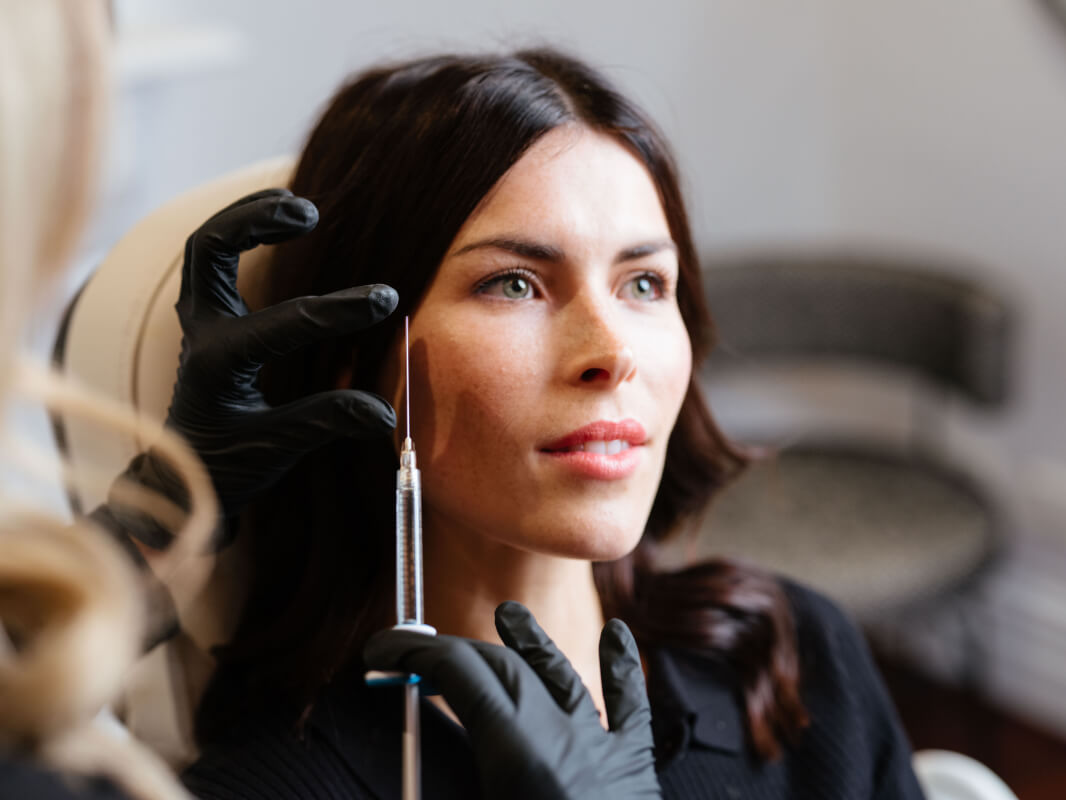 Cannula vs needle
One important aspect for injectors to consider when treating with dermal filler is deciding between cannula or needle for the treatment. Needles are the primary method for delivery injectables. However, cannulas are sometimes the safer alternative, particularly in delivering injectables over danger zones. A danger zone is where a nerve and artery flower out from the skull together.
An advantage of using a cannula where appropriate is the reduced risk of injury and trauma. This is because we are using only one entry point. The blunt cannula navigates through the tissue to deliver the product, reducing the risks associated with using multiple injection point. Using a cannula doesn't mean that the risk of an intravascular injection is completely removed, but it is less likely compared to a sharp needle.
Although cannulas may offer more safety features, it is essential to outline that the choice between a needle and a cannula ultimately depends on the treatment area, skill and your nurse or doctor's choice. Your practitioner will choose needle or cannula to best create the desired result while always prioritising safety.
Follow up
It's so important that our clients know we are here for them every step of their treatment journey. As practitioners, ensuring we deliver a high level of care and safety while performing a cosmetic injectable treatments is crucial to us.
Cosmetic injectables involve the use of a medication that is injected into the muscle or tissue. While these treatments are generally low-risk, there can be potential risks and side effects. We provide comprehensive post-treatment support at Youth Lab. This helps our practitioners identify and manage any adverse reactions or complications that can occur with immediate assessment.
Providing reassurance and support post-treatment is a cornerstone of Youth Lab's commitment to client-care. Seeking cosmetic treatments to enhance your appearance, boost your aesthetic confidence or target a concerns is a vulnerable process.
Our practitioners establish long-term relationships of trust and professionalism with their clients.
Book your next Youth Lab experience through our convenient booking system here.