We are so excited to introduce the newest luxury Hydrafacial experience offering the benefits of our popular Hydrafacial treatment along with all of our specialised treatment add-ons.
All steps in the Ultimate Hydrafacial work in synergy to deliver optimal results for a facial rejuvenation treatment like no other.
Treat yourself to 60 minutes of relaxation and indulgence whilst treating your skin to one of the most advanced and popular treatments available.
At Youth Lab, we aim for scientifically proven and results driven treatments but we also strive to offer a bespoke, private and high end experience for all of our clients. The Ultimate Hydrafacial delivers this seamlessly.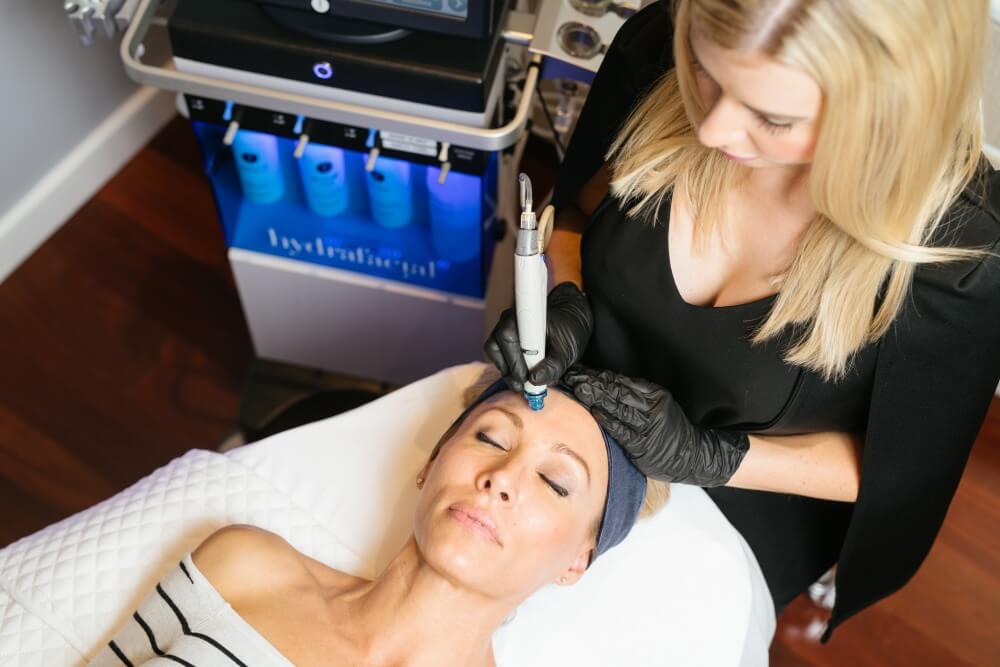 The Experience
The experience starts with a detoxifying lymphatic drainage treatment to the skin using specialised glass massage tools which work with gentle suction to increase circulation and lymphatic drainage in the face. This works to decrease facial congestion, puffiness and starts the detoxification process in the skin.
Following the detoxification phase, a Hydrafacial is performed, tailored to your skin type and concerns. The Hydrafacial beings by cleansing and exfoliating the skin; removing makeup, debris and dead skin cells.
Following exfoliation a light acid peel infusion works to break up congestion prior to the gentle extraction phase of the treatment, revealing fresh, tightened pores and smoother more refined skin. Then, an infusion of our specialised Dermabuilder peptide complex is applied to fine lines, wrinkles or areas in need of extra TLC before the Hydrafacial cocktail of peptides, antioxidants and hyaluronic acid is infused into the skin to complete the treatment.
Post-Hydrafacial we treat you to further relaxation under the Healite II LED. Left in a quiet space with a warm, soothing light the skin then begins its repair and rejuvenation process. The Healite II is used to stimulate further collagen and elastin production, can heal and soothe irritated or sensitised skin and treat congested acne-prone skin.
The choice of yellow, red or blue light (or a combination) is decided according to your individual skin concerns and goals. Regardless, you will feel energized and be left glowing after this part of the treatment.
To complete the Hydrafacial experience we then apply our collagen peptide gel mask to add further hydration and active peptides into the skin. The mask also works to cool the skin following the warmth from the Healite. Application of our specialised Hydrafacial hyaluronic acid serums with antioxidants it then applied followed by some SPF 50+.
Once your thirsty skin has absorbed all of the goodness of the collagen mask and serums the experience ends with our beauty booster elixir to be enjoyed in the relaxation room and a friendly farewell from our therapist and team. Your skin is ready to take on the day or whatever milestone event or occasion may be coming up.
Read more about some of the inclusions in more detail below (these can also be added individually to any Hydrafacial treatment).
Pick your favourite…
Detoxifying Lymphatic Drainage
Lymphatic drainage is an essential part of the body's immune system and detoxification process. The facial lymph nodes can become blocked and congested with age, stress, illness, lack of sleep and allergies. Impaired lymphatic drainage can result in under eye swelling and puffiness, dull and lacklustre skin, congestion and impaired immune response.
At Youth Lab, we perform manual lymphatic drainage using a gentle massage technique prior to performing the Hydrafacial. Not only does this treatment feel superb (and relaxing), this gently detoxifying lymphatic drainage can improve the functioning of the facial lymph nodes, aiding in the detoxification of the skin, improving circulation and working to give clearer and healthier looking skin.
Adding a detoxifying lymphatic drainage treatment to your Hydrafacial is especially helpful for those who suffer from under eye puffiness, allergies, shift workers or those who have recently travelled.
Dermabuilder Peptide Infusion
The Hydrafacial Dermabuilder peptide complex is one of our most popular add-on treatments. The Dermabuilder is a serum which is incorporated into the Hydrafacial protocol and is specifically formulated to target fine lines, wrinkles and ageing skin.
Think of Dermabuilder as a skin strengthening, smoothing and softening powerhouse. The Dermabuilder can help to repair and strengthen collagen and elastin in the skin due to its complex of powerful peptides. This infusion is suitable for all skin types and all ages, not just those who are interested in anti-ageing treatments.
We love it for the fine skin around the eyes and mouth as well as anywhere expression wrinkles may be evident.
Medical Strength GlySal Peel
We pride ourselves on tailoring our Hydrafacials for every skin type. One of the most important steps in the Hydrafacial is the utilisation of the GlySal peel which helps to break up congestion and dead skin cells.
For those who are regular Hydrafacial connoisseurs and want a more intense treatment, or for those who have acne, deep congestion or thickened/oily skin then adding a medical strength GlySal peel is a fantastic way to intensify and strengthen the overall treatment. This peel does not increase any discomfort nor affect the other aspects of the hydrafacial, but it may result in a little bit more down time such as peeling (for a day or two).
Aside from a little tingle, it is a fantastic option for those who are after serious results.
Healite II LED
The Healite II LED is the perfect add on treatment to the Hydrafacial. Not only does it add an extra element of relaxation (imagine a snooze under a warm light) but the advanced LED wavelengths can work to boost and enhance the results from the Hydrafacial treatment.
The Healite II LED is the most advanced LED system available and has been proven to increase collagen and elastin as well as aid in skin recovery and healing. The result from the Healite is smoother, healthier skin with improved tone and texture. For those who suffer from acne and congested skin the addition of the blue light (415nm) can work to fight the bacteria causing acne and further improve skin condition following the Hydrafacial.
Read more about the Healite and the wavelengths available as part of the treatment here.
Collagen Peptide Mask
The addition of firming and hydrating masks can work to enhance the results of the hydrafacial as well as add that extra element of indulgence. We have some exceptional masks in clinic with our favourite being the Societe Rejuvenating Peptide mask.
This mask has been developed for cosmetic medical use to calm and moisturise the skin after any type of procedure. It contains powerful anti-ageing peptides and plant based stem cells which work to rejuvenate and relax the skin. It is no ordinary mask and the gel sheets use an innovative delivery system to ensure the ingredients are delivered optimally into the skin after treatment.
The result? Cooler, calmer and plumper skin which is even more radiant. Plus you can take the mask home for further use the night of your treatment.
So what are you waiting for?
Come in and visit our team for an hour of complete bliss, while giving your skin some much needed love and attention.
Dr Kate x