Moisturiser
Moisturiser is often the first skincare purchase we make as teens, 20's or even beyond. It forms the basis of many skincare routines and can often be the only product used.
Traditionally skin care comprised of simply washing your face with soap (I cringe as I type this) followed by layering on the moisturiser. For many of us this is the skincare step ingrained into us as the "go to" or starting point when we first think about looking after our skin.
But how do we get to that starting point of skincare? For many of us we only start to think about looking after our skin once something has started to go wrong – such as the skin becoming dry, flaky or sensitive.  Enter moisturiser to the rescue.
But what does a good moisturiser do exactly? Why has moisturiser remained the glue that has held our skincare routine together for decades?
l'm going to honest with you. Although we love our moisturisers unless they have added active ingredients moisturisers won't necessarily change your skin on a cellular level in the same way as our Vitamins and serums do.
However, they are excellent way to keep our skin hydrated, replenish natural moisture to the upper layers of our skin and encourage a healthy skin function daily. Plus, who on earth doesn't want their skin to look and feel soft skin! Moisturisers are an excellent addition to your skin care regime and best applied at night time once your serums and active ingredients have been used.
Now my must have moisturisers no matter your skin type are:
Cosmedix Humidify 
This one's my daily moisturiser and I am utterly obsessed. It is designed for more dry and dehydrated skin. This super rich and firming formula combines the use of Shea Butter to renew and protect against signs of aging, Trehalose to lock in lasting hydration and colloidal oatmeal to add soothing benefits to a rough, dry skin. All while promoting a more youthful and radiant looking skin. Perfect for anyone looking for that super hydrating, deeply moisturising skin finishing product.
PCA Clearskin 
We've spoken a lot about moisturiser for dry skins, however for oily skin this one's for you! The most common misconception is that because a skin has excessive oil that it doesn't need hydration. It most certainly does as dehydration within oily skin types is incredibly common and often is fueling your excess oil and unbalanced skin concerns.
PCA Clearskin is non-greasy formula which has been developed for skin types prone to breakouts and oiliness. It also contains Niacinamide to help regulate sebum production, minimize excess oil and maintain vital moisture.
Ultraceuticals MD Ultimate Bio-Repair Moisturiser 
A firm favourite among the clinic staff and clients is the Ultimate Bio-Repair. This active bio-lipid moisturising formula visibly plumps, smooths and restores suppleness to dry and dehydrated skin. NMF (natural moisturising factor) ingredients increase vital hydration and support lipid barrier while shea butter and Camellia seed oil soothe the skin. A perfect everyday moisturiser but also ideal to use post peel or laser treatment to aid in skin recovery period.
Sunscreen
And finally, on to our last and without a doubt the most important step, It's your sun protection. Now this isn't going to be anything new to you but Australia sure does turn up the heat and the UV is sky high most of the year. If the obvious reasons like skin cancers and pre cancerous lesions don't have you reaching for the sunscreen to "slip, slop, slap" then perhaps the accelerated ageing changes will.
FACT – Sun exposure ages you quicker then the natural ageing process itself! Something worth reminding yourself when your question yourself is this extra step essential.
But first up a little bit of science to help us understand exactly how the damage happens and why it's so important to protect ourselves. When UV rays reach our skin, it causes a natural chemical reaction within your skin, this reaction activates a cell called melanin.
Melanin is what gives our skin its colour and is your skin's front line protection. It absorbs UV rays in order to shield your skin from further damage. When you're exposed to UV and you exceed the protection your melanin can give you (and for each of us this is very different) then the damage begins.
As well as the obvious sunburns that we see within an hour or 2 of over exposure, this UV induced chemical reaction plays a part in damaging other skin cells and mutating DNA.
Weakened cells within the skin and damaged DNA mean an accelerated ageing including fine lines and wrinkles, losing suppleness and skin sagging developing, skin thickening and having a leathery appearance. Also due to the over activation of melanocytes; age spots, pigmentation and other skin discolorations including photoaged reddened skin become more prominent.
Sunscreen needs to be worn every single day. It is not just for beach days and outdoor workers. It for every single person living in this harsh Australian climate. I often get told "I'm office based" or "I don't go out in the sun" well I have news for you, you do! When walking to the car, while driving your car, walking from the train station into the office, sitting by a window in your office?
All those basic day to day things we don't give a second thought about expose us to UV damage and its this sort of everyday consistent exposure that does the real damage.
As the old saying goes within our industry "Nothing looks better in your 50's like sunscreen in your 20's"
I'll hold my hands up and tell you if I had to apply a thick, greasy, chalky coloured sunscreen to my face every day I properly wouldn't do it so thank goodness for the Sunscreens below:
Ultraceuticals Daily Moisturiser 
Want one less step in your morning routine? Who doesn't? Ultraceuticals team up your SPF and your moisturiser in one quick and easy step. Our Clinic best seller is a non-white, shine-free formula which is super lightweight, fast absorbing and comes in Mattifying, Hydrating or a Tint option depending on individual skins needs.
Mesoestetic Melan 130+ Pigment Control
A phenomenal addition to anyone with pigmentation concerns this very high factor sun production contains depigmenting ingredients to help regulate melanin synthesis, while also having a natural coloured texture that helps soften imperfections and provide a more even skin tone.
Colorescience Sunforgettable Total Protection Brush-On Shield 
Think convenience with this brush on mineral based powder, this pre-loaded, self-dispensing powder can be applied directly to the skin or over makeup. Prefect for your handbag for those little top-ups throughout the day. Physical sun filters zinc oxide and titanium dioxide provide sun protection while added antioxidants help protect against free radical damage and Hyaluronic acid promotes hydration within the skin.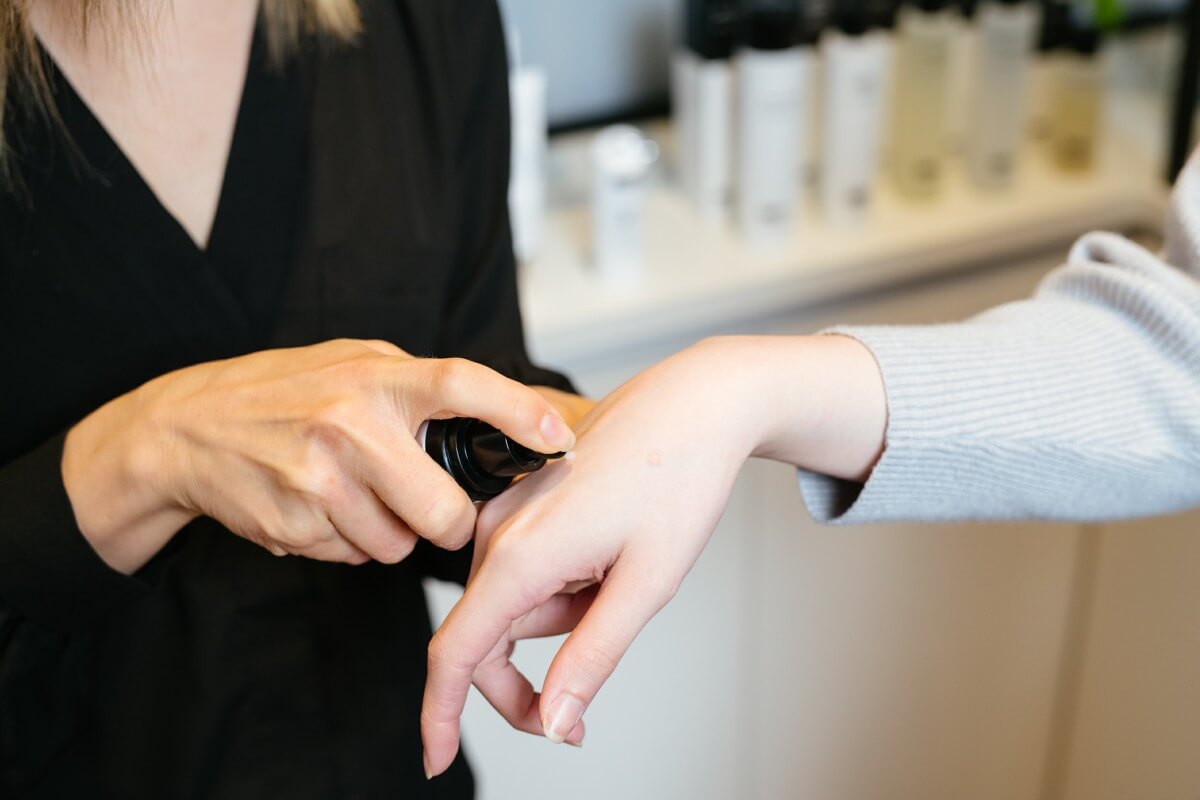 And that's a wrap on your guide to the beginners guide to essential skin care.
By simply incorporating a few simple steps and simple products into your routine you will begin to see your skin transform before your very eyes.
Healthy skin is a commitment and to maintain and enable it to function correctly what you do at home is of the upmost importance. Simply follow these 6 simple product recommendations as your "non-negotiables" and we can then start to build on your regime to target your specific concerns.
Cleanser

Vitamin A

Vitamin B

Vitamin C

Moisturiser

SPF
If you are feeling like you might want you explore a little more or you may have been sitting comfortably with the above skincare steps for some time now then book in for a consultation with myself or one of our other brilliant Dermal Therapist to discuss a plan going forward to deliver your most beautiful skin in 2020.
Jenna x