Today's topic – Skin Needling. What is it? How does it treat the skin? What can I expect?
All the questions we get in clinic and why we love it so much!
Skin needling has been around for a long time, and in more recent years, has become increasingly popular within our industry.
Enjoy reading and learning the absolute essential information about one of my favourite treatments.
What is Skin Needling?
The process of skin needling is based on our bodies natural healing responses, and encourages the repair and renewal of our skin cells when damage occurs. By promoting this healing phase, there is new collagen and elastin production, which then works on improving our skin's texture and skin tone. Skin needling also breaks down and reduces pigmentation in the cells and acts as an anti-ageing method by increasing cellular turnover, and in turn rejuvenates and resurfaces our skin.
There are multiple methods of treating the skin with skin needling.  We can manipulate the depths of the needles which work into the skin, thus creating the right skin response to ideally help treat different skin conditions. The therapist can manipulate the device to target different areas of the skin during the treatment, and even treat multiple concerns in a single session.
The depths of the needles start from 0.1mm up to 3.0mm and can be altered at any time depending on the treatment area and skin concern we are treating.
Working with shallower depths, we are targeting the upper layers of our skin, this includes the superficial layers of the epidermis which is great for treating melasma and pigmentation as well as post inflammatory hyperpigmentation and red scarring from old breakouts.
When working with deeper needle depths, we are trying to stimulate the deeper dermal layers – which is predominantly where we help treat pitted acne scarring, open pores and deep wrinkles. This is where the collagen and elastin fibres are stimulated and the best "anti-ageing" effect is demonstrated.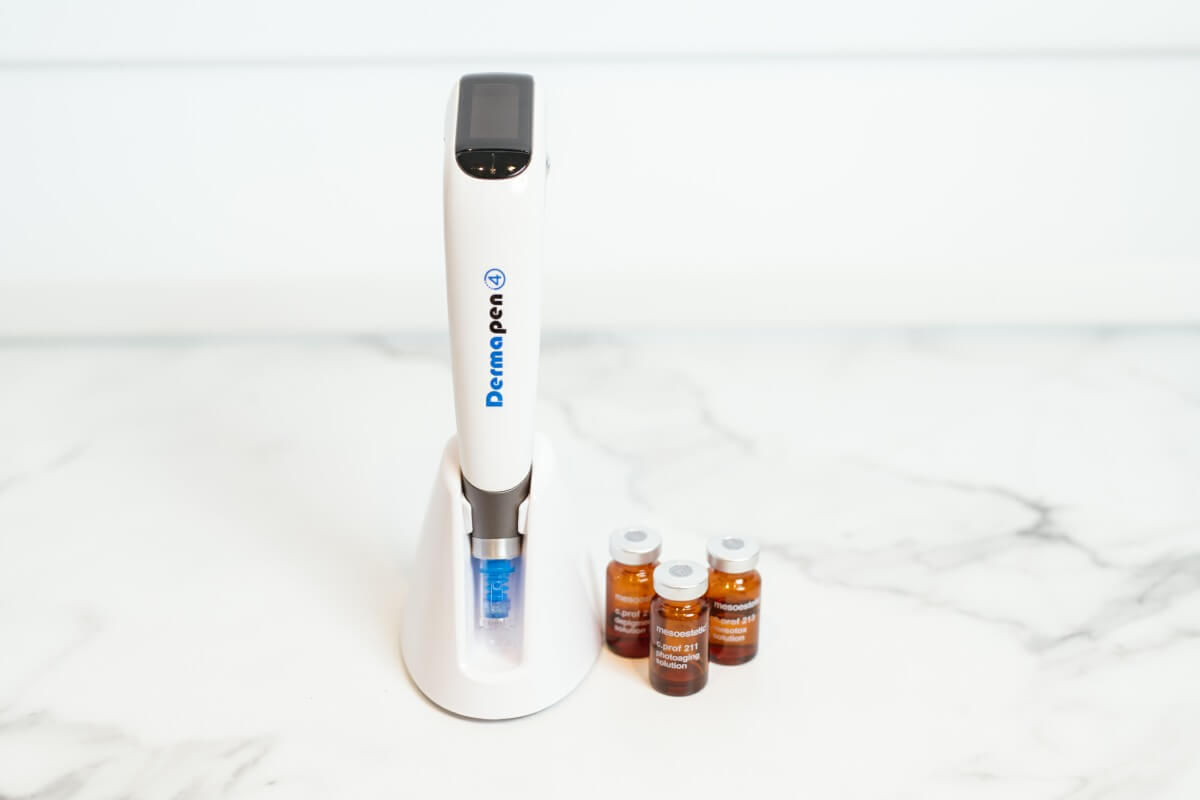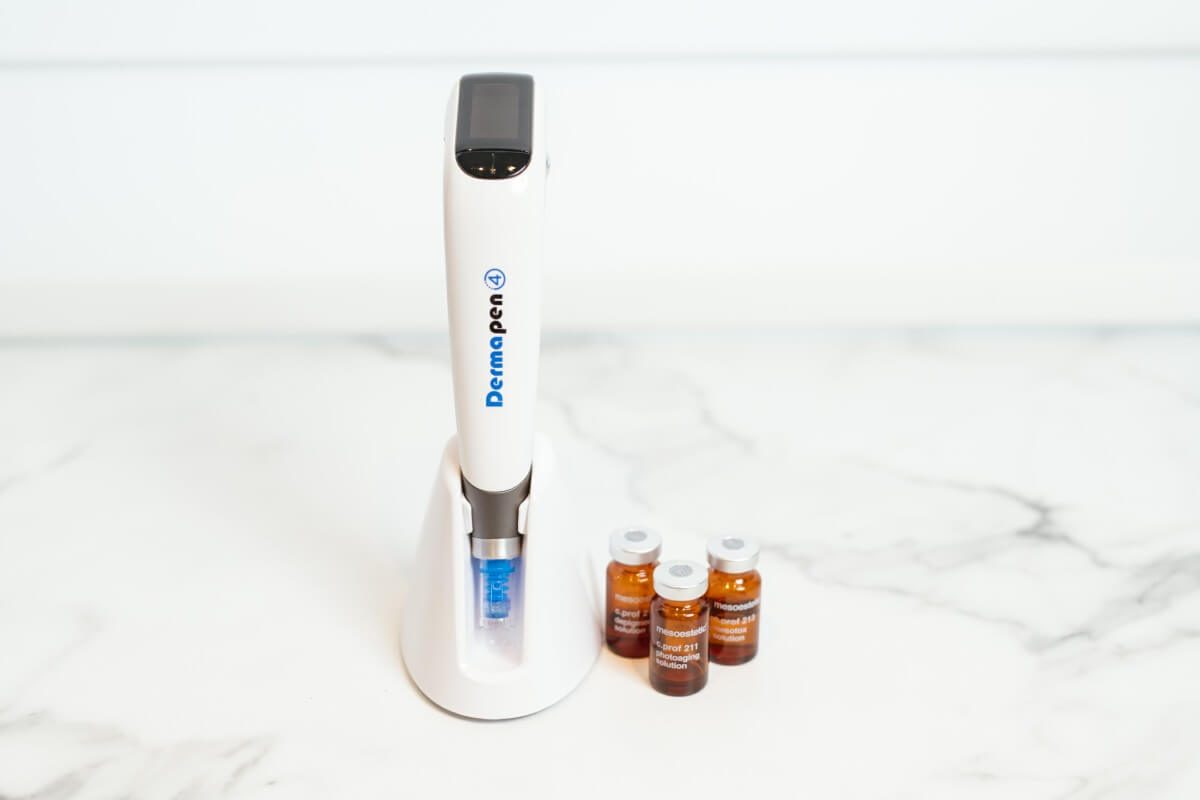 What Can Skin Needling Treat?
I love skin needling for its diversity in treating all skin types and conditions.
One of the most common indications is in treating acne scarring and pigmentation. As we can manipulate the length of the needles working into the skin, this allows us to target specific depths in the skin. Whether that be to the superficial layers helping break down pigmentation or melasma; or going deeper into the dermal layers to stimulate collagen for scar correction, rejuvenation and cellular regeneration.
A very common concern we see a lot in clinic (and I am sure bothers the majority of us) is pore size. Needling works very well to reduce pore size by tightening the connective tissue around the pores. A lot of clients are after that poreless appearance and wanting smoother, firmer looking skin while minimising their pores. Although we cannot remove pores, we can certainly help to reduce their appearance.
Skin needling also minimises blocked pores and blackheads as it helps to rid the build up in the pores – acting as a good exfoliation and helping to push out congestion. This is why you sometimes get a "purge" of congestion or breakouts after your first few sessions of skin needling.
Skin tightening is another one high on the priority list for most people especially when we are focused on anti-ageing and preventative therapies. The benefits of having skin needling is that it naturally increases our cellular renewal – meaning fresher, stronger skin cells giving us an overall resurfacing effect that will help tighten, plump and rejuvenate our skin's appearance.
Overall that post treatment feeling is one of smoother skin texture, more even skin tone, reduction in congestion and hyperpigmentation, as well as skin that feels smooth and healthy – we can leave the house makeup free!
I have found skin needling is my go-to treatment for these concerns and I have been seeing some great results.
Does The Device Matter?
When you look into skin needling, you may see that there are a few different pens on the market. All claiming to be the very best, however not all skin needling devices are created equal.
The skin needling pen 100% matters. We want to be working with something we believe in and can trust will do the job, in the safest and effective way possible.
We have recently started working with the newest skin needling pen on the market – the Dermapen 4. Dermapen have been around for years and have been pioneers in the skin needling market. They continue to update their devices to be able to give therapists the best results.
Our industry is forever changing and there is always advancing technology, so it is important to keep up with the times and adapt changes where needed.
The dermapen 4 has something a little different from their previous devices, where they have incorporated a digital pen with bluetooth features and advanced settings that we haven't seen in any other pens before. Not only that, the machine is quicker, quieter and delivers a much more comfortable treatment than previous pens.
These updated features are super exciting for therapists as we can manipulate treatment protocols and have a wider range of methods when creating a treatment plan for our clients.
I've personally loved using the new dermapen 4 and I can see how the new technology can really change the way I treat my clients and am even more excited about this treatment.
And what's even better is that it is officially a TGA approved device – meaning it has passed rigorous testing, safety standards and delivers reproducible and effective results, and can be used as a medical device in Australia. Not all skin needling devices on the market are TGA approved, being a medical clinic at Youth Lab we see this as a necessity.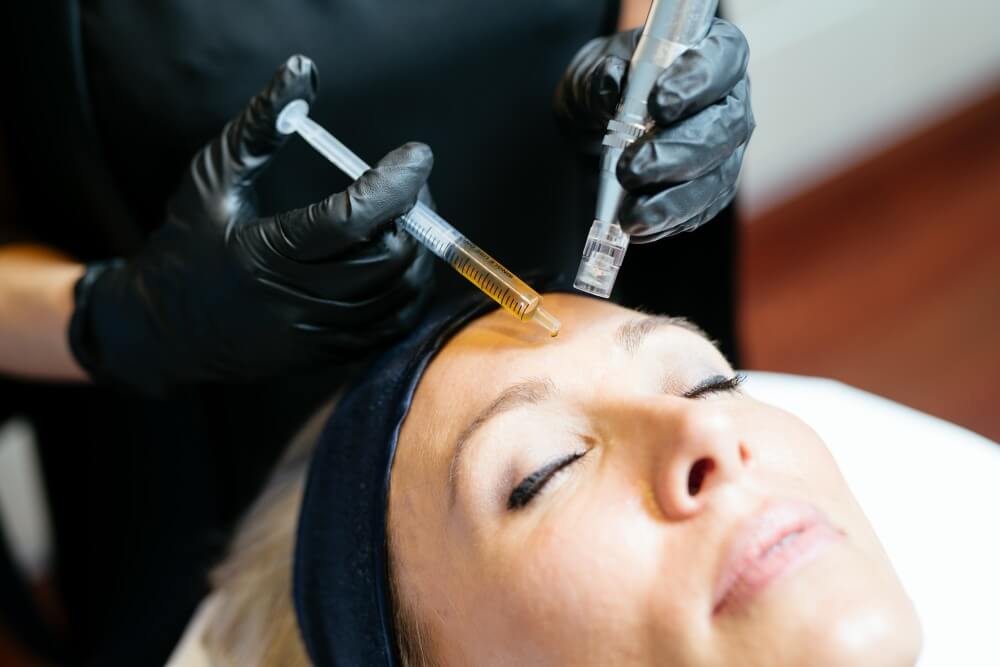 What Does The Procedure Involve?
The needling procedure alone is very simple, quick and (*almost) pain-free. With our current advanced in technology, skin needling should not be thought of as scary for painful. 
First the skin is thoroughly cleansed and toned and if required topical local anaesthetic cream is applied, although this is not preferred as it may impact the results of the treatment. Once the skin is prepared the treatments starts with the pen gliding over the skin using hyaluronic acid serums.
The Dermapen 4 used in clinic has has 16 microneedles, these needles isolate at high speeds, penetrating into the skin creating on average 2000 micro channels per second. This technology assists therapists in providing clients a full coverage treatment with minimal discomfort.
Depending on how we want to treat the skin, there are multiple depths that we can use throughout the treatment – targeting different skin conditions. The level of discomfort does vary depending on the depth used, for example treating acne scarring at 3mm can be a little bit more uncomfortable for some people.
When treating certain skin conditions, there is an endpoint we aim to reach when performing the treatment. This varies on what we are treating, whether it be ageing/fine lines, pigmentation, acne scarring or just skin rejuvenation.
There is an old myth when having skin needling – the deeper the needle depth the better the results. I really like to educate my clients on how the needling process actually works and that it is really dependent on how the individual responds to the treatment rather than what depth we use throughout the treatment.
What Can I Expect Post Skin Needling?
The sensation of skin needling after treatment feels like a really nice sunburn, warm, tingling and a little sensitive to touch. Most people can also expect redness to be present in the skin for up to 48 hour post treatment.
From day 2-5 you can expect your skin to feel tight, dry and a little rough in texture (almost like a sand paper sensation). Slight flaking occurs due to the resurfacing effect and can last up to day 7 post treatment. Overall the "downtime" is very minimal and most people go back to work and normal activities the day after treatment.
It is important to go back to basics with your skincare routine for the week post treatment, as we want to let our skin heal nice and naturally. We recommend certain skin recovery products fo the first 5 days post treatment (this is discussed in your consultation).
The basic rules are that no active cosmeceuticals such as vitamin A, vitamin C or AHA/BHA products are to be used throughout this recovery period. It is also important to avoid any exfoliants, masks or scrubs, as we have already exfoliated and resurfaced the top layer off during our treatment. During the first 5 to 7 days it is important to just stay hydrated, keep up your sunscreen and use a gentle cleanser for one whole week after your treatment. Less is more.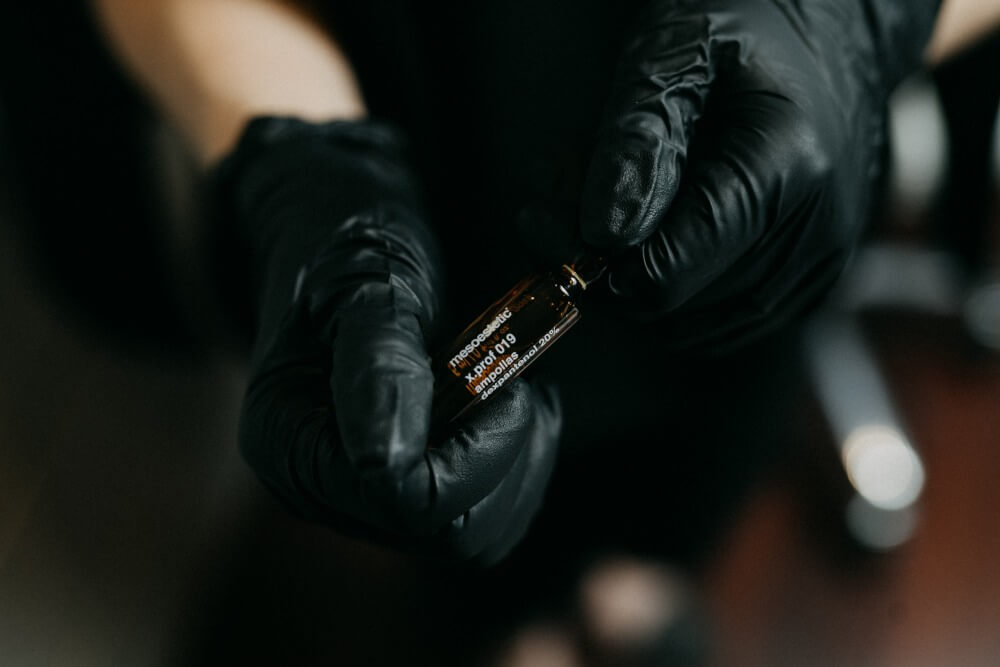 Skin Needling Versus Mesotherapy
At Youth Lab, we offer both skin needling and mesotherapy as treatment options. Mesotherapy is a treatment aimed at delivering active solutions, vitamins and compounds into certain layers of the skin to create a therapeutic outcome. Mesotherapy can be performed in a number of ways but we love to infuse these solutions using our skin needling devices.
The depth used to infuse these solutions is much less than in traditional skin needling, with the solutions only going into the superficial layers of the skin (usually between the epidermis and dermis).
So when compared with skin needling, where we are aiming for a resurfacing effect, treating pigmentation, scarring and other skin conditions (being more of a corrective treatment) and going to skin depths up to 3mm; Mesotherapy uses more shallow depths only up to 0.5mm to reach the upper epidermal layers in the skin.
Downtime also differs from skin needling and Mesotherapy. As we are not aiming for a wound response in the skin with Mesotherapy, we tend to have minimal downtime such as slight erythema and inflammation in the skin, which can last up to 24 hours. Skin can present a little tight and dry the following day, however once these subside – the skin is hydrated, plump and very smooth in texture.
Mesotherapy is a great introduction to skin needling for those who haven't tried skin needling before or for those who are after a mild resurfacing and rejuvenating treatment.
Why I love Skin Needling
I have loved skin needling since I started my career as a dermal therapist. For me, it's a treatment I can explore with all my clients. This is the type of treatment anyone and everyone can have and experience. All skin types, all ages, everybody!
My obsession with skin needling was reinforced when I had my first treatment myself. I've always been pretty lucky with my skin, but I wanted to be able to not have to wear makeup if I didn't want to. My first experience with skin needling was amazing, the texture of my skin even straight after was impressive, it felt so smooth and my skin had an instant glow to it.
Skip to 2 weeks post treatment, once my dryness and flaking had subsided, I was so in love with this treatment. It just changed my skin and addressed all my concerns in one go (less oiliness, reduces pore size and reduced blackheads). I felt my skin was fresher, smoother and more radiant. I could see a difference in just 2 weeks, and the results stuck around for some time after my treatment, which was another bonus.
Years later, skin needling is still one of my go-to treatments for my skin. I love getting it done a few times a year (in between everything else) and I still continue to see the results.
So if you haven't already been converted to skin needling, I'm sure you're thinking about it now!