What inspired you to become a Cosmetic Doctor?
My inspiration to become a cosmetic doctor came from my love of practising medicine holistically. After my internship at a Perth tertiary hospital, where I focused on mainly surgical specialities, I then went on to pursue a career in Obstetrics and Gynaecology, and then have most recently begun my Fellowship training with the Royal Australian College of General Practitioners (RACGP).
I have realised after many years of practice that we spend much of our time as doctors attempting to fix problems that have already become such an issue in a person's life, rather than trying to prevent them in the first instance.
Cosmetic Medicine as a speciality is ground-breaking in the manner in which it combines preventative medicine, surgery/procedural medicine and dermatology and being able to apply this to assisting clients to lead their healthiest and happiest lives.
What was the most challenging part of your training?
Getting through six years of medical school while attempting to work part-time, study and maintain healthy relationships with friends and family was tricky at times. Working full-time shift work as an Obstetrics and Gynaecology Registrar at a tertiary women's and children's hospital and sitting my sub-specialist Diploma exams (I hold a Basic DRANZCOG Diploma from the Royal Australian and New Zealand College of Obstetricians and Gynaecologists, and still deliver babies occasionally) was also pretty difficult too!
However, the most challenging part of my training so far has actually been learning to take better care of myself and to prioritise my own health and wellbeing. The adage "you can't look after others unless you look after yourself too" is often written on the whiteboard on my fridge to remind me to practice what I preach.
What is your approach to cosmetic injectables?
In a nutshell, my approach is to address a client's aesthetic concerns in the most natural, minimalistic, and safe way possible. My number one priority is your health, privacy and safety. I endeavour to be thorough, and will always tailor your treatment to your medical history, aesthetic concerns, budget, and downtime considerations.
In an industry that is becoming more profit-focused (perhaps at the expense of non-maleficence), I strive to practice with integrity and honesty – and will always work with you to achieve the results you desire in a safe and professional manner.
I have what I like to call a "whole face aesthetic approach" – meaning I aim to take your whole appearance (skin, profile, structure, individual facial idiosyncrasies) into account when we plan your aesthetic journey together. I love to combine the best of all treatment modalities (injectables, dermal therapies, energy-based treatments and skincare) to achieve an individually tailored result that enhances your natural beauty.
What do you love the most about being a Cosmetic Doctor
All throughout my medical career, I have acquired so much joy from making other people feel good about themselves. The doctor-patient therapeutic relationship is important in all medical specialities, but I feel being able to build that relationship with your clients is so special in Cosmetic Medicine.
I love being able to arm my clients with the tools they need to address their cosmetic concerns, while also having a relationship where they feel comfortable enough to express what are often their deepest insecurities; honestly and openly.
Being a cosmetic doctor also allows me to indulge my love of surgery, procedural work, client interaction and dermatology all at once, while also allowing me the flexibility of having some work-life balance.
What is your favourite injectable concern to treat and why?
My favourite concern to treat is always the concern that's alleviated less treatment. It's such a privilege to be welcomed into someone's life and to discuss their often hardly spoken about insecurities when you've never met previously. Being able to address a concern that will positively impact someone's quality of life will always be my favourite part of the job.
What is your favourite treatment to perform?
Where to start?! In terms of dermal fillers, I could just create beautiful, luscious lips all day; every day! I find lips are always the facial feature I am first drawn to when I look at another person's face, and it's so satisfying to see how happy clients are with the results from a relatively non-invasive treatment with minimal downtime.
As we age, we tend to lose volume and hydration from our lips, and it's a simple concern to address with only a small volume of product required. My approach to lips is definitely "less is more". I strive to maintain and enhance the intuitive architecture of the lip to enhance the individual's unique features, while also achieving a natural aesthetic.
In terms of wrinkle relaxers, while I love ironing out fine forehead creases – my favourite area to treat is definitely the masseter muscle. As our lives become more stressful, we can often innately express this with how much tension we hold in our muscles of mastication.
Many clients present to their dentist or doctor with a "sore jaw" or recurrent headaches, and often this is contributed to by an overactive masseter muscle. By injecting this muscle with wrinkle relaxing agents – we can encourage it to atrophy (shrink) over time, and the jaw pain/temporomandibular joint pain disappears as the muscle decreases in size. At higher doses, this treatment also has the added benefit of slimming the jaw as the muscle bulk decreases in size.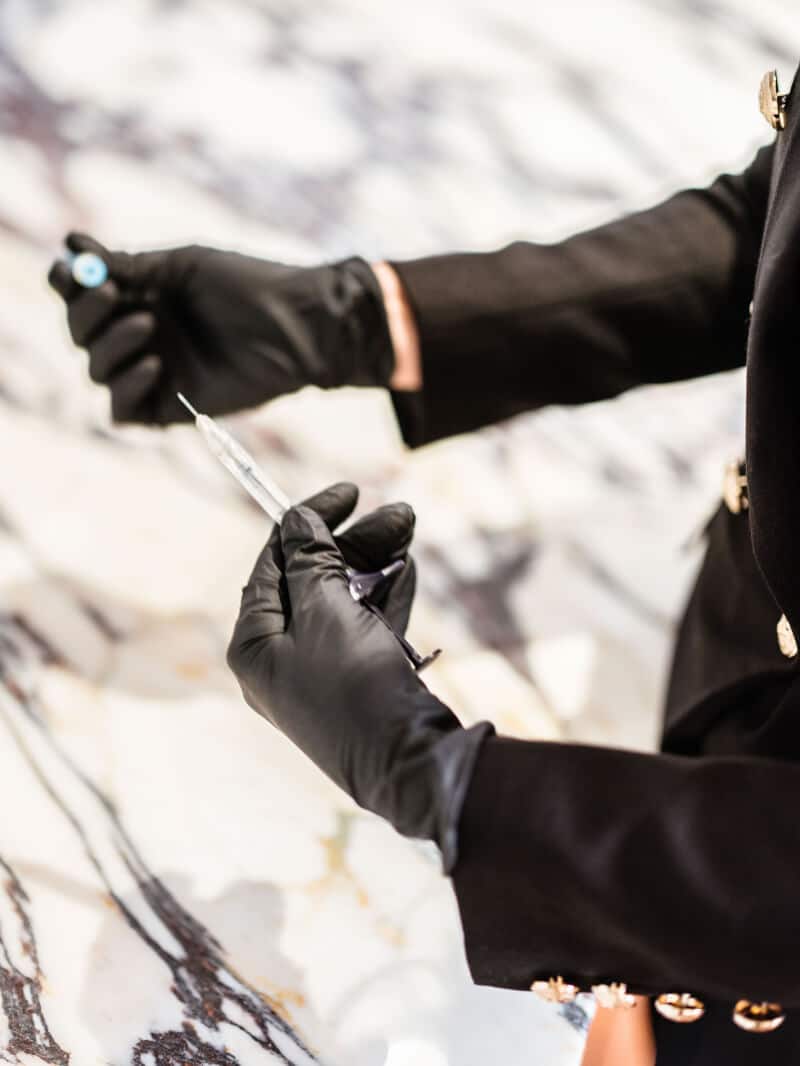 What products are you using at the moment?
I've fallen in love with quite a few products we stock here at Youth Lab, much to the duress of my poor bank account. The product I am absolutely loving at the moment is hands down the PCA Ex-Linea Peptide Smoothing Serum. As someone who often doesn't have the spare time to devote to regular wrinkle relaxer injections – I find this product to be the next best thing at smoothing out my fine lines, particularly around my eyes and my upper forehead. It also gives a beautiful healthy glow while being non-comedogenic and non-irritating.
My favourite skincare ingredient would definitely have to be Niacinamide. It is the "all-rounder" skincare ingredient that can assist with managing acne, rosacea, pigmentation, fine lines, and there's even some evidence in the medical literature that it can prevent skin cancer! Topical Niacinamide in particular can increase the production of ceramides (lipids that maintain the skin's protective barrier), while it also helps to control the skin's production of oil and sebum. The Ultraceuticals Brightening range stocked at Youth Lab is full of this fabulous ingredient.
What treatments have you had this year?
For the first time ever, I recently had dermal filler injected into my lips this year by one of our talented cosmetic nurses, RN Freya. I felt I had lost some lip volume, particularly in my upper lip – and full, hydrated and balanced lips are an essential component to my approach to lower face rejuvenation and youthfulness.
I am so impressed with the result from just having a single treatment, and it was definitely worth the short discomfort despite my needle-phobic tendencies.
How can we get skin just like yours?
Four magic words – don't forget your sunscreen! My favourite way to take care of my skin every day is to apply a layer of sunscreen to my face, neck and decolletage and any other exposed areas to prevent premature photoageing.
While I can be a bit short of time to indulge in having a treatment – I try to have a Hydrafacial when I'm able. As someone who struggles with both congestion and dryness (particularly in winter), I find a Hydrafacial always addresses all my skin concerns with little to no downtime. It's a perfect treat before a big social event where I want to look my best.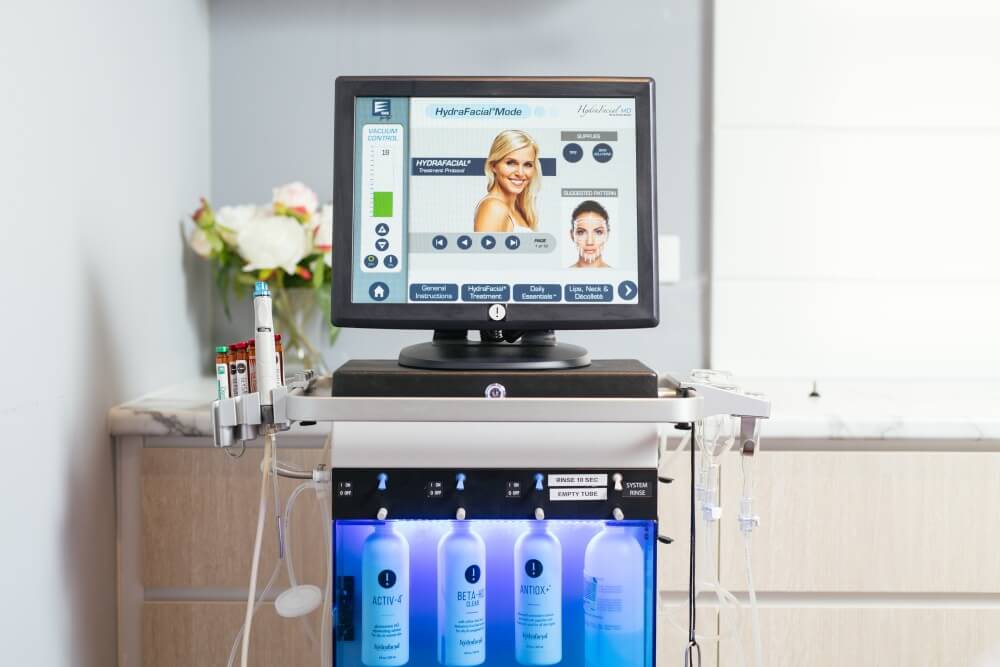 What is your favourite thing to do outside of work?
I am a total movement addict! I fell in love with Pilates after having a knee reconstruction from a dance injury, and practice regularly. I went on to study my Certificate IV in Reformer and Mat Pilates, although I unfortunately don't teach currently. I also regularly circuit train and weightlift. My favourite guilty pleasures are definitely getting pedicures and eating cake for breakfast.
What is your favourite part of working at Youth Lab?
Hands down the supportive and warm culture. Everyone that works at Youth Lab, from our lovely clinic coordinators, doctors, nurses and executive staff – is so warm, friendly and a delight to work with.
Our clients are also an absolute pleasure to treat, and it makes me so happy to be able to build long-term relationships and see you all on a regular basis. I also get interior design envy whenever I walk into the clinic – I wish my lounge room looked that fabulous!
What treatment do you see becoming popular in 2021?
Absolutely the Halo Fractionated Laser and our range of other energy-based treatments. Clear, smooth, soft, even and glowing skin will always be in. Youth Lab was the first clinic in Perth to introduce the Halo Laser to our repertoire, and unlike traditional ablative lasers – HALO addresses common signs of ageing such as lines, wrinkles, skin laxity, pigmentation, scarring, uneven skin tone and texture, without the downtime and discomfort associated with fully ablative lasers.
Everybody wants to look their best with as little downtime as possible (our social calendars are just getting all the more full), and for clients looking for a treatment that will address pigmentation, sun damage, acne, rosacea and the first signs of ageing – BBL will definitely be taking off this year. Youth Lab has recently invested in some brand new technology from Sciton, and I can't wait to see the results from these machines.
What is the one piece of skin advice you wish all of your clients would follow?
I know I've said it already, but please wear your SPF – even if it's cloudy outside. If you don't like the feel of sunscreen on your skin, Youth Lab stocks an excellent range of cosmeceutical sun care that's non-comedogenic and wears beautifully under make-up. Not wearing sunscreen or following an appropriate home skin care regime and having cosmetic treatments, is like going to the dentist and then not brushing your teeth every day! Yuck!
You'll see your results from your cosmetic injectables and dermal therapies will go the extra mile, so investing in good quality products to use at home is an absolute must. Next time you're in the clinic – please feel free to touch base with your practitioner for some recommendations and advice.
Dr Emily x