The Decision – Why We Chose Halo
It has taken well over one year of research, trials and patience for us to purchase our first laser.
Prior to opening Youth Lab last year I was investigating the Halo and its innovative technology and was wanting to purchase the laser from the outset. Understandably such a huge investment when opening a new clinic wouldn't have been the smartest move.
I get very passionate about things so it was very hard for me to walk away from this laser.
Prior to deciding on the Halo I researched almost every laser available in the cosmetic/aesthetic market. I spoke to countless reps and sales people, drilled the companies at the exhibition stands at multiple conferences, read countless medical journals, spoke to doctors both nationally and internationally about their lasers and trialed machines myself.
Rather than buying the latest and greatest machine that promises to treat everything, I asked myself – what do our clients want? From over a year of trading at Youth Lab, the wants and needs of our wonderful clients are clear. They want healthy, fresh, glowing and younger looking skin.
I needed a laser that could resurface and effectively treat sun damage (we see A LOT of this), textural irregularities, pigmentation and sun spots, early skin cancers as well as rejuvenate the skin and shrink pores, improve scarring, reduce the appearance of fine lines (especially around the eyes and mouth), treat deeper more stubborn dermal pigmentation, melasma and do the ultimate – stimulate collagen.
I needed a laser that could rejuvenate the skin of our younger clients in their 20s and 30s as well as deliver more intensive results for my patients in their 60s.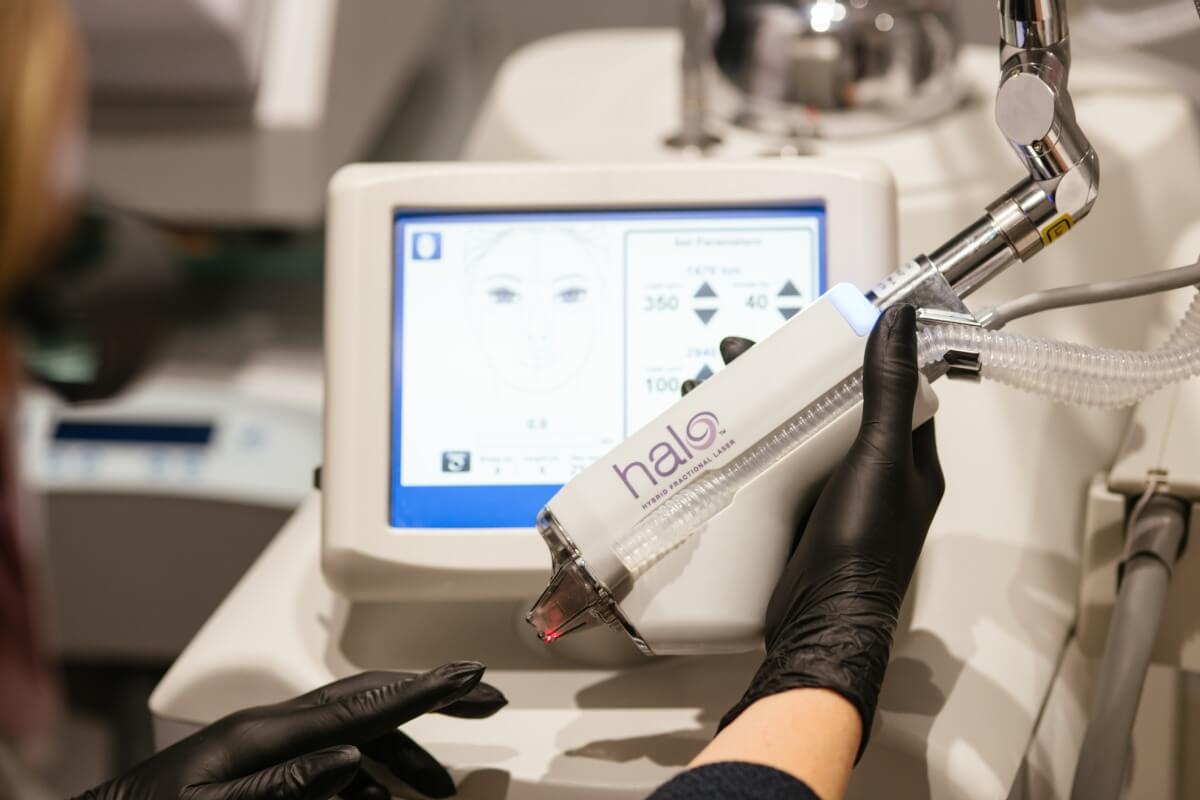 What laser does all of this? The Halo.
Other lasers are excellent for more intensive resurfacing (with the associated weeks of down time), treating blood vessels and vascular conditions, removing tattoos and giving a nice plump laser facial (you will need 6-8 of these treatments for visible results).
Going for the Halo was a no brainer for me.
The Halo is part of the Sciton Joule platform. Not only is the Sciton Joule platform the most exceptionally made laser, made by hand with TLC in the US (not mass produced in Taiwan or Korea like many devices), it is an upgradeable platform meaning we can add exciting new treatment options over time.
We have also added in our second BBL to the new Joule platform meaning we can combine both the BBL and Halo in a single treatment, offering outstanding results.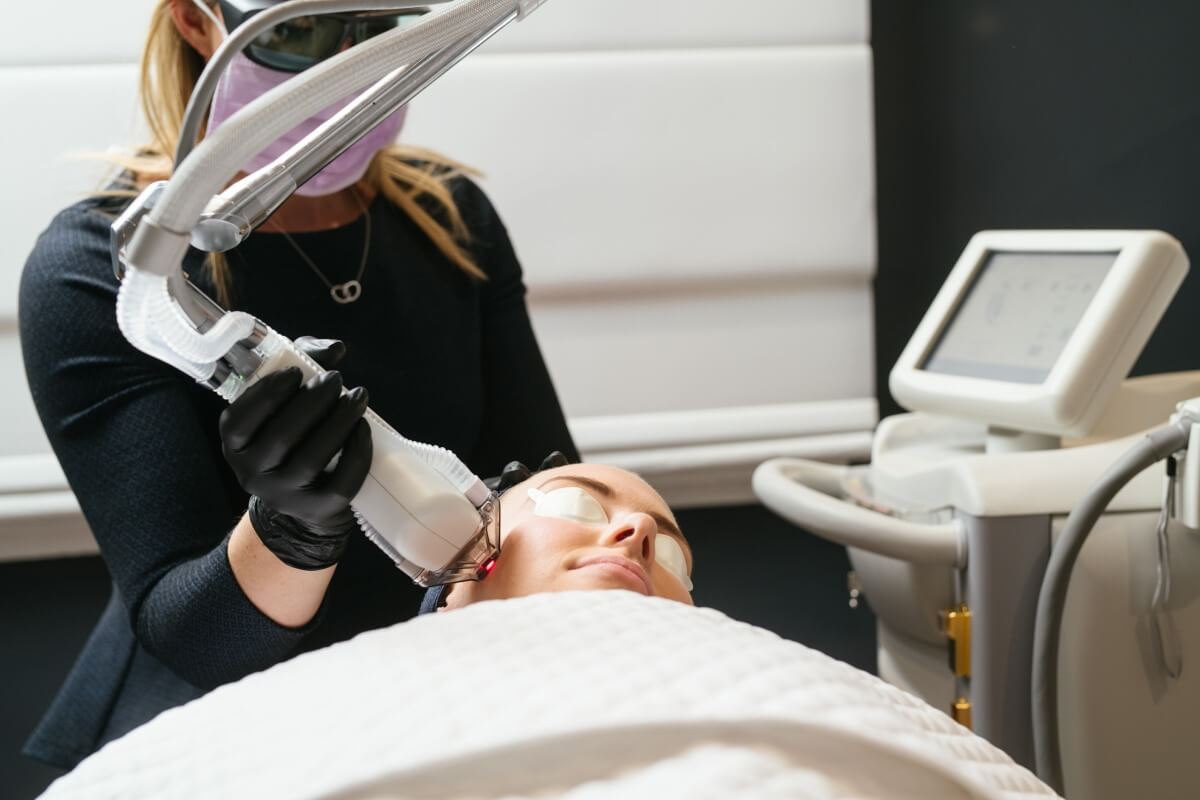 The Science – The World's FIRST Hybrid Fractional Laser
We have so many tools at our disposal for facial rejuvenation.
The use of lasers however has set the standard in medical aesthetics with what can be achieved in terms of rejuvenation, wrinkle reduction, skin tightening, collagen stimulation, treatment of sun damage and scarring.
The Halo is unique in that it is the world's first hybrid fractionated laser. You can read all about laser technology in my blog post about cosmetic lasers and further information into the Halo science on our treatment information page.
Now for some science talk.
To summarise, Halo utilises two individual wavelengths that deliver both ablative and non-ablative light, which when combined in single laser delivers maximal effects with minimal risk and down time. It is effectively combining the instant clinical results of resurfacing from an ablative laser (such as erbium and CO2) with the safety and down time of a non-ablative laser (such as Nd:YAG) which generally need multiple treatments.
Halo uses an Erbium laser (2940nm wavelength) which absorbs 11x more water than a CO2 laser meaning it effectively ablates the top layers of skin very superficially without causing too much heat damage deeper below the surface.
The non-ablative wavelength is a diode laser (1470nm) which is similar to the fraxel wavelengths of 1970nm and 1550nm in that it penetrates deep into the skin and coagulates (heats) the tissue stimulating collagen remodelling and production. This does not vapourise the tissue like an ablative laser does and as a result down time is minimised.
The impressive results and shorter down time from the Halo mean higher patient satisfaction from any other laser on the market.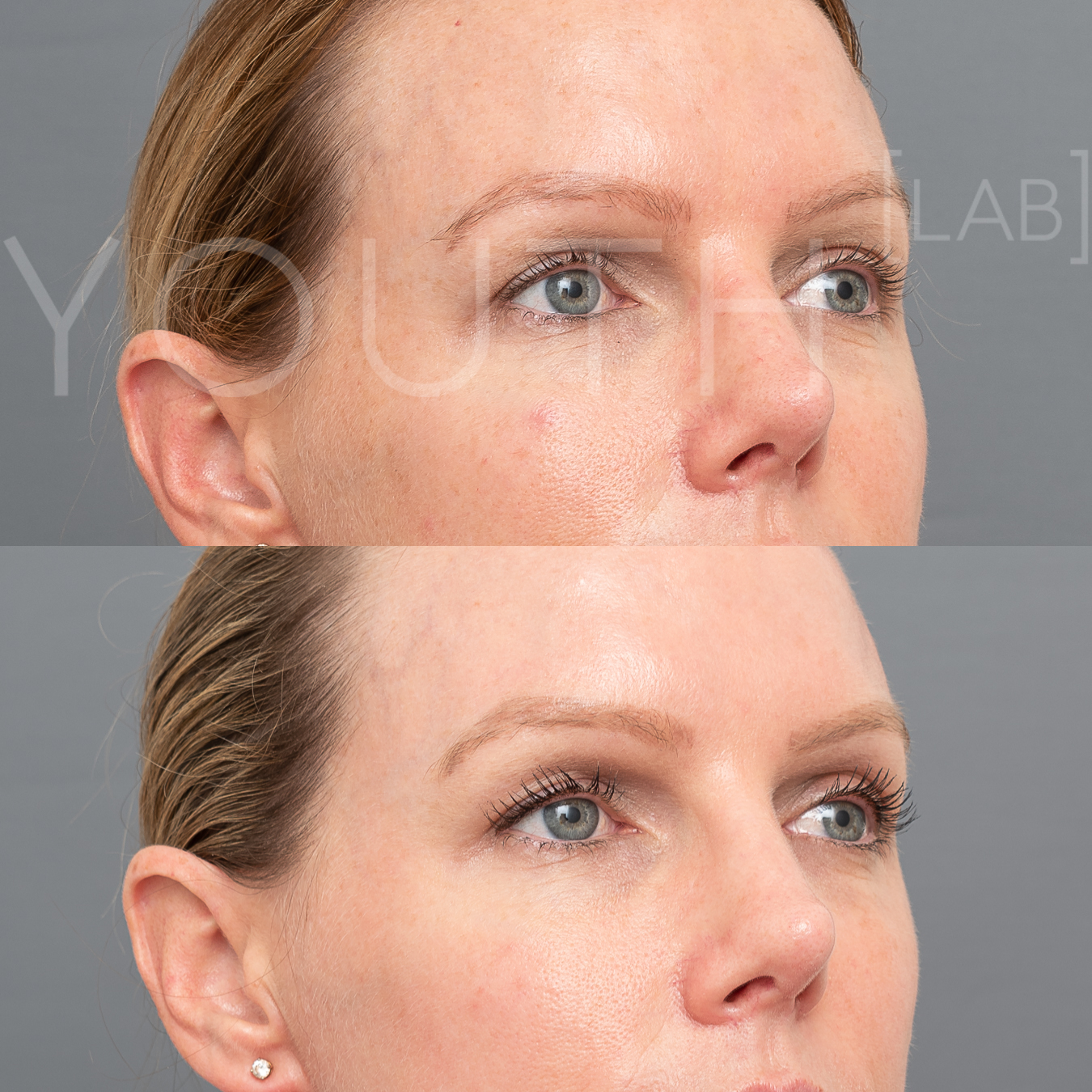 The Results – Introducing The Halo Glow
So what can we treat with the Halo?
Like I mentioned previously we wanted a laser that was versatile and could treat our client's main concerns.
The Halo effectively delivers ablative laser results with non-ablative down time.
To put it in perspective, you could have 3+ laser treatments from another laser such as Fraxel which will deliver excellent results during the treatment course or 1 – 2 Halo treatments which offers less down time, less pain and superior results. Again, it is a no brainer for me.
The Halo can treat sun damage and deep pigmentation, hormonal melasma, texture, pores, scarring and surface irregularities. It also stimulates deep collagen production delivering dermal thickening and softening of wrinkles and fine lines. It can effectively treat solar elastosis and severe sun damage and offers a 'glow' to the skin that can't really be described. It is why they use the term "Halo Glow".  Oh and did I mention PORES!
The Halo also has a single spot hand piece using Erbium laser which can be used to treat lumps and bumps, skin tags, scarless mole removal, syringomas, sebaceous hyperplasia and xanthelasma (cholesterol deposits on the eye).
When combined with the BBL the results are truly phenomenal (with a little bit more down time). BBL can initially target discolouration in the skin – from superficial pigment, freckles and sun spots to redness, flushing and vessels. The Halo then comes in to treat deeper layers and can be tailored to whatever skin concerns the patient has.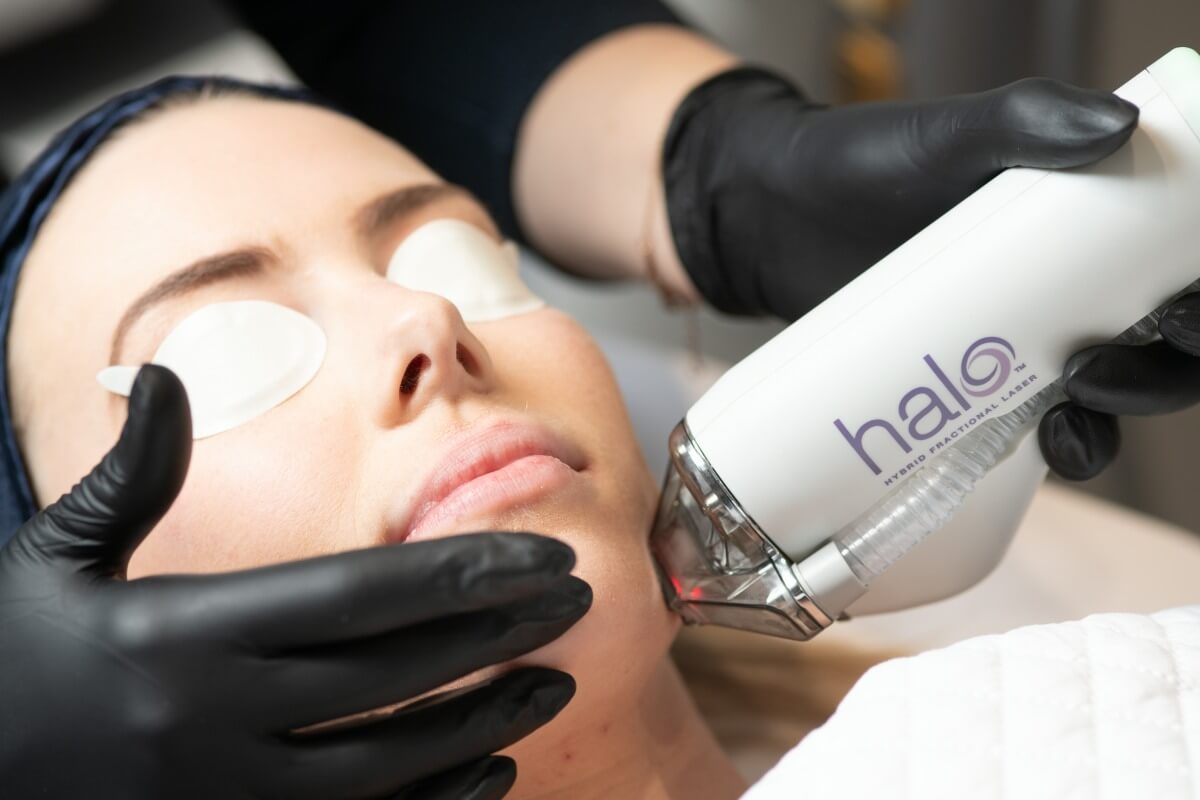 The Options – My Experience With Lasers
I love lasers.
Not just because we can deliver amazing aesthetic outcomes, but the geek in me loves the science and physics behind them. Lasers, although widespread and very user friendly (in general) are very much operator dependent.
Results depend on the skills, understanding and ability of the practitioner using the device. Any laser 'technician' can perform a treatment using predetermined parameters, which deliver safe results. But it takes a true understanding of laser physics to tailor an individual machine's settings and deliver better results, whilst managing risks.
The first laser I used was a Q switched Nd:YAG and Alexandrite laser.
We did tattoo removal and hair removal and I HATED IT. Every last second of using it. I found it mundane and boring and felt stuck as I wasn't really delivering any therapeutic benefit to my patients, aside from removing hair and tattoos. This was way before the laser laws changed and only doctors were using these lasers. I had no intention of ever doing hair removal again after this.
I then started to use a wonderful Er:YAG laser which was a fractionated resurfacing laser performing skin resurfacing as well as vaginal rejuvenation. I have also used other Q-switched 1064nm lasers for skin rejuvenation, blood vessel treatments and the carbon laser peels.
Despite some of my experience I have never felt "wowed" at any of the results I have achieved, especially with the laser toning/laser genesis/carbon laser peel type treatments.
Although these are all non ablative with no down time, it takes so many treatments for any noticeable results so it can be frustrating for both the doctor (me) and my patients. That being said, many of these treatments have very high patient satisfaction due to the low down time and subtle results. Laser genesis is very good for redness and rosacea too.
In addition to my professional laser experience, I have also been a willing patient for multiple laser treatments. I have had a laser type focus (see what I did there) on my skin health and maintenance for the past 6 years and in doing so try to commit to regular treatments from multiple modalities.
My first laser experience was with the Emerge and Clear and Brilliant lasers.
These are very "mild" lasers and are not classed as a class 4 medical laser. The results are underwhelming. Although a much cheaper price point, neither really delivered what they promised, from resurfacing my skin to treating my pigmentation. In all honesty, the BBL has been the best thing for my pigmentation (I commit to 4 treatments every year as maintenance).
I used to get Clear and Brilliant before every major event or holiday, however I found that after a week of redness and 'sandpaper' like skin my skin did have a wonderful glow and makeup just glided on.
It was wonderful, but unfortunately short lived and ultimately an expensive exercise for a few weeks of plump skin. Now this is just my experience and I have many patients who LOVE this treatment. For me, it is just not intense enough and does not deliver enough energy at the correct depths to really offer a long term benefit in my opinion.
I then upgraded to a Fraxel treatment a few years ago.
I was lucky enough to be a model for another clinic. Unfortunately I do not know what wavelength was used but I assume 1550nm based on my discomfort and downtime.
This treatment HURTS. I had to call in sick to work the next day as I did not anticipate the discomfort. I was swollen and sore and felt a bit unwell. The down time was about 7 days, the usual swelling followed by dryness and MENDS (microscopic epidermal necrotic debris). My deep pigment lifted well and my skin felt great after a week. No one really noticed much of a result, and I really needed another 2 treatments.
I have also had other treatments such as laser genesis, the carbon laser peel and a very light Er:YAG resurfacing treatment. All of which have most definitely contributed to my healthy skin now.
However, it was not until I had the Halo when I was trialing the device that I actually received MULTIPLE comments about my skin. People are telling me my skin is glowing, it is clear and luminous and my stubborn deep pigment is lighter. I was sold on what this laser can deliver the minute I had a treatment.
Read more below about what to expect from the treatment and the down time.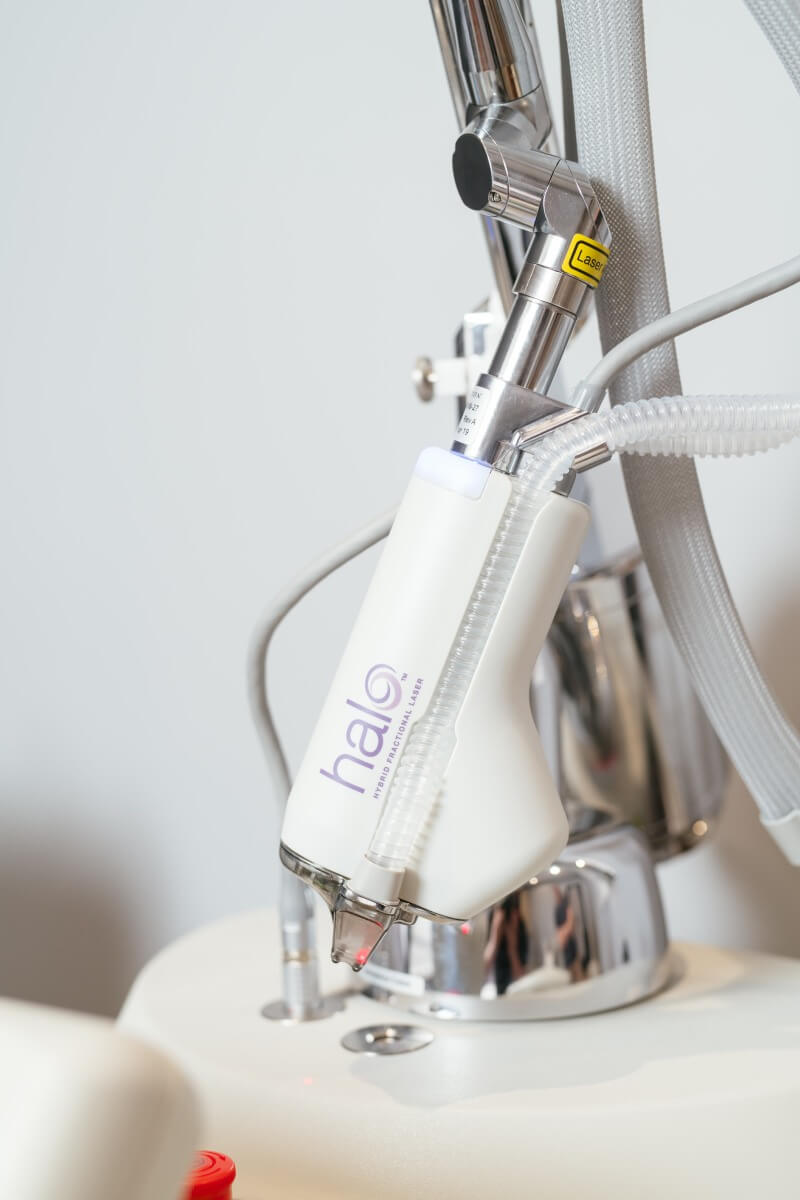 The Journey – Treatment and Recovery
We have written a full information page and FAQs on the Halo. To summarise for you, I have written about my own experience with the Halo treatment below.
To start with, numbing cream is applied for around 30 minutes prior to the treatment, much like some of our other treatments like Intensif and Radiofrequency FSR.
Once the skin is nice and numb, the skin is cleaned and the laser is used to measure pre-defined treatment areas. The treatment areas, such as the cheeks and forehead are precisely measured as this determined the correct amount of energy to be delivered into the skin during that treatment. Everyone has a different sized face, therefore energy levels will differ. Honestly, this is a part of the Halo that I love, the safety and precision behind each treatment.
Once the settings for each wavelength of the laser have been decided, this is determined by the doctor based on individual concerns and desired down time, the treatment starts.
Each section of the face is treated in isolation. The laser is gently passed over the skin and you start to feel a prickling type of heat, like ants crawling over the skin. As the treatment progresses the heat intensifies however this is not too uncomfortable (thank goodness for the numbing cream). The Halo laser has an inbuilt cooler too which is passed over the skin with each pass of the laser.
Depending on the intensity of the treatment it can last as little as 10 minutes up to about half an hour.
Once the treatment is finished we apply a cool compress and lots of cool air through the Zimmer cooler. It feels like a really bad sunburn and you look very flushed and pink at this time. The heat in the skin lasts about an hour or so. I advise patients to drive home with the air conditioner blasting in the car and we apply an aftercare cream and SPF 50 immediately post.
Everyone's recovery is different but we say to expect 5 days of 'downtime' with a standard treatment.
For myself, this was redness for the day of treatment and day one following. I could apply my makeup as normal the next day and no one noticed anything.
Day two I felt extremely dry and tight, I had swelling around my eyes and my skin felt like a snake skin. Makeup could be work but flaked off easily and I felt that make me look worse, day three was similar to this, although I did go out for dinner without anyone laughing at me.
Day 4 and 5 I was flaky and dry and most of the MENDS had been lifted. This is really exciting as you can see all of the deeper pigment start to lift. By a week post treatment my skin felt really light and bright, I got so many comments which continue today. It is hard to explain, but my skin felt dewy with a glow. I have had to change foundations too as mine is too dark for my skin now!
I did have a bit of a break out in the first week. This is very common post laser resurfacing as the heat can stimulate the sebaceous glands in the skin and because the dry, resurfaced skin sits at the surface for a while, it traps the oil in causing lovely pimples.
Just go with it, trust in the process I say.
The Game Changer – Why Halo Is The Only Laser For Youth Lab?
The Halo has been around in the US for quite a few years and has been described as a game changer in laser medicine. From a practitioners perspective the science and technology behind the device, being able to deliver phenomenal results with less treatments, the ability to tailor treatments safely and effectively while controlling down time are what sets it apart from the competition.
Here are some of the experienced from some of my cosmetic colleagues in the US who have experience and success in using the Halo.