What if we told you there was a treatment that effectively increased collagen and elastin production, calmed inflammation, increased healing time and cell regeneration and destroyed acne causing bacteria, that is relaxing with no downtime and could be done in your lunch hour?
It sounds too good to be true, but it exists.
What Is The Healite II?
The Healite II harnesses the healing power of LED light for a total skin rejuvenation. By sending gentle energy deep into the skin tissue, light therapy works on a cellular level to combat acne, stimulate collagen production, combat active acne, reduce redness and rosacea, speed up healing and much more.
LED is also safe if you are pregnant or breastfeeding meaning you can have glowing skin and treat yourself you some seriously relaxing me-time.
But how could sitting in front of some seemingly commonplace lights have any serious impact on your skin? If we consider what happens to our skin when we sit beneath the sun's rays, or a tanning bed, or even the incredible effectiveness of Broad Band Light Therapy, the fact is that specific lights have a profound effect on the skin and it's appendages.
LED works by activating the mitochondria (energy factories) of your skin cells. The same way that the sun works on a sunflower by converting chlorophyll into energy for it to grow and flower. Interestingly, LED technology was first formulated by NASA to increase astronaut health while they were up in space. The treatments then progressed to aid in the recovery of wounds and post-surgical scar treatment.
Think of the LED healite as the trigger to initiate the healing response in your skin, meaning that the effects will continue long after your appointment. Through the stimulation of collagen and elastin, as well as new skin cell formation and calming of inflammation, wounds are repaired at an accelerated rate, as well as overall skin rejuvenation with no downtime or discomfort.
What Can Led Therapy Target?
The Healite II has a number of different wavelengths that reach various layers and target cells within the skin.
Let's look at them below.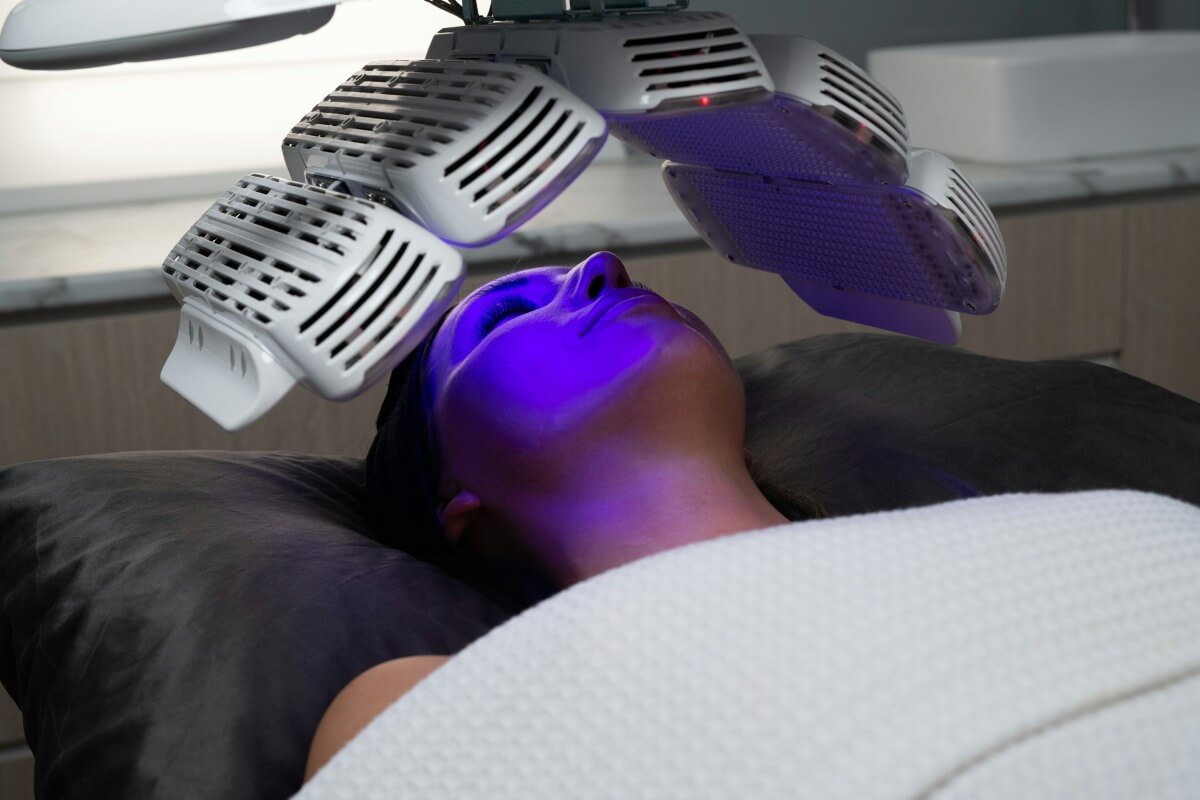 Blue Light: 415nm Wavelength
The 415nm wavelength is used for treatment of active acne and congestion. The blue coloured light is responsible for killing off p.acnes bacteria. P.acnes bacteria lives on all of our skin. When the population of p.acnes bacteria grows excessively, this can trigger a series of events and eventually lead to a breakout of what we know as acne.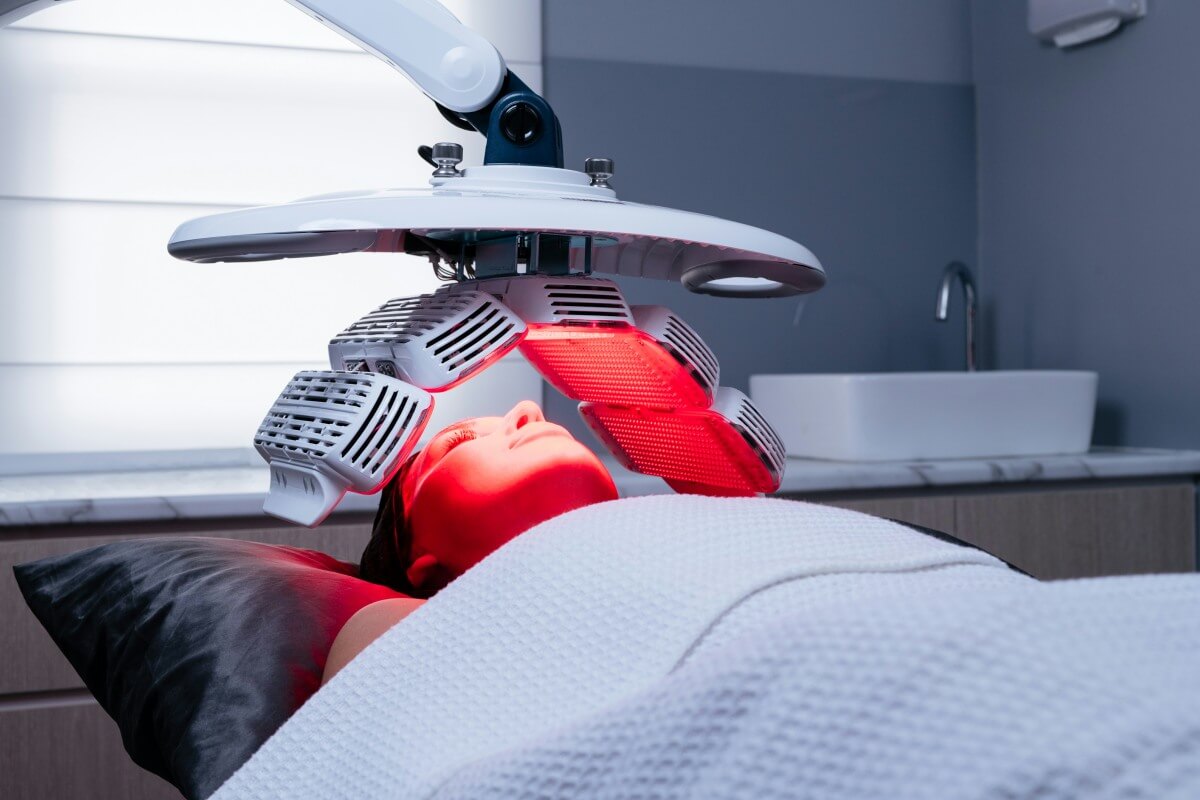 Red Light: 633nm Wavelength
The red coloured light is highly effective in stimulating the growth and production of collagen and elastin fibres, and as such is efficient in treating fine lines, laxity, scarring and skin texture. This is also the wavelength used in treatment of androgenic alopecia and is great for stimulation of hair growth. This is also the wavelength used to activate photosensitising agents such as those used in Allumera.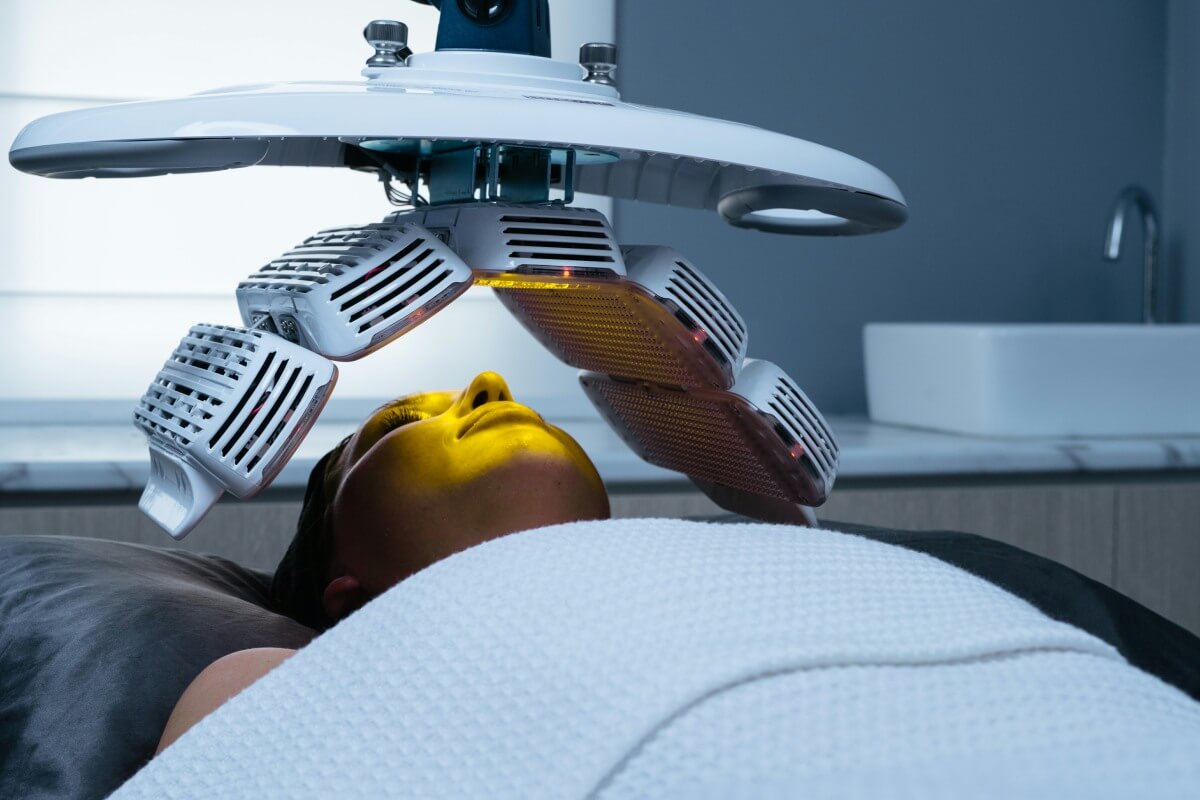 Yellow Light: 830nm Wavelength
The yellow coloured light is best used post procedure to calm inflammation, accelerate wound healing, reduce bruising and reduce downtime. This is the wavelength of choice for post procedures, post surgery for reduced scarring, and for any inflammatory skin conditions such as psoriasis, dermatitis and eczema.
The benefits of LED Light Therapy include:
Increased production of collagen and elastin

Increased cell renewal and regeneration

Accelerate the rate of healing time

Decrease inflammation

Destroys p. Acnes bacteria, the bacteria that lives on our skin and causes acne

Repairs damaged tissue

Reduces the appearance of fine lines and wrinkles

Reduces pore size

Reduces redness and rosacea

Stimulation of hair growth

Improved elasticity and firmness

Increased blood flow and circulation

Can aid in treatment of dermatitis, psoriasis and eczema

Stimulates endorphins to aid in pain relief

Relieves muscle stiffness and muscle spasms

Relieves arthritis pain

Speed up healing of bruises, cuts, grazes and post procedure inflammation
Prior to a Healite LED treatment, your skin will be prepared with the appropriate cleanser and toner. The time you spend under the light is dependent on the condition to be treated but will usually last anywhere between 10 and 30 minutes.
After the light therapy is completed, your therapist can apply a serum and/or a mask suited to your skin concerns, finally finishing with moisturiser and of course SPF.
Can I Stack Led Therapy With Other Treatments?
Yes, absolutely.
The Healite LED Light therapy treatment is a phenomenal stand alone treatment to address a number of concerns, or it can also be added onto other skin treatments such as the Hydrafacial, or to accelerate the healing time post treatments such as skin needling, BBL, skin peels, Dermamelan, and nearly any medical procedure.
Healite II LED Therapy is not only a safe and effective treatment for all skin types and conditions, but it is a relaxing treatment with no downtime making it the perfect lunch time or pre-event treat. A phenomenal stand alone treatment, Healite LED therapy is best done in a course to address specific concerns, or can be added on to other dermal or medical treatments to enhance results and accelerate recovery time.
My Final Thoughts
I always advise my clients to follow any dermal treatments with a Yellow Healite to reduce downtime and enhance the results of your treatment.
In addition, 2 Red Healite's a week is an excellent way to encourage collagen and elastin production and healthy hair growth for the scalp, and is the perfect lunch time treatment.
For treatment of acne, the blue light is an absolute must and whilst even effective on it's own, when combined with acne fighting therapies can achieve seriously "wow" results.
With Winter around the corner, what better way to escape the cold… It's so easy to imagine yourself lying on the beach in Fiji under the warm comforting light.
To read more about Healite II LED, click here.