At Youth Lab, we offer the well known Hydrafacial.
The Hydrafacial is a non-invasive treatment that cleanses the surface of the skin, gently exfoliates, hydrates and protects your skin. It delivers immediate results and long-term benefits without any downtime or irritation, sounds good right?
The Hydrafacial is one my go-to treatments at Youth Lab with some people refer to it as the new and improved 'micro' (microdermabrasion). But let's not get confused – The Hydrafacial differs from microdermabrasion because it is a multi-stage facial treatment that uses dermabrasion as just one of the steps.
The Hydrafacial moves beyond dermabrasion by incorporating techniques including skin peels, extractions, skin hydration and antioxidant skin nutrition.
Each step throughout the treatment builds on the previous step to create even better results than if it was applied as a stand-alone treatment. The result is a comprehensive rejuvenation without any one step being overly aggressive on the skin.
The Hydrafacial is suitable for all skin types and has multiple benefits to the skin, including reduction in congestion by detoxifying and ridding build up in the pores – being an essential for helping clear acne and problem skins.
One of the most common indications we see for the Hydrafacial is acne and congestion. As such, we incorporate the Hydrafacial treatment in the treatment plan of most of our acne clients.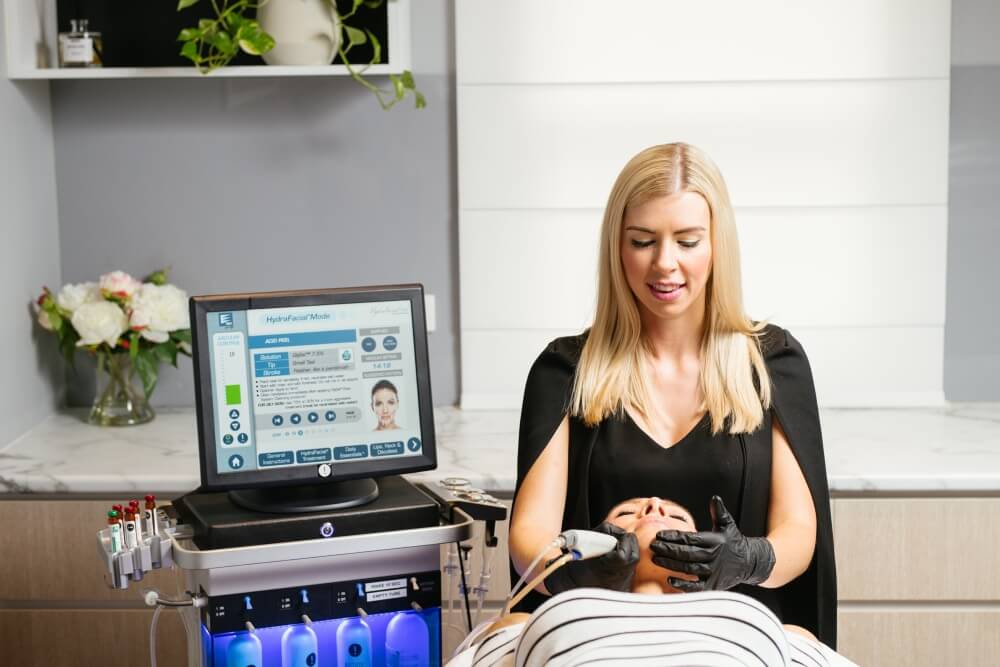 How Does The Hydrafacial Work?
The Multi-step Hydrafacial Process works in conjunction with suction and active acids dispersing onto the skin, acting as a chemical exfoliator.
Let's take a look at the steps in more detail.
Step one: CLEANSING & EXFOLIATION
Dead skin cells are gently exfoliated to reveal healthy, new skin whilst, simultaneously, a serum containing lactic acid, glucosamine and many botanical extracts is delivered deeply to cleanse and nourish the skin.
Step two: GLYSAL ACNE PEEL
Application of the Glysal Peel solution helps improve acne and regulates the oil levels caused by excess sebum whilst reducing discolouration and evening the tone of the skin.
Step three: EXTRACTION
Effortless extractions help to remove blackheads and draw out impurities in congested areas using a serum of natural salicylic acid and honey extract. Salicylic acid is an oil loving beta hydroxyl acid that removes oil while breaking up impurities and exfoliating.
Step four: HYDRATION
Hydrafacial Vortex-Fusion technology delivers a cocktail of hydrating hyaluronic acid and the most advanced and powerful antioxidants, peptides and multi-peptides to replenish the skin, leaving it hydrated, plumped up and at optimum skin health.
Can I Have A Hydrafacial If I Have Acne?
Yes, absolutely! 
I get this question a lot in clinic.
As many people are familiar with microdermabrasion and would have been educated on the benefits of this treatment, however in congestion-prone skin types – microdermabrasion can in fact spread that bacteria around which doesn't benefit those who are looking for something that will help treat and clear their skin.
However, one of the best benefits of the Hydrafacial is the decongesting process which helps eliminate the build up in the pores.
With its advanced technology, the Hydrafacial does a deep clean ridding dead skin cell build up to the surface of the skin as well as using a vacuum-like suction which helps draw out blockages – removing the bacteria that builds up.
This results in increasing the natural healing process of a breakout and further reduces continual breakouts from coming back, clearing your skin – not worsening it.
How Can The Hydrafacial Help My Congestion?
The Hydrafacial can be extremely effective for helping break down the active acne cycle within problem skins, as well as helping reduce the overproduction of oil within oily skin types, which is a major cause of breakouts within the skin.
The treatment consists of active acids that penetrate into the skin acting as a chemical exfoliation. Throughout the Hydrafacial process, one of the major components that help congested skins is Salicylic acid.
Salicylic acid is a beta hydroxy acid, which means the hydroxy part of the molecule is separated from the acid part by two carbon atoms, as opposed to an alpha hydroxy acid where they're separated by one carbon atom.
Sorry for the 'super skin-geek' moment just then – BUT this structure is important because it makes salicylic acid more oil soluble so it can penetrate into the pores, helping decongest and draw out impurities.
Will I Break Out After My Treatment?
Even though the Hydrafacial is non-invasive, with minimal to no downtime, in congested skins we do encourage underlying breakouts to come through post Hydrafacial.
Clients who are dealing with breakouts and congested skin generally do tend to have a few breakouts pop up after their Hydrafacial, but rest assured this is a good sign.
As we want to clear and reduce build up in the skin, this is the natural process of ridding underlying congestion and we'd rather it come out and heal itself than to stay under the skin and become more irritated and inflamed. You will find, these breakouts will heal quicker than normal and your skin will love you for it!
Clients that aren't prone to getting breakouts or that generally have good skin, there really isn't any downtime. A purge of underlying congestion that draws through is always a possibility but the treatment will not worsen your skin or make you 'breakout' as such.
Why I Love The Hydrafacial
When treating any skin concern, I ideally want to be consistent and maintain clients skin with regular treatments to see the most effective long term results. Working Hydrafacial's into my clients routine (and my own) is a great way of maintaining the skin.
Whether we're treating a particular skin concern or preventing and maintaining skin health, Hydrafacial's can be effective from fortnightly intervals to every 4-8 weeks as maintenance.
We can effectively help treat and reduce congestion in the skin while giving our skin that exact boost of hydration and rejuvenation. In my opinion, it is perfect for anyone who wants long term, clear, and youthful looking skin.