During my pregnancy experience so far, I am convinced that the pregnancy 'glow' is completely made up! I have experienced the exact opposite; dryness, flaking, extreme dermatitis over my whole body, along with breakouts… this wasn't what I was expecting!
Along with my uncontrollable skin, I was required to change my normal skincare routine and my injectable treatments were wearing off (all gasp for me), so I felt more like Cinderella at midnight trying to make it home in time to apply more moisturiser, rather than the glowing goddess we have all been promised.
Thankfully, I have the best team in Perth filled with Dermal Therapists, Nurses and Doctors, who have helped me bring my skin back to life, as well as support me through my meltdowns of feeling sorry for myself.
What did they do? First of all, gave me a cuddle and told me it would all be worth it once my little boy is in the outside world!
Secondly, we went to work – we began by changing my at home skin care. With so many hormonal changes, your pregnant skin goes into overdrive and is usually the last to receive the nutrients you are supplying, as its first priority is making a healthy baby.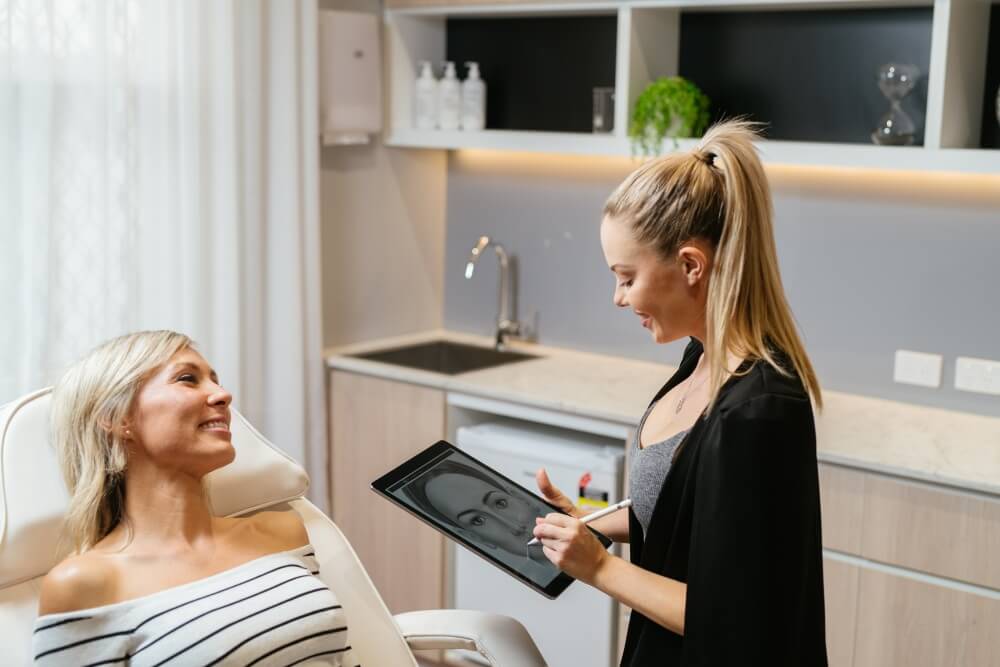 Injectables during pregnancy

I am sorry to be the bearer of bad news, but no injectable treatments are to be undertaken whilst you are pregnant or breastfeeding.
There is not enough clinical evidence to support that it is safe to do so, therefore anti-wrinkle treatments and dermal filler will need to wait.
Although this can be difficult (believe me, I know!), it is truly not worth the risk for your little one.
My pregnancy skincare routine
Cleanser:
Youth Lab Calming Cleanser. A gentle cleanser which we also recommend post laser treatments. This is strong enough to remove makeup, but gentle enough to not cause irritation to precious skin. I often recommend this product to those who suffer from an impaired barrier.
Morning products:
PCA Hyaluronic Acid Boosting Serum. Anyone who has used this product understands! This is the holy grail for hydration. Containing three different chains of hyaluronic acid, to allow penetration to all layers of the skin, it is heaven in a bottle. To complement the hydration, it also contains niacinamide, a calming ingredient to help with inflammation.
Sun Protection:
Ultraceutical Ultra Protective Daily Moisturiser in the Hydrating formula. Along with the inbuilt moisturiser, it is also lightweight so sits perfectly under my makeup without that heavy, greasy feeling that many SPFs tend to have. SPF is my go-to product, as it is the cheapest anti-ageing product available and it also helps prevent sun damage in a time where I am unable to undertake dermal treatments to correct. (For those experiencing more breakouts, we have a mattifying option also!)
Evening products:
I personally like going to bed looking like a glazed doughnut and allowing my skin to soak in all of the hydration it can.
Ultraceuticals MD B2. A serum rich in niacinamide, as discussed previously this will assist with inflammation to the skin, helping to fight against redness and inflammation. It does have a slightly 'tacky' feel to it, which is why I opt to use it at night.
Cosmedix Remedy Oil. I have been using this product for multiple reasons. It is rich in Omega fatty acids, antioxidants and vitamin E, all of these ingredients aid in nourishment- much like an avocado for the skin. I have been using this product on my face, however also on my belly to assist with combatting stretch marks. Fun tip: It is also great to place any excess product from your hands into your hair to assist with the new 'baby hairs' instead of using hair spray.
PCA Dual Action Redness Relief. I have consistently been using this product from the moment it landed on the YL shelves. I find it calming when my skin is irritated however not too occlusive. During times where my skin is under control, I find the consistency of the cream to be enough as a night moisturiser. It works by using niacinamide, panthenol and bisabolol to aid in hydration and the calming of inflammation.
We did not undertake dermal treatments while my skin was inflamed, it needed time to heal. Sometimes less is more.
Treatments
During this period, I would undertake Healite LED treatments only.
Our Healite treatment uses LED technology to focus on skin health. Different wavelengths are utilised for different concerns.
Mummas experiencing hormonal breakouts can utilise the blue light (wavelength 415nm), this assists in sebum control – the excess oil production causing the breakouts.
Mummas on the other end of the spectrum who are experiencing dryness and impaired barrier function can utilise the yellow light (830nm). This assists to stimulate your healthy collagen and elastin to the area to calm inflammation and repair the skin to its optimal function.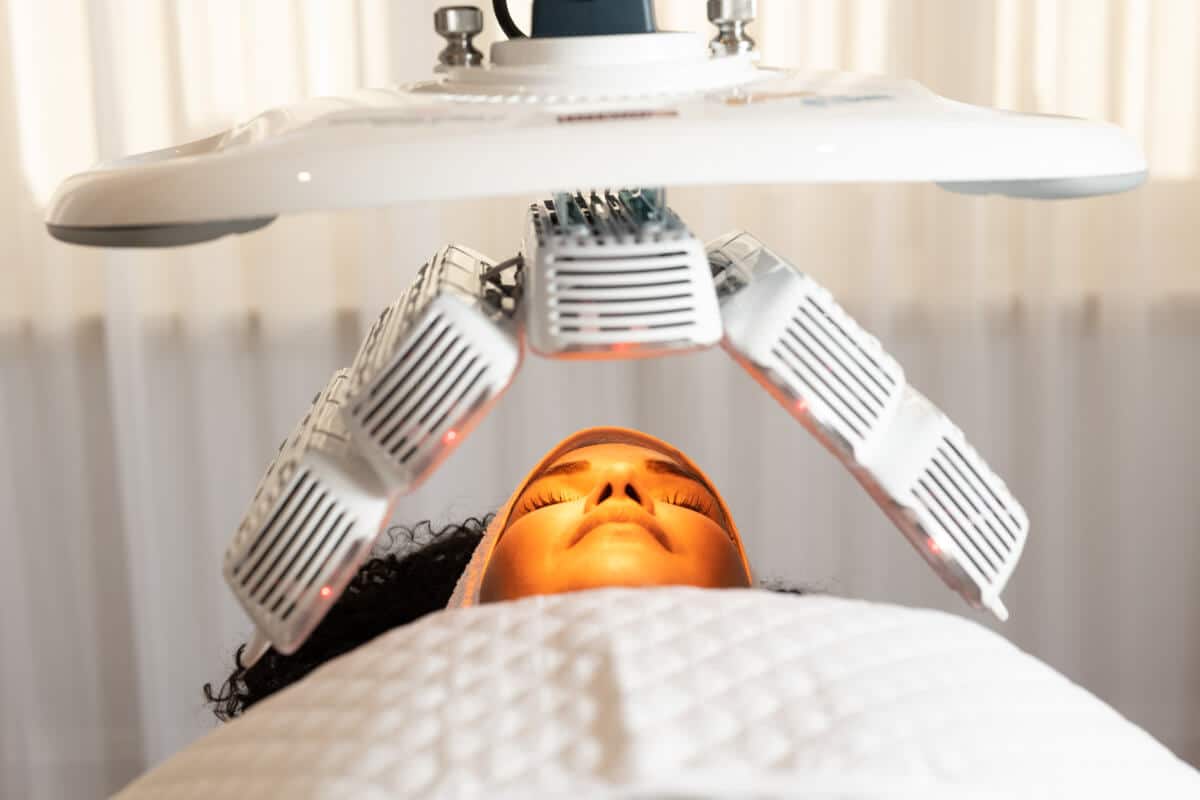 Once my skin had begun to heal, I was able to have my long awaited time on the dermal treatment bed. It had been the longest and hardest three months of my life!
Blueberry Peel: This gentle yet effective treatment assists with exfoliation of the surface dead skin cells, which can cause the appearance of a dull and dry complexion. This treatment is suitable for all skin types, including the pregnant and breastfeeding mummas who are needing the skin love.
Hydrafacial: This treatment is undertaken with a twist while pregnant or breastfeeding. One of the steps contains salicylic acid (a no-no during this time), so we are required to skip that step. We are able to undertake the steps which assist with drawing out congestion and the nasties sitting in the skin, followed by the hydrating step which contains antioxidants that help the skin protect itself from external irritants.
Skin Needling: To assist with plumping my skin, I have undertaken skin needling. This is also required to be adjusted from a 'normal' session. To begin with, I was unable to utilise the topical anaesthetic, this was not an issue though as I do not usually use this for my treatments as I do not find the sensation too uncomfortable. Secondly, we utilised shallower depths, rather than a deeper treatment, as pregnancy can impair your healing time. This has allowed my skin to continue the 'anti-ageing' components of my normal treatments.
After all of my treatments, I undertook the Healite treatment and will continue to do so during my entire pregnancy.
I hope this little bit of information helps you during your pregnancy or breastfeeding journey. We always recommend to have a consultation with one of the dermal therapists, nurses or doctors at YL to allow us to create a tailored treatment plan to have you faking that pregnancy glow.
I look forward to sharing my pregnancy journey with you all.

Love always, Nurse Lili xoxo
Ps. Mummas in first trimester, although it doesn't feel like it now… it gets better xxx