What inspired you to become a Cosmetic Registered Nurse?
I am very lucky to have found my way into cosmetic nursing, I have always had an interest in aesthetics and love seeing the confidence it can give someone. I completed my nursing studies and worked in the hospital system for 4 years before becoming a nurse injector in 2019. I have learnt from some amazing plastic surgeons in the industry as well as keeping up with the continuous development you are able to do to increase your knowledge.
I found the thing I love the most is spending time educating and empowering my patients. I absolutely love spending time ensuring every detail and their experience is one they will love and won't forget which is why I didn't thrive in the chaos of the hospital. I found that cosmetic nursing is an opportunity for myself to thrive and have a job which I really do love coming to work everyday for. Cosmetic nursing is the most rewarding career choice, I absolutely love being creative and making people feel good about themselves.
What was the most challenging part of your training?
I think the most challenging part is saying no to people and making sure you set a realistic expectation for clients, as less is more in my opinion. My approach to injectables is that your treatment should be undetectable but also making people think 'have you been on a holiday? You look well rested and refreshed.' This is what I want all my clients feeling like after their treatment with me.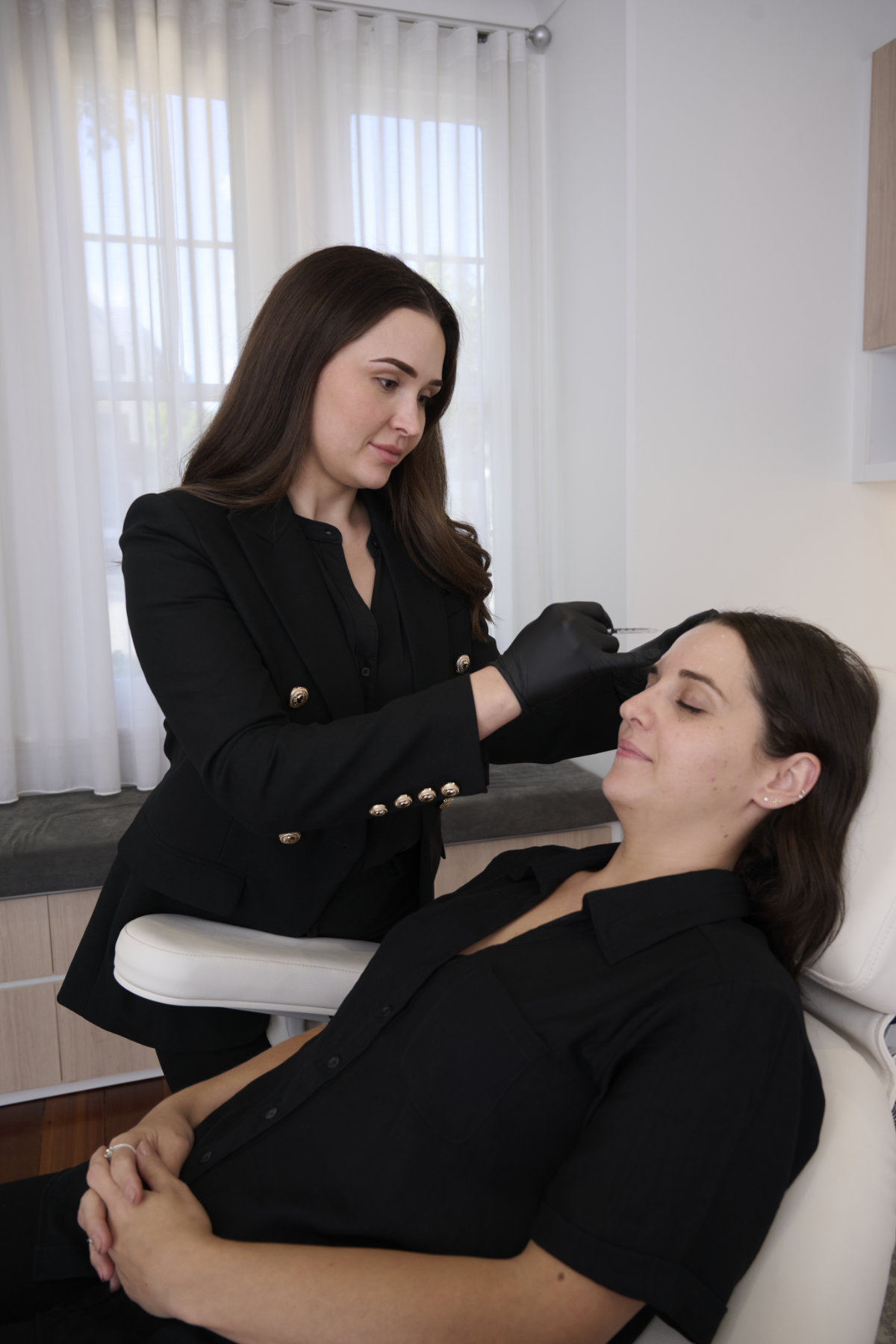 What is your approach to cosmetic injectables?
I believe every person is beautiful in their own way. My approach is making you feel the best version and more confident in your own skin, not to turn you into someone you don't recognise. My goal is to help you look more refreshed after your treatment, we can discuss any concerns or insecurities you may have and I will be able to recommend what I think will be the best treatment option for you.
What do you love the most about being a Cosmetic Registered Nurse?
I absolutely love the creativity of being a cosmetic nurse and the relationships I form with my long term clients. My favourite thing about being a cosmetic nurse is helping clients look and feel their best which can make them so much more confident in themselves. I love seeing clients reactions when I hand them the mirror and how life changing some treatments can be for clients. We all learn that the key to happiness is pursuing your passion and as a cosmetic nurse, I get to do this every day!
What is your favourite injectable concern to treat and why?
I absolutely love treating cheek filler, as you can see the instant difference in someone's face by replacing the lost volume which happens as part of the aging process. It can make such a difference to clients faces to be more youthful and refreshed with their overall appearance, because who doesn't love a little contour!
What are your favourite products to use on your skin?
My skin is changing all the time especially depending on the season, currently after being pregnant I found that my skin has gone from being a bit oily to more dry. My all time favourite product to use on my skin to cleanse is the Ultraceuticals Brightening Cleanser this is something I use all year around and found it is my ride or die.
Serums that I am currently using are:
AM: Ultraceuticals b2 serum, Skinceuticals CF Serum, Ultraceuticals Daily mattifying SPF moisturiser
PM: Ultraceuticals b2 serum, Ultraceuticals Vitmain A intense booster, Cosmedix eye genius, Cosmedix resync night cream
Once a week I use the Enzyme aspect night mask just to give my skin a good overnight exfoliation and deep clean.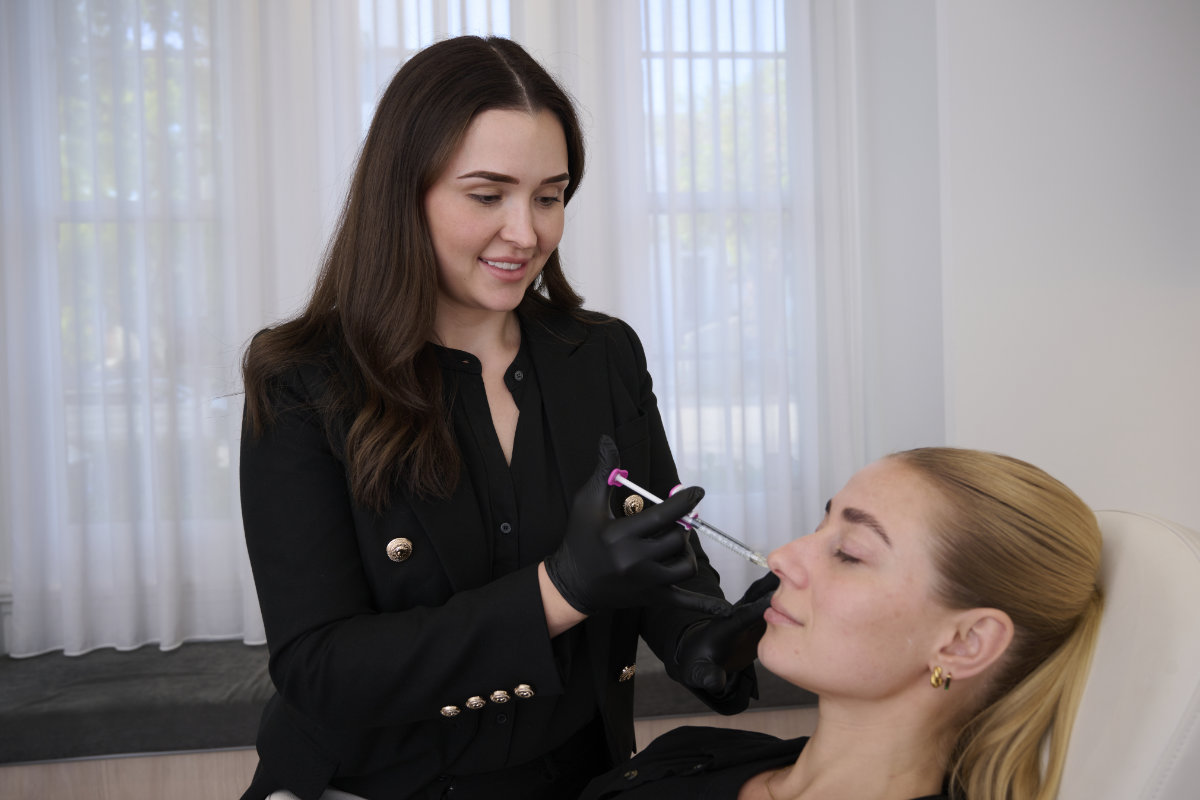 What treatments have you had this year? How can we get skin just like yours?
In terms of injectables, I am always topping up my anti wrinkle every 3-4 months treating my upper face as well as my Masseters as I hold a lot of my stress in my jaw and if I don't treat this area once a year I find I get terrible headaches so just keeping on top of this for myself is a big thing. I also like to replace and conservatively treat my face with dermal filler, I have had a little bit of dermal filler to my mid and lower face to assist in symmetry and balancing my side profile as for me I like to treat little bits at a time. For my skin I try to do a skin needling course once a year, I absolutely love the difference it makes to my pores and texture as well as the overall stimulation of collagen. I try to squeeze in a hydrafacial when I can to replenish and hydrate to give my skin a really good clean.
What is your favourite thing to do outside of work?
On my days off I fill my days up with activities with my little boy and my fiancé when he isn't working. We love going to explore new places with him on little adventures or even just going to the park for a picnic. If I have time I also love squeezing in a Pilates session!
What is your favourite part of working at Youth Lab?
I think the best thing about working at YL is the incredible culture and being surrounded by such an amazing team. I love coming into work each day, I am constantly building my skills and knowledge. Seeing all my amazing clients and colleagues each day makes me so incredibly grateful for my career!
What treatment do you see becoming popular in 2023?
The newest thing to hit Australia, which is different to any other type of injectable product on the market currently. The latest technology of bio remodelling injectables, this new treatment uses technology to hydrate, tighten, help with the overall skin texture and prevent degradation of adipose tissue. I have tried it and can confirm it is worth the hype!
What is the one piece of skin advice you wish all of your clients would follow?
Be religious with your sunscreen!