Bon voyage! Your flights are booked, your accommodation is locked in, and your social media feed is full of destination inspo.
Holiday skin should be fresh and dewy… yet the hours in the air, rays caught poolside, air pollution, and lack of sleep associated with travel can leave you with spots, congestion, dryness, and a dull complexion.
As we are all getting back into travelling and going on holidays, many of my clients at Youth Lab Joondalup have questions. What skincare do I recommend? Which products they can still use on holiday? What they should avoid for great skin while travelling?
While there are some non-negotiables (hello, SPF), the products in your suitcase will depend on your skin type, how long you are going away for, where you are going, and what you will be doing.
Most of my clients want their skin to be low-maintenance as possible on holiday. It makes sense — you don't want to worry about make-up while exploring the sights and living your best life abroad. If you are anything like me, you're looking to keep it simple by wearing as little make-up as possible.
So, read on to discover which items should travel with you, how to care for your skin in flight, which treatments to undertake before and after your trip, and more.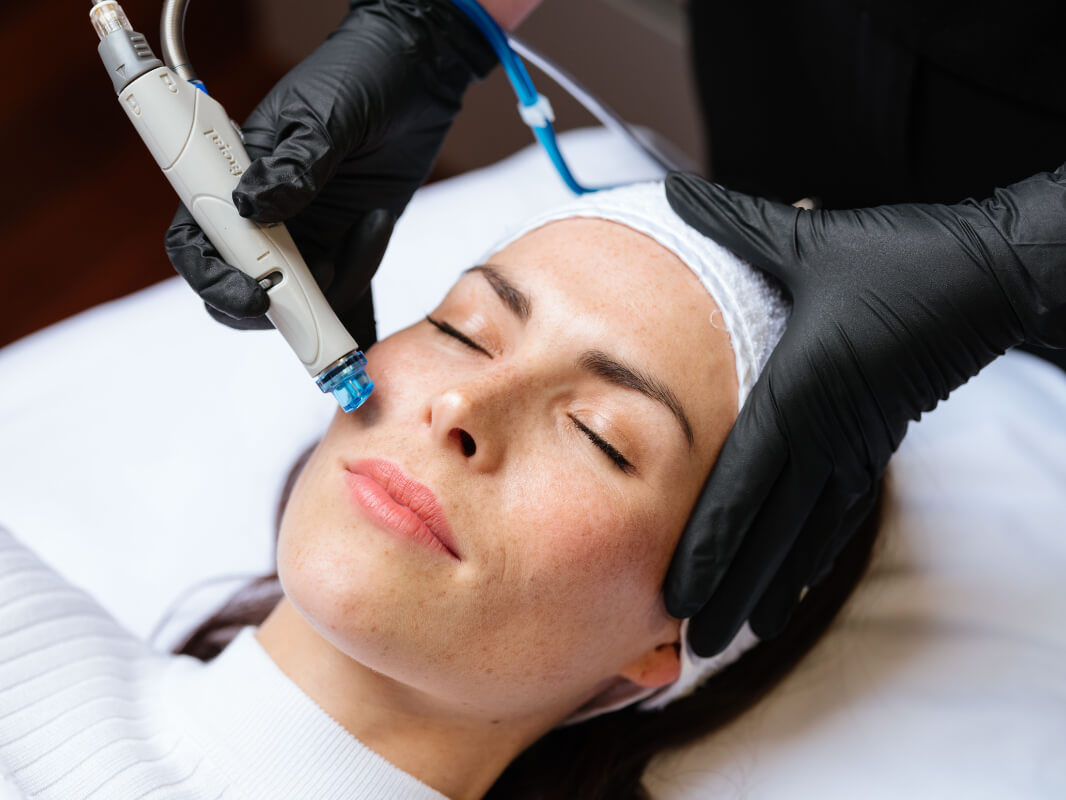 What skin treatments should I have before my holiday?
My favourite way to get ready for an upcoming holiday is with some fabulous skin-prepping treatments to boost that luminous holiday glow. Whether you're heading to a beachy destination or a snowy retreat, the following Youth Lab treatments will leave your skin looking fresh, clean, and radiant.
First up, we have the Hydrafacial — a treatment that needs no introduction. It's the ideal way to gently exfoliate your skin while simultaneously hydrating it. Say goodbye to dull, tired-looking skin and hello to a refreshed, rejuvenated complexion. Add a Healite LED to promote skin health and pre-empt the environmental skin stressors of travelling.
Next on the list is our Oxygen Lift Facial. This treatment infuses your skin with high-quality nutrients, leaving it looking plump and dewy. Our Advanced Facials are customised treatments, tailored to your unique skin type and concerns. Whether you're dealing with acne, fine lines, or just need a little extra hydration, this treatment will leave your skin looking and feeling amazing before airport time.
The ClearSilk Laser Facial is another fantastic way to rejuvenate the skin before a holiday. With non-ablative technology, the treatment has no downtime. For the perfect pairing, I recommend treating your skin to a pre-holiday HydraSilk, which combines the ClearSilk and Hydrafacial.
All Youth Lab practitioners will tailor your treatments to your lifestyle and upcoming plans. You can rest assured that we won't suggest anything that necessitates downtime right before your big trip. If you want to undergo our more intense treatments, such as RF Microneedling or stronger energy treatments, we recommend scheduling a two to three month gap before take-off.
Help! Which skincare products should I pack?
If you're only going away for a few nights, it's fine just to bring your basics — think cleanser, moisturiser, and sunscreen. But if you've got the space and want to bring your whole skincare routine, go for it! After all, a little bit of pampering never hurt anyone.
When it comes to active ingredients like Vitamin A, it's up to you and what your skin is used to. If you're a devout user of these products and your skin is already accustomed to them, there's no harm in continuing to use them on holiday. Just make sure you protect your skin with sunscreen and keep a close eye out for any changes.
But if you want to simplify your routine and cut down on the products you're bringing, that's fine too. Skipping your active ingredients for a short period of time won't reverse all of your hard work. However, it's still crucial to cleanse, hydrate, and protect your skin. So, make sure you've packed your must-have items: a gentle cleanser, a trusty sunscreen for your face and body, and a nourishing moisturiser.
How do I take care of my skin while on the plane and beyond?
The dry air on planes, not to mention the heating and air conditioning in hotels, can leave you feeling seriously dehydrated. But fear not! I've got you.
First things first: hydration is key. That means making sure you've got a trusty moisturiser on hand, as well as some hyaluronic acid serum. These powerful products will give your skin the boost of hydration it needs to stay healthy and glowing. My favourite is the PCA Hyaluronic Acid Boosting Serum — I love it while away and at home.
If you really want to give your skin an extra treat, consider packing some sheet or cream masks. These little wonders will leave you feeling refreshed, and they're the perfect way to give your skin an added boost of hydration. A portable at-home LED Mask is a convenient way to keep up your in-clinic LED results while travelling.
But I know you're busy exploring, so if you don't have time for a full-on pamper session, don't worry. You can still get your hydration fix with a mist spray. Sprays, like the Skinceuticals Phyto Corrective Mist, are perfect for spritzing on your face throughout the day – even over your makeup or sunscreen – to keep your skin feeling fresh and dewy.
What should I avoid for beautiful holiday skin?
If you want to keep your skin happy and healthy on holiday, there are a few things you should avoid. First up: don't start using any new products right before or during your trip. You don't want to risk any pesky reactions while trying to enjoy your vacation. Instead, try dispensing your current products into smaller containers to save space. Buying all new travel-sized products can be a recipe for disaster — not to mention expensive.
Let's talk about facial wipes, shall we? I know, I know. They're very convenient. Trust me, they're not doing your skin any favours. If you want to properly cleanse your skin, you'll want to steer clear of wipes and opt for a trusty cleanser instead. Opt for an oil cleanser like Cosmedix Purity Solution followed by a gentle exfoliating formula like Cosmedix Purity Clean to properly cleanse your face of sunscreen, sweat, and pollution.
Last but not least: please don't undergo any intense treatments during your holiday. We're talking about chemical peels, needling, or laser treatments — not exactly the recipe for a relaxing vacation. Australia has stringent regulations around cosmetic treatments, but this is not the same everywhere. Not only can these harsh treatments lead to complications like pigmentation and infection, but they can also slow down your skin's natural healing process. So, save those treatments for when you're back home and ready to tackle them with full force.
How do I welcome my skin back from holiday?
Welcome back! If you took all your products and used them every morning and night while you were away, congratulations, you're doing well. Just keep up the good work when you get home. If you only took your basics for a short trip, simply resume your full routine as usual.
However, if you were away for a while without your active ingredients or spent a lot of time in the sun or snow (and especially if you got sunburnt, ouch!), it's best to ease back into your routine slowly. Start using your active ingredients every second or third day/night for two to three weeks before increasing use. And if you're still sunburnt or peeling when you get back, hold off on your active products until your skin has fully healed.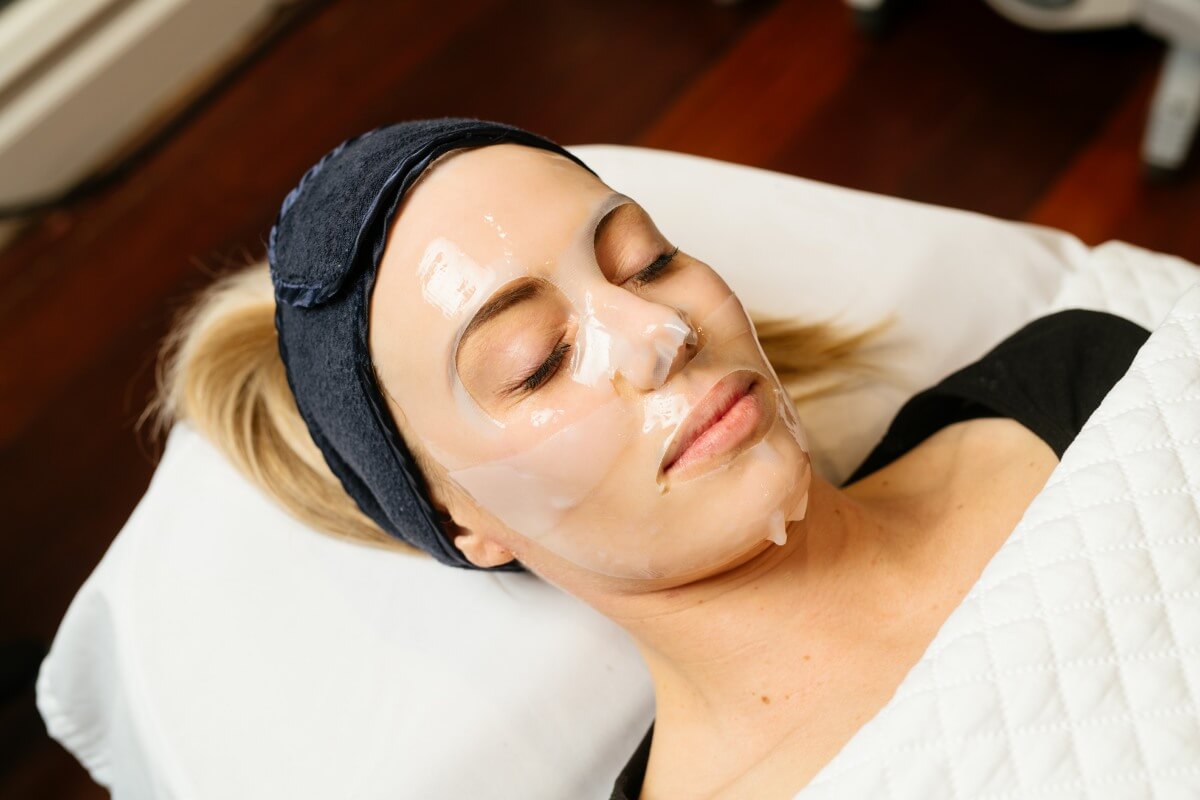 My go-to holiday skincare routine
I've developed my skincare routine to match my skin type and lifestyle. One of the most rewarding parts of my job is helping clients find the perfect combination of products to help them achieve their aesthetic and skin health goals. The best way to have a skincare routine tailor-made for you is to visit a Youth Lab Dermal Practitioner, like me, for an in-depth consultation.
The golden rule: SPF
Sunscreen: the ultimate holiday essential. Not only does it protect your skin from those harmful UV rays, but it's also your secret weapon for keeping your skin looking youthful and radiant for all the holidays to come. Whether you're hitting the shops on Rodeo Drive or hiking in the Himalayas, slather on that 50+ SPF. If you want more sunscreen tips, why not dive into this article by, my Youth Lab Teammate, Dermal Clinician Savannah, where she debunks the most common myths about SPF.
So, there you have it. You've learned all about the ultimate holiday skincare approach. Enjoy your holiday — I can't wait to hear all about it when you visit for your next Youth Lab experience.