Hey Mumma!
Congratulations on your pregnancy.
It is a very exciting time along, but along with the excitement and anticipation comes some very big changes to your body and lifestyle which can bring much joy and possibly some anxiety.
A woman's body is incredible and even more so in pregnancy.  The do's and the don'ts while pregnant can be a little overwhelming, particularly when it comes to your skin care regime.  Some women experience the pregnancy 'glow' and their skin, hair and nails flourish while others at this time can see acne, rosacea and pigment develop or flare up.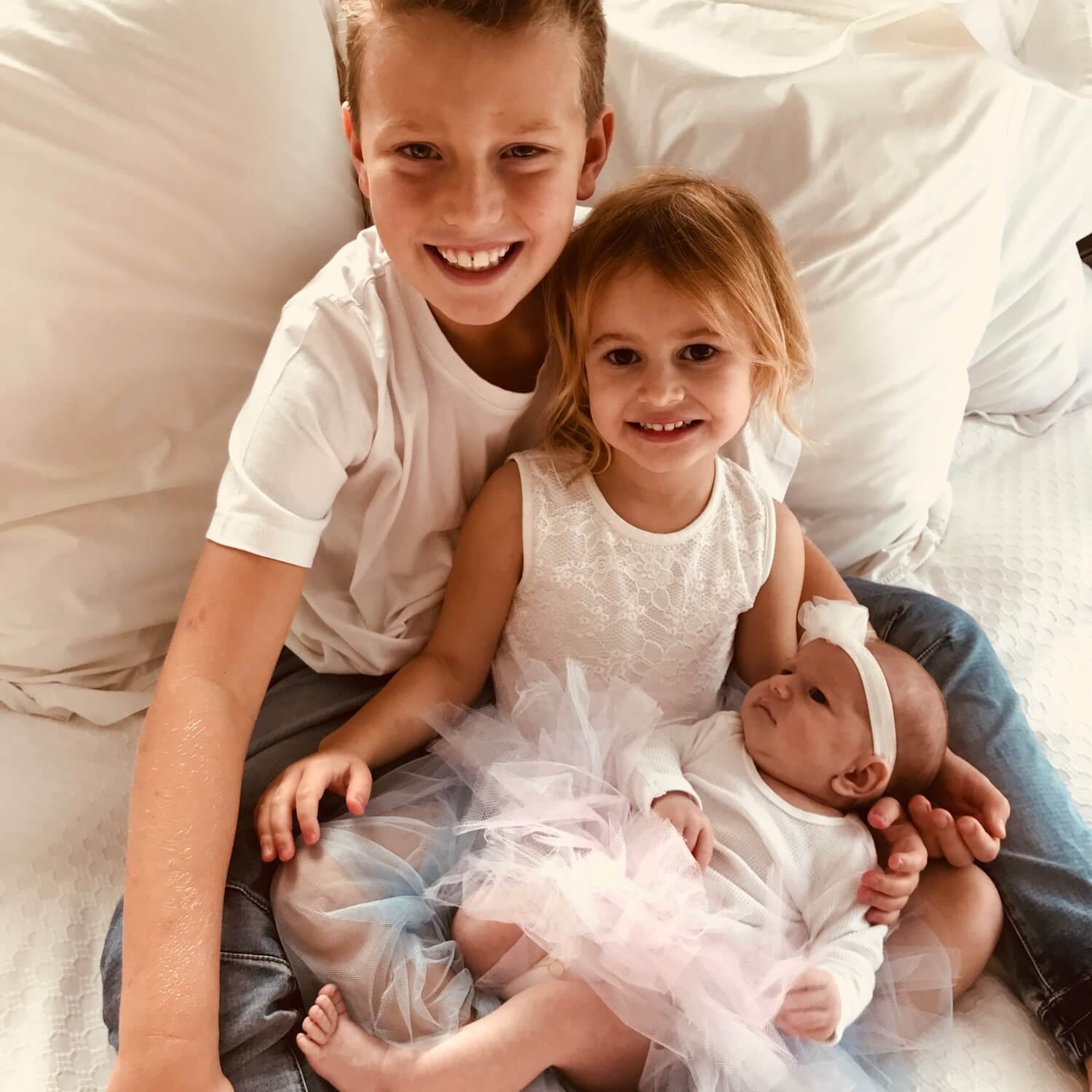 "I am a mum of 3. Jagger Blue is 10, Chilli Star is 5 and Poet Love is 1."
—  Reyenna, Clinic Manager
Our little tribe bring us so much love and happiness.  Things are a little crazy at times and the lack of sleep does take its toll but those little faces and giant personalities melt your heart every day.  I was very blessed with relatively easy pregnancies, I didn't suffer from any sickness and was able to eat and exercise as I would normally.
Whether you are pregnant, a first time mum or have a tribe of 5 it is hard work and sometimes caring for your skin between nappies changes, the vomiting, the sleepless nights, school and sporting commitments and work can be a little difficult let alone trying to maintain or attain 'the glow' of pregnancy.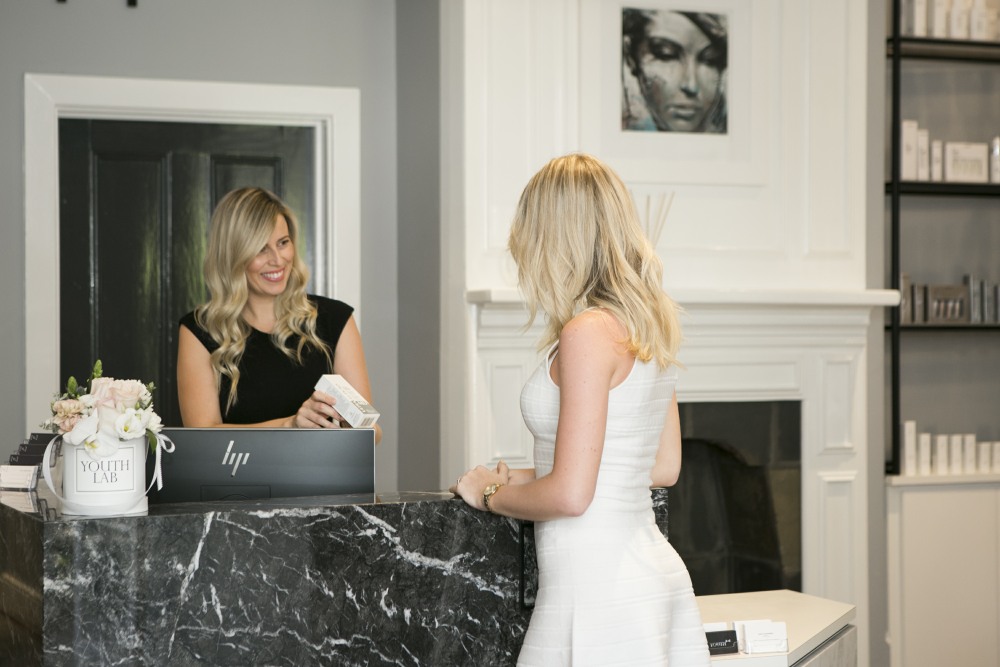 Common Pregnancy Skin Conditions
Your skin is the largest organ of your body and extremely unique in how it functions.  Your skin protects, acts as a barrier, regulates and provides sensation.
During pregnancy, your skin is working overtime to accommodate and nourish your ever-expanding body.  Skin conditions can be amplified during pregnancy due to the increase in hormones and the physical changes your body undertakes.
During your pregnancy, your blood levels increase by 50% and your heart grows in size to cope with extra blood and workload on your body.  Your bones soften as the increasing levels of oestrogen and relaxin to allow movement for your growing baby.
Your hair gets thicker due to the oestrogen receptors it contains and may appear thicker in other areas like the face.  Your uterus grows and thickens to sustain the weight of the baby (add another kilo!) The placenta provides all the nutrients to the baby and this can weigh on average 700 grams. The amniotic fluid around your baby usually weighs approximately 1 kilo. In addition to the weight of your baby.
All the nutrients and goodness absorbed through consuming food goes directly to the baby first and anything left over to the mother.  On most occasions' mums run on very little and can leave you feeling and looking exhausted and drained.
Some common skin conditions experienced by pregnant women are:
Swelling and puffiness from fluid retention
Excess hair
Stretch marks
Hormonal acne
Spider veins
Pigmentation – Melasma
Skin tags
Psoriasis, atopic dermatitis
Pruritic Urticarial Papules and Plaques of Pregnancy (PUPPP) – Inflamed, red bumps and irritated skin
Many of these skin conditions will disappear after the birth of your baby however maintenance skin treatments to keep some symptoms at bay until you are able to undertake more intensive treatments is recommended.
The Glow
So what exactly is 'the Glow?'
The increased levels of hormones, Oestrogen and Progesterone (the chief pregnancy hormones) give you that radiant plumped and smooth glow to your skin.  Your skin retains more moisture and because of the extra blood circulating around your body that pink flushed appearance adds to the 'glow' effect of pregnancy, even though you are always feeling hot and flushed!
The Mask
During my second pregnancy with our daughter Chilli, I felt like I looked like Magda from the movie Something About Mary.  While I didn't quite look like Magda, (I certainly felt like I did!) My hormonal pigmentation was at an all time high and make up wouldn't cover my uneven skin tone.  So what is 'the mask' of pregnancy?
The mask of pregnancy or Melasma is a form of hyperpigmentation and can be experienced by the vast majority of women during their pregnancy as it is caused by a hormonal change.  This is the darkening in skin tone in particular areas of the body including the linea alba (the line running down the abdomen from your belly button), the areola and on the face in patches resembling a mask (forehead, cheeks and upper lip).
Melasma is just one of the many skin conditions women can suffer from during pregnancy and the breast-feeding stage.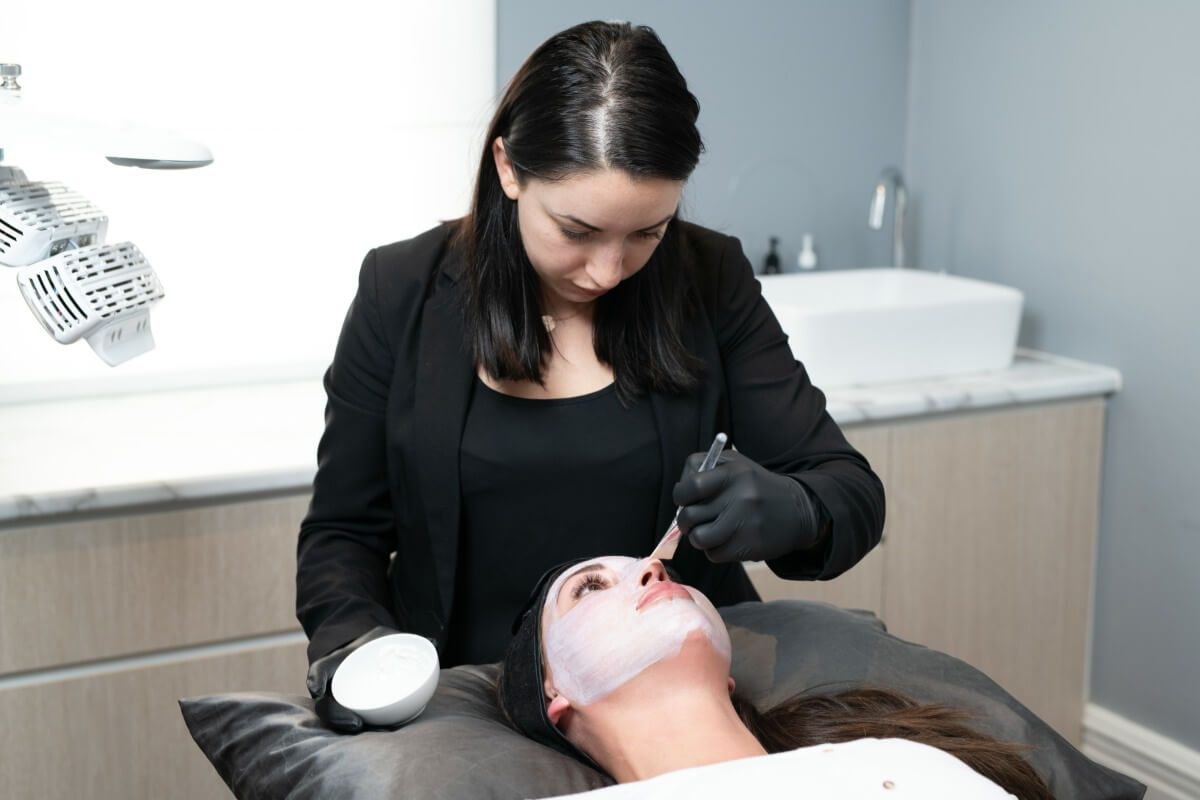 Pregnancy Friendly Skin Treatments
Treatment time is the best time.
An hour of indulgence all to yourself.
Being pregnant doesn't mean you miss out, you just adapt to what treatments you can have that are safe for both mother and her baby.  There are Peels and Medical Facials available to support women during this very special journey (yes we provides these at Youth Lab).
Unfortunately, there are some no go treatments during pregnancy. This is because of the ingredients used (for example Salicylic acid and Vitamin A cannot be used), the use of light or energy can cause abnormal pigment changes and the treatment itself may be too stimulating and with altered skin healing in pregnancy can cause complications.
Some no go treatments include:
Medical Peels
Superficial peels act as an exfoliant to the top layers of your skin. Each peel will leave your skin clearer and brighter working on that dewy fresh complexion.  Undertaken on a regular basis those suffering from acne and congestion will find results from a superficial peel beneficial to maintaining healthy skin during pregnancy.
Peels can also work on stubborn pigmentation and in fact help to treat Melasma during pregnancy if a regular course is committed too by lightening existing pigment and inhibiting the cells that produce pigment.
Superficial peels are primarily formulated from AHA (alpha hydroxy acids) and BHAs (beta hydroxy acids) such as glycolic, lactic, salicylic, mandelic and kojic acid which are safe during your pregnancy. We also use peels at Youth Lab that contain botanicals, antioxidants and enzymes which offer gentle yet effective exfoliation and rejuvenation.
Personally, I love the Blueberry Antioxidant Peel.  This peel is absolutely divine and will leave your skin red carpet ready.  Enriched with blueberry extracts and the all important hydrating lactic acid the peel gently exfoliates, smooths congestion and plumps your skin.  Similarly, the Pomegranate peel is another incredible antioxidant peel designed to even out skin tone and aid with the prevention of free radical damage.
Skin rejuvenation that offers a luminous and youthful appearance through mild exfoliation and hydration are peels worth talking about! Glycolic, Mandelic and Lactic Peels are all suitable when pregnant and breastfeeding and can be used to specifically treat congestion, mild acne and mild pigmentation.  These peels in conjunction with my home care products worked wonders on my pigmentation.
I recommend a treatment once a month to maintain that healthy vibrant glow.
Medical Facials
For those seeking a more gentle and relaxing treatment then medical grade facials are an excellent choice. There is no fluff allowed at Youth Lab and even our facials deliver results to target skin luminosity, pigmentation, tone and texture.
Spanish medical cosmetics and aesthetic medicine company Mesoesthetic offer 4 medical facials that are suitable for pregnant women. These are extremely popular for those who may be new to treatments and who are not yet ready for a medical grade peel.
Some of my favourites are:
Collagen 360 – As the name of the facial indicates this treatment counteracts the loss of collagen and stimulates cell renewal.
Stem Cell – Is a regenerating skin treatment that stimulates the skins natural self-repair process
Energy C – A brightening antioxidant treatment maximising the use of Vitanim C concentrations
Radiance DNA – Is a powerful age prevention treatment that increases cellular function improving skin tone, texture and volume
A consultation with Youth Lab's dermal team can provide you with a treatment plan and the most suitable peel or facial while you are pregnant and breastfeeding.
Alternating a peel with a facial each month will ensure your skin remains balanced and happy during pregnancy.
LED Light Therapy
As a stand-alone treatment or in conjunction with a medical peel or facial the Healite II is a LED phototherapy treatment that promotes skin rejuvenation.
I could quite happily set a Healite II up in my own lounge room for regular treatments as it improves collagen levels and elastin, smooths those fines lines and wrinkles that creep up on your very quickly post birth and the added benefit of improving the tone and texture of your skin.
The warmth of the light and uninterrupted rest for 15 minutes is pure bliss and an ideal way to compliment a peel or facial.
LED is completely safe in pregnancy and well worth the visit, even if it is just for 15 minutes.
Detoxifying Lymphatic Drainage
Lymphatic drainage is an essential part of the body's immune system and detoxification process. The facial lymph nodes can become blocked and congested with age, stress, illness, lack of sleep, allergies and you guessed it – pregnancy.
Impaired lymphatic drainage can result in under eye swelling and puffiness, dull and lacklustre skin, congestion and impaired immune response. At Youth Lab, we perform manual lymphatic drainage before any of our treatments (I love it before a peel). Not only does this treatment feel superb (and relaxing), this gently detoxifying lymphatic drainage can improve the functioning of the facial lymph nodes, aiding in the detoxification of the skin, improving circulation and working to give clearer and healthier looking skin.
What About Cosmetic Injectables?
I knew you would want to know about injectables.
Unfortunately, there have been no clinical studies due to ethical considerations into the safety of injectables treatments during pregnancy and when breastfeeding.  A physician will not treat a pregnant woman.  This is not negotiable in Youth Lab.
The potential risks to the mother and the unknown effects to the baby are not worth the risk.
Your injectable journey can begin once the breastfeeding stage is over.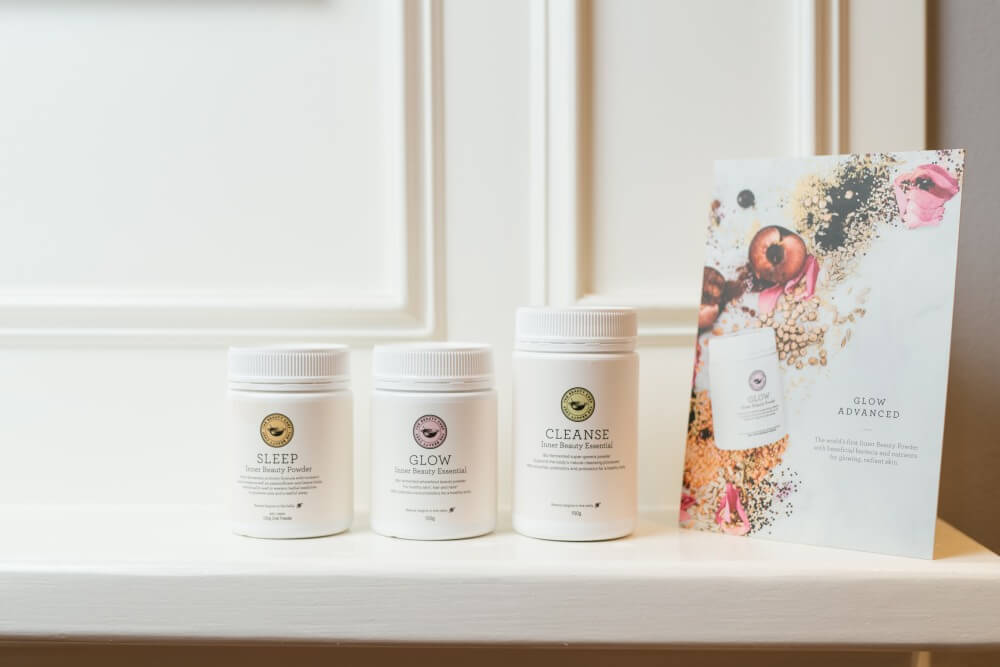 Preventative Measures In Pregnancy
In my experience with pregnancy and skin, you glow from the inside out because you are nourishing your body with all the right things.  You are drinking lots of water and eating all the right foods and the right portions to support you and your developing baby. Taking preventative measures aids in the detoxification, hydration and repair of your skin.
DETOX
In my pregnancies, I don't drink any alcohol at all. I eat organic fruit, vegetables and meat where I can, I drink at least 3 litres of water a day and I cut my sugar intake. I do have a sweet tooth and chocolate is my go to craving so Friday is treat and movie night in our house where we all indulge a little! This detox stage allows your body to naturally eliminate all the nasties that we consume on daily basis by simply avoiding alcohol, caffeine, sugar, saturated and trans fats I start to see my skin glowing.
HYDRATE
Water is essential in maintaining optimal skin condition.  Your skin will benefit from water intake on a daily basis as it is the key contributor to digestion, circulation, absorption and excretion.   If your body is well hydrated, then it operates at prime capacity allowing for a brilliant complexion.
SLEEP
In the later months of pregnancy, sleep can be uncomfortable and the urge to go to the toilet every few hours has you literally rolling out of bed and waddling to the toilet. Sleep is fundamental to functioning at full capacity as a human and the negative effects of sleep deprivation are endless..
Fatigue and an inability to concentrate

Irritability and clumsiness

Depressed mood and lack of motivation

Difficulty learning new concepts and forgetfulness

Increased appetite and carbohydrate cravings

Exhausted appearance – puffiness around the eyes, dark circles below the eye, fine lines and wrinkles
Nap and rest when you can. Telling a pregnant woman or a mother with a newborn or a toddler to sleep and rest when they can, in theory, is very easy but the reality of it can be very different.
If you can sleep when baby sleeps your body and your skin will thank you for it.  Your body repairs and renews collagen when you sleep.  More collagen means plumped and radiant skin, less fine lines and wrinkles, brighter less puffy and discoloured eyes, and a glowing complexion.
DIET
The do's and the don'ts with food goes on forever and can be really overwhelming and sometimes confusing.  Always follow the advice from your Obstetrician, Doctor or Midwife.
A healthy balanced diet is always recommended.  Weight gain is inevitable with pregnancy.  I put on anywhere between 15 – 20kg and that is with a very healthy diet and exercise regime.  The only place I got stretch marks was on my breasts.  Just when you think they can't get any bigger they do!
Certain foods we digest are reflected in the condition of our skin.  When pregnant it is highly recommended to eat a balanced diet and organic foods where you can.  The combination of a healthy diet and water intake allows for your body to nourish your baby and your skin.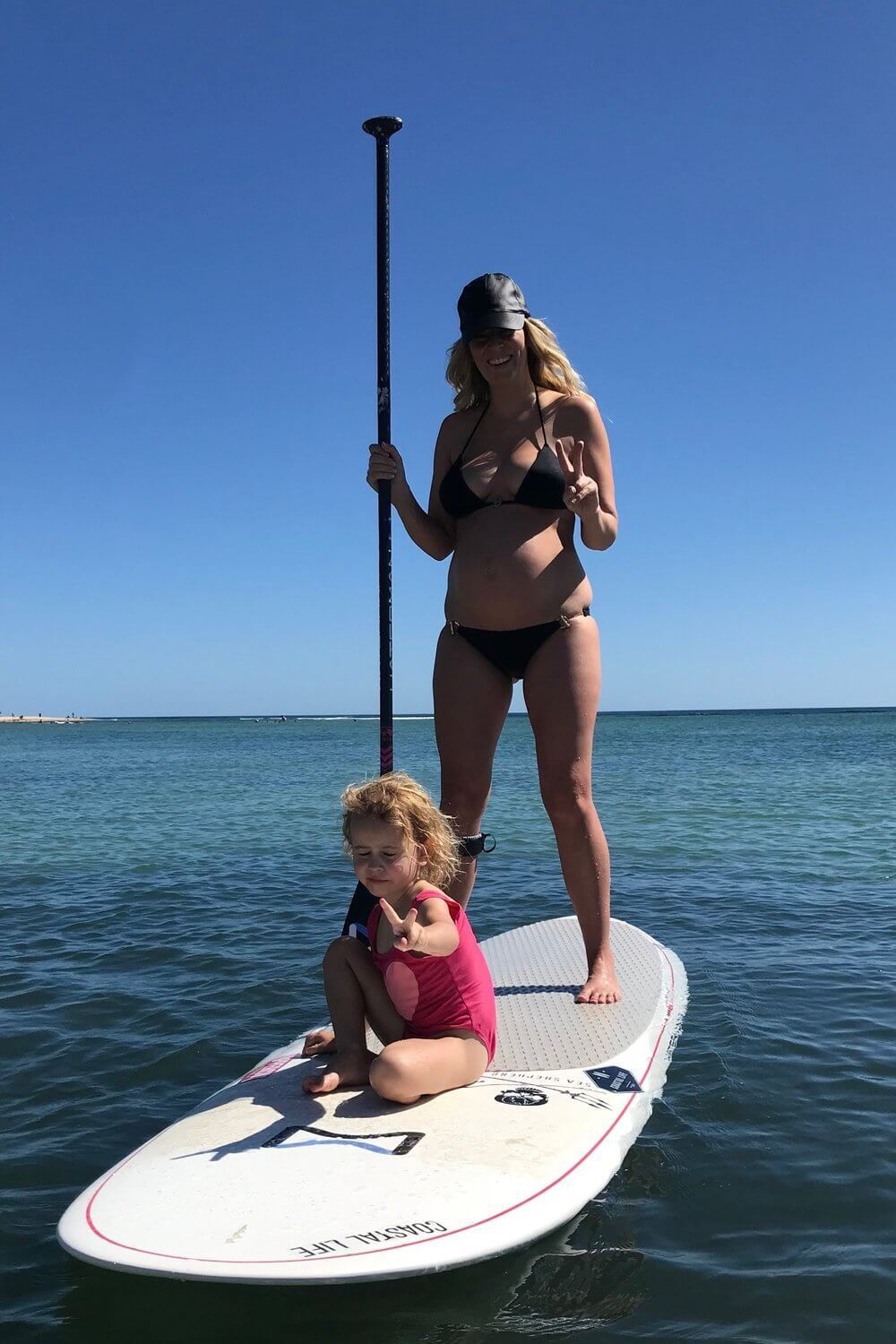 EXERCISE
Exercise daily.  It helps with fatigue particularly later in your pregnancy.  It will boost your energy levels, the extra blood circulating your body will enrich that pregnancy glow.
I found great enjoyment in boxing and kickboxing and stand up paddle boarding in the summer months.  Boxing and kickboxing was not something new I took up when I found out I was pregnant, I had been doing this for a substantial period prior to learning of our exciting pregnancy news.  I received regular clearance from my amazing obstetrician who supported me with my fitness and wellbeing throughout my pregnancy.
Remember to rest and stretch.  Yoga is perfect for this and especially for those mummas that are planning on delivering your baby naturally, the breathing techniques are amazing for this.
If exercise has never really been your thing try walking or swimming.  Both are very relaxing but excellent fitness for your wellbeing and vitality when pregnant.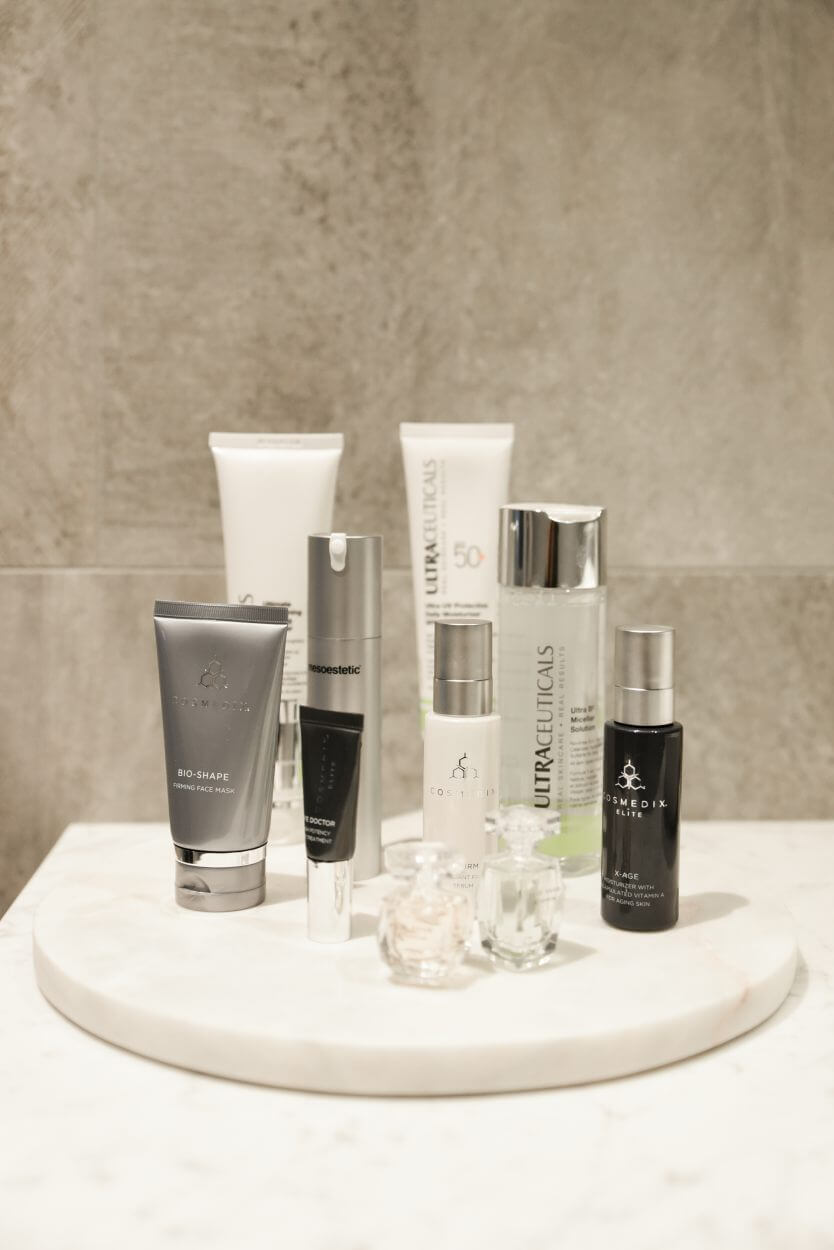 My Pregnancy Product Picks
My absolute favourite and go to products when pregnant and post-natal are; a brightening cleanser, a boosting serum, an antioxidant firming serum, a pigmentation serum and an SPF.
Now remember that much like skin treatments, there are some no go ingredients (say goodbye to your antiageing powerhouse retinol).
My go to products are:
Ultraceuticals MD Ultimate Brightening Foaming Cleanser
This gentle foaming cleanser is paraben and fragrance free that removes daily residue and make-up leaving the skin visibly brighter. I use this silky nourishing cleanser morning and night. I double cleanse on the days I wear makeup.
Ingredients Featuring a potent complex of Vitamin B3, ProVitamin B5 and brightening ingredients
PCA Hyaluronic Boosting Serum
This serum is magical.  I cannot imagine my skin care regime without it.  This serum boosts my own hyaluronic acid production providing long lasting hydration which plumps and smooths any fine lines and wrinkles.  Winner winner!! I apply one and a half pumps to my face and neck morning and night.
Ingredients Hyaluronic acid and sodium hyaluronate,  Hydrolyzed hyaluronic acid, HA-Pro Complex™, Ceramides, Niacinamide
Cosmedix Affirm
This silky serum is filled with antioxidants that protects your skin from free radicals, hydrates and firms leaving you feeling and looking youthful in appearance.  I apply affirm morning and night.
Ingredients Spin Trap, Resveratrol and Vitamin E – provide potent, powerful antioxidant protection
Cosmedix Simply Brilliant
For all the pregnant mummas with pigmentation, this is your number 1 go to product.  During my 3rd pregnancy, I looked a lot less like Magda as my skin tone was smoother due to this incredible product.  Simply Brilliant is literally that, simply brilliant!  Its exfoliating properties remove the surface layer of skin reducing the signs of pigmentation.  For me, this pregnancy my pigment was far less aggressive with the use of this product morning and night.
Ingredients Whitonyl and Waltheria, Chirally Correct L-Lactic Acid and Salicylic Acid (the concentration of this is safe in pregnancy and I had clearance from Dr Kate), Potent antioxidants
Ultraceuticals SPF 50+ Sunscreen
This product is a non-negotiable in our house in our morning routine. Shower, teeth, hair, sunscreen! Don't forget your ears!
It is normal for our kids to put sunscreen on EVERY DAY of the year not just our beach days.  Sunscreen is without a doubt the most important skincare product you should own.  This triple protection (UVA, UVB and antioxidant) broad spectrum SPF 50+ daily moisturiser is for all skin types. It goes on smoothly after my serums and acts as a hydrating moisturiser.  When wearing makeup, it does not affect the texture or the application of my foundation.  This is an essential product for everyone.
Ingredients Butyl Methoxydibenzoylmethane, Phenylbenzimidazole Sulfonic Acid, Octyl Methoxycinnamate (Ethylhexyl Methoxycinnamate), Octocrylene and Bemotrizinol, Shea Butter, Provitamin B5 (Panthenol), Glycerin, Sodium Hyaluronate, Vitamin B3 (Niacinamide) and Vitamin E (Tocopheral), Silica

My Advice
In one sentence it would be, regular treatments and an excellent home care regime.
As a mum of three, my skin is tired and showing the early signs of ageing and sun damage. Another thing I have learned is your skin, not only on your face but your body changes during pregnancy and after the birth of your baby.
To maintain that pregnancy glow and not to look constantly tired after the birth of my baby girl I undertake regular treatments and an excellent home care regime to help facilitate my skin goals.
I have finished my breast-feeding journey and can now embark on some more intensive treatments.  I have recently had the phenomenal Halo laser (my skin is absolutely glowing) and the Dermamelan Dipegmentation treatment is next on my hit list, watch this space…
Reyenna x