Back in February, Youth Lab's beautiful Dermal Therapist, Jenna married her partner Luke in a stunning destination wedding setting in Thailand. Jenna takes us through her skin preparation journey in the lead up to her big day.
Tell us a bit about what you planned for your big day? Where did you get married?
My big day was INCREDIBLE! If you've seen me since I returned to the Lab, then I'm sure you've heard all about it and seen the photos. It was beyond even my wildest dreams in perfection! We chose to have a destination wedding in Koh Samui, Thailand and we were lucky enough to have 40 of our closest family members and friends from both the UK and Australia come out to join us for not just one day, but for what felt like a 2 week celebration. We made so many beautiful memories.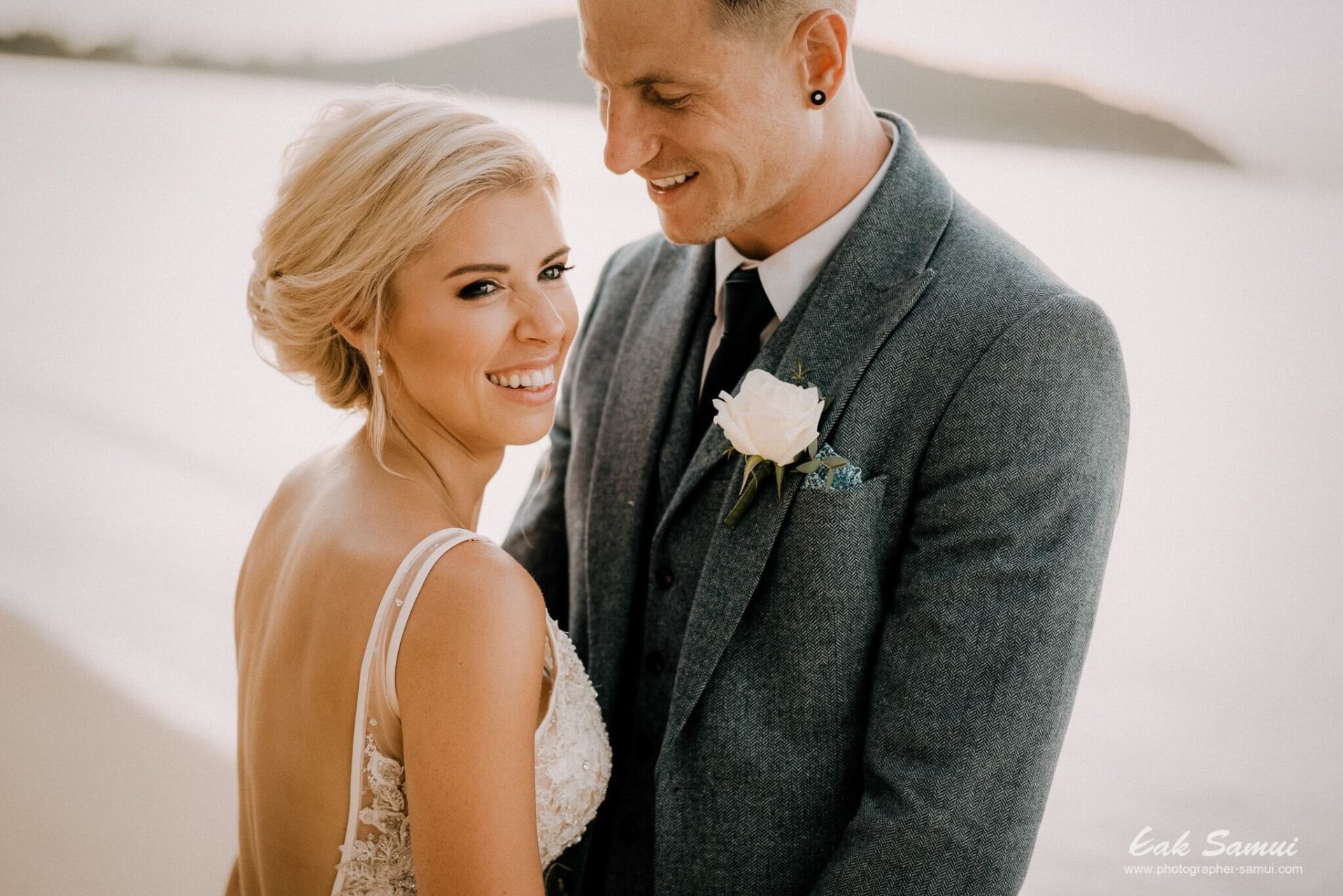 Did you take into account your travel and the climate in Thailand when thinking about how your skin would look on the big day?
I think how your skin is going to be affected by external and environmental factors in the lead up to the wedding crosses every bride's mind. It is a bridal nightmare to think of waking up on your wedding day with a pimple that has its own orbit – but increase that fear tenfold for destination brides. We have everything thrown our way – a rapid change in climate, the flight, a change in diet and an increase in alcohol consumption (poolside cocktails in my case – hello sugar) are not a skin-loving combination. However, I was prepared for whatever my skin could possibly throw at me.
A couple of days before we flew out, the sample pots and Cosmedix face masks were out! Cosmedix has an amazing range of face masks if a problem with my skin was to arise, they are going to be able to help correct it. I slipped into my hand luggage the Restore Mask for hydration which I applied in a thin layer throughout the flight as it dries clear, so everyone else on the flight was none the wiser. Cosmedix Glow Mask was also packed for a brightening pick-me-up, Pure Enzyme Mask for exfoliation and Clear Mask in case of any congestion and breakouts, but thankfully this one wasn't needed.
Our lovely Dermal Therapist, Charmaine also gave me a fabulous Hydrafacial and Healite only a few hours before I flew out, to give my skin a helping hand with hydration and to maintain a healthy glow right up until the wedding.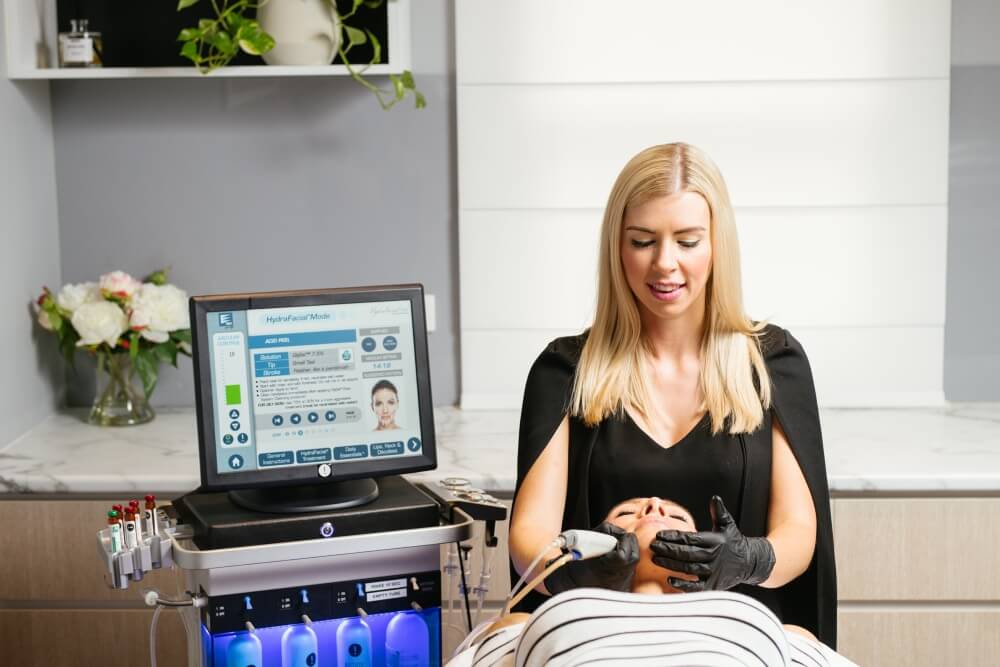 Did you have any specific skin concerns you wanted to treat?
To be honest, I was quite lucky in terms of concerns and had no major ones. For me, it was all about having that 'bridal glow' we speak about as brides. After I cleared a bit of my sun damage and pigment with BBL to give a more even skin tone, I was on a mission to gain healthy, radiant skin and I feel there were 3 key factors in achieving my goal :
Regular in-clinic treatments. It is very important to understand that there are no one-off treatments to fix all of your concerns. The best results often come with consistency whether this is in a course of treatments, or a combination of different treatments tailored and customised to your skin needs.
Home care products. I often refer to home care like the healthy eating of a diet and in-clinic treatments like a personal training session. They go hand in hand. It's like hitting the gym then grabbing Macca's on the way home. Optimal results require a combination of the two.
Diet and lifestyle. How could I have asked for healthy-looking skin if I wasn't healthy? So much of what's going on on the outside of your body reflects what is going on on the inside. Hormones, diet, water intake, stress and sleep all play a huge part in how your skin looks. Limiting sugary and processed foods are essential and for more breakout-prone skin, cutting back on the dairy helps a lot. Plenty of water and good quality pre & probiotics are a must. The Beauty Chef range I've been using for years and love, particularly Glow Inner Beauty Powder. I paired this with a lot of veggies and antioxidant-rich food, so not only did I feel better but my skin thanked me for it.
What was your home care regime like in the lead up to the big day?
Full of all the good stuff! Product princess over here! I have more vitamin and hydration based serums and creams that you could shake a stick at, so as well as the essentials like cleanse, tone and moisturise, I also incorporated the following cellular changing goodies:
Vitamin A – I used this every other night and it came in the form of Cosmedix Serum 16, suitable for even the most sensitive of skins. This product assists with anti-ageing, collagen and elastin remodelling, skin strengthening and promoting cellular turnover.
Vitamin B – I applied Vitamin B each morning and evening, using my favourite Vitamin B product, PCA B3 Brightening Serum. Aimed to help reduce the appearance of uneven skin tone and pigmentation, while adding in the benefits of repairing the skin's barrier function.
Vitamin C – I used PCA C&E Strength every morning and I always say this has changed my skin. It is a powerful antioxidant, aids in further age prevention and has brightening effects.
Hyaluronic Acid – I want to bathe in PCA HA Boosting Serum, seriously – if I could I would. Hyaluronic acid helps the skin to hold 1000 times its weight in water and is a must for dehydrated and dry skins. I used this morning and night.
Weekly Masks – I'm a mask girl – I absolutely love masking. For me, it's a part of my Sunday night ritual, and I'm lucky enough to have plenty of them. I also change them up depending on how my skin is looking each week. Dehydrated? Enter Cosmedix Restore Mask or PCA Hydrating Mask. Breaking out or hormonal congestion? Hello Cosmedix Clear Mask.
Did you have any cosmetic injectable treatments? If so what did you do?
I sure did, as many of my clients know I'm not opposed to a little jab from our wonderful Doctors and Nurses every now and then 😉 At Youth Lab, our injectors pride themselves on enhancing natural beauty. In fact, many people are surprised at how much I have done but that's a sign of great injectors ladies and gents.
Firstly, anti-wrinkle injections are something I've been doing for years, way before the wedding was on the cards and I would generally have this procedure every 3 months or so. Prevention is better than a cure (as Nurse Lili says), and we target my frown and forehead to diminish any fine lines as well as my brow area to give my beloved brow lift.
Next up, my favorite injectable treatment which I can not and will not live without, is cheek contouring and lifting. Using premium filler, treatment gives me more defined cheekbones. Think about never having to spend time contouring with makeup again – it is the best.
Finally – Lips. Having a fairly thin upper lip, I felt like I would like some natural enhancement, with 'natural' being the word – no duck or sausage lips are produced at Youth Lab. Like I say, most people don't even know my lipstick just looks better these days.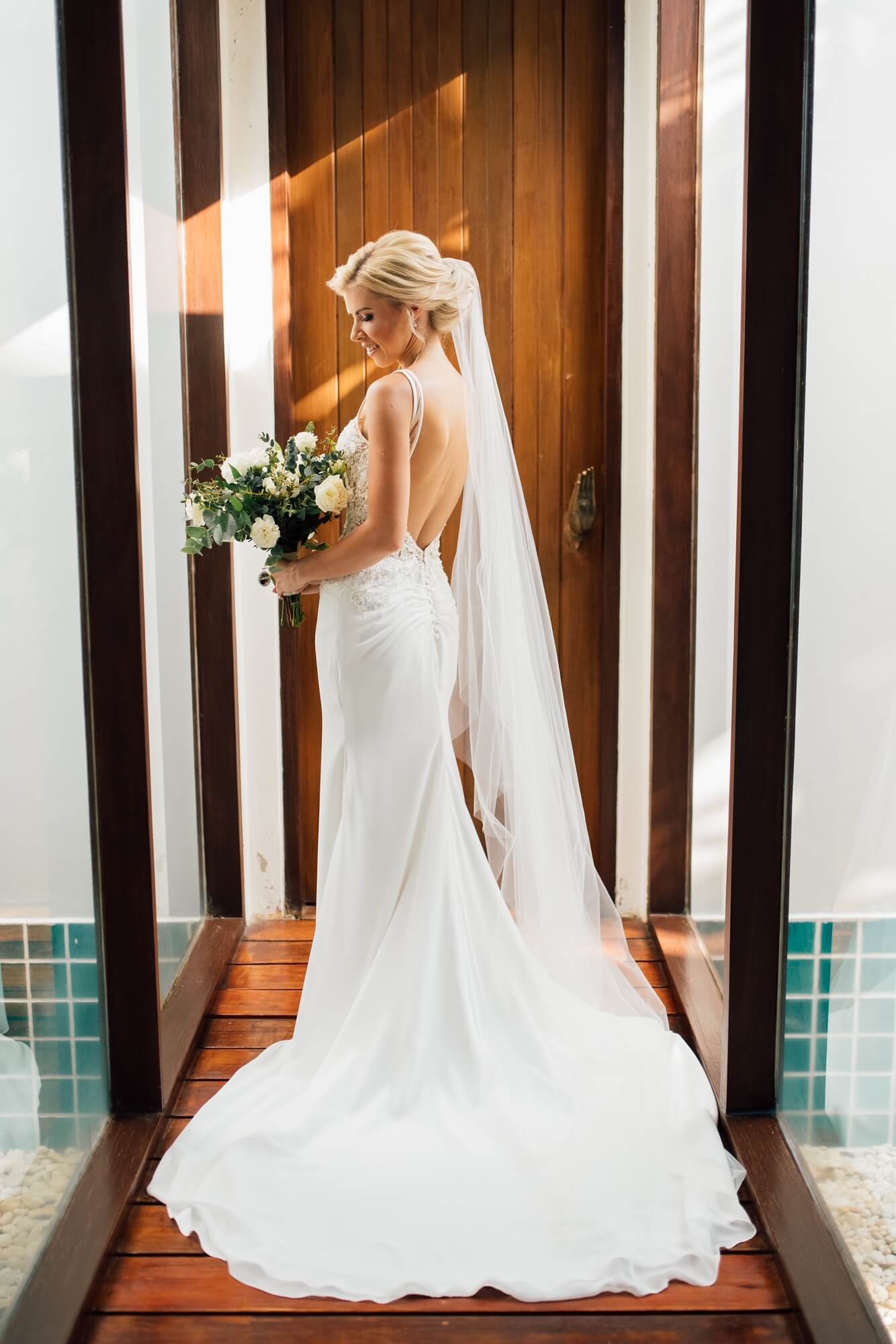 What dermal or skin treatments did you have and when?
What didn't I have more like it, and where should I start? Obviously working at YL, we are super lucky to have the very best technology and products at our fingertips. How could I not take full advantage? It would have been a crime! But let's start with my regular 4 weekly treatments. The Hydrafacial without fail, this is my go-to treatment. The Hydrafacial uses unique patented technology, that can simultaneously cleanse, exfoliate and aid in clearing congestion. Combine that with the infusion of antioxidant and hydrating ingredients – all with no downtime. We are on to a sure fire winner.
Next up, BBL (Broadband light). Three treatments of these we carried out around 4 weeks apart, prior to the big day. BBL can be used for a number of concerns including redness/vessels, age prevention and acne, however, my concern was pigmentation and sun damage. Although I am very vigilant with how much sun exposure I get and protecting myself from those harmful UV rays, there's still a little bit of damage creeping in from my younger years. BBL works to reduce and remove pigmentation.
The light energy delivered by BBL will gently heat the target areas (my pigmentation and unwanted freckles), encouraging and stimulating skin cells to regenerate revealing a more even skin tone. And not to forget my neck and décolletage. Quite often the décolletage is getting more sun exposure than it should be and can be forgotten about with daily application of SPF. Signs of ageing, sun damage and photoaged skin give the game away on your true skin age, so it is important to not stop at your face.
Lastly, The Aura Laser Facial. I had two of these treatments before the wedding. The first was back in September, and the second was four weeks before the wedding. This treatment was the one for me that made the world of difference, and although more discomfort (think heat) and downtime of 3-5 days is involved, it was more than worth it. The Aura Laser Facial helped to refine my pores, stimulated collagen and gave my skin the BEST glow, the one all of our brides are looking for, plus the smoothest skin so my make-up was able to glide on perfectly. With this treatment being a little more invasive, I'd recommend having this done 4 weeks before the wedding to ensure all downtime had subsided and for the maximum Aura benefits to be unveiled.
What treatment or product has made the most difference to your skin?
As mentioned, The Aura Laser Facial is by far my favourite treatment. For me, it hits the nail on the head with what I was trying to achieve with my skin. An even skin tone, refined pores, smoother skin texture, collagen stimulation and bright, glowing skin. I've never had so many people compliment me on my skin as I did in the weeks post Aura, and that's saying something I've done a lot to my skin over the years.
When would you recommend clients start on their bridal skin journey?
It's never too soon to start, but as a guideline, I'd say at least 6-9 months before the big day. This gives the team a Youth Lab a more realistic time frame to achieve your desired results. As I mentioned, most treatments need to be performed consistently, often in a course or as part of a treatment plan. These courses or plans can be spread out from anywhere between 2-6 weeks, depending on what is being targeted and the treatments being performed. Also, take into consideration your skin concern. If you're coming in with a more stubborn and long term skin condition like acne or melasma, for example, think how long it took for this concern to manifest. It's not something that's solved overnight, it's all a work in progress, a journey that requires time and patience. Wedding planning is stressful enough, so why make your skin one of these stresses.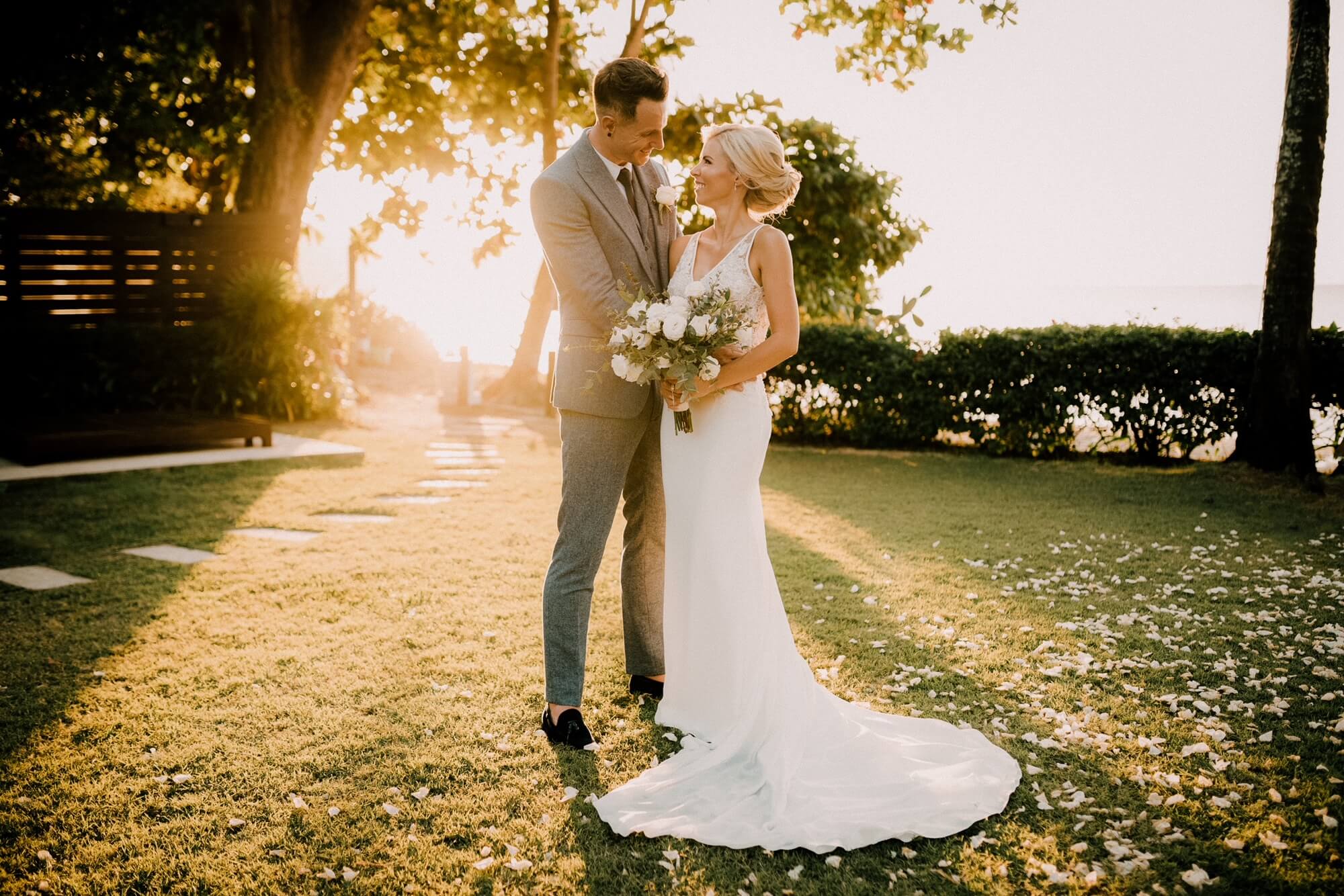 Any tips or tricks for future brides to get picture-perfect skin?
Hydration keeps you and your skin hydrated. Even when I was in Thailand and my months of hard work with treatments, homecare, probiotics and healthy eating were going slightly south shall we say, the one thing that didn't change was my water intake. If anything, I upped it even more while I was away. Keeping yourself hydrated allows your body to function correctly, reducing the risk of internal inflammation or toxic build-up that may start to appear on your skin.
And finally, be committed to your skin journey, your treatment plan and regular treatments. Be religious with your homecare and look after yourself through your lifestyle. Achieving healthy skin can be like a jigsaw puzzle, taking a number of pieces to great a perfect picture.
Jenna x